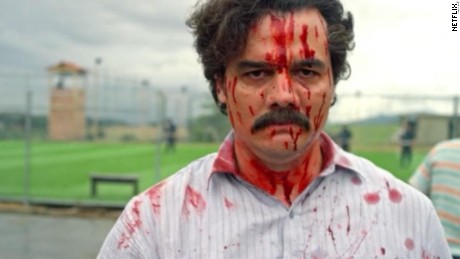 Los Angeles (CNN)When Netflix's "Narcos" debuted, it seemed to come with a built-in expiration date. Its central figure is drug kingpin Pablo Escobar, who lived a brutal life and died a relatively early death — at some point he would die and that would be that. But that only makes the second season of this Netflix series more riveting, a morality tale that resonates far beyond its time, place and characters.
Indeed, despite its early '90s setting, this fact-based drama about the battle against narco-trafficker Escobar is a virtual primer on U.S. political adventures abroad, in which neutralizing the bad guy has often involved terrible collateral damage and getting into bed with people who might be even worse.
Netflix has offered higher-profile series, but none better or more addictive. And while the franchise's future is hazy beyond season two, this might be one of those instanceswhen the end of a sensational two-year run is just the right time to declare victory and move on.
<
ul class="cn" cn-list-hierarchical-xs cn–idx-4 cn-zoneadcontainer">
Escobar (Wagner Moura, again delivering one of the best TV performances of this or any other year) spent season one amassing power over the Medelln cartel; the latest installment chronicles his fall, as forces array against him on all sides. That includes not only the U.S. government and two intrepid FBI agents (Boyd Holbrook and "Game of Thrones'" Pedro Pascal) but the Cali cartel and a ruthless paramilitary force, backed by the CIA.
Having escaped from prison, Escobar remains a folk hero and near-mythic figure. Authorities seeking to capture him also discover that expecting the people of Medelln to cooperate is, as it's wryly observed, "like asking Chicago to rat out Michael Jordan."
Even so, the drug lord must also face certain indignities being on the run. "Pablo Escobar is to be respected," he says ominously, but he still has to ride around in the trunk of a taxi to avoid the police.
It's not just Moura who deserves praise. The cast is uniformly superb. That includes Paulina Gaitn, who gets more screen time this season as Escobar's wife Tata, who can see the noose tightening and kingdom unraveling before he does.
Perhaps foremost, "Narcos" pounds home the point that there are tradeoffs to be made in these kind of wars, drug or otherwise.
The series depicts a world in which the innocent are seldom spared, and the frequent solution to perceived problems — like a potential mole — is simply to kill everyone. If Escobar is utterly ruthless, so are those opposing him, presenting ethical dilemmas for those officially charged with stopping him.
The casualties, notably, include children — a fact of what happened in Colombia that nevertheless makes "Narcos" unsettling at times, even rated against other gritty dramas. (The producers also continue to drop in actual photos and video from the period, which only adds to the sense of authenticity.)
Asked about the show's future at a press conference in July, "Narcos" producer Eric Newman said, "We plan on stopping when cocaine stops."
Frankly, where "Narcos'" second season leaves off would be elegant enough. But the issues it explores — and the drug war — go on.
"Narcos" premieres Sept. 2 on Netflix.
Read more: http://www.cnn.com/2016/08/25/entertainment/narcos-second-season-review/index.html