<figure class="media-landscape" has-caption full-width lead">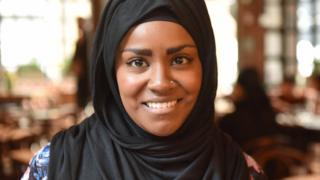 Image caption 'I expect to be shoved or pushed or verbally abused… it's been happening for years'
The Great British Bake Off winner Nadiya Hussain has spoken about how racial abuse is part of her life – and has been "for years".
She revealed she has received abuse after "massive things happen" in the news, from 11 September 2001 onwards.
"I've had things thrown at me and [been] pushed and shoved," she said.
Speaking on BBC Radio 4's Desert Island Discs, she said: "I feel like that's just become a part of my life now. I expect it. Absolutely I expect it."
Nadiya, 31, continued: "I expect to be shoved or pushed or verbally abused because that happens. It's been happening for years."
<
div id="bbccom_mpu_1_2_3″ class="bbccom_slot" mpu-ad" aria-hidden="true">