When I saw her at the Commons it struck me that she didnt dither, like many of us, on the doorstep of adulthood. She had things to do, and no time to waste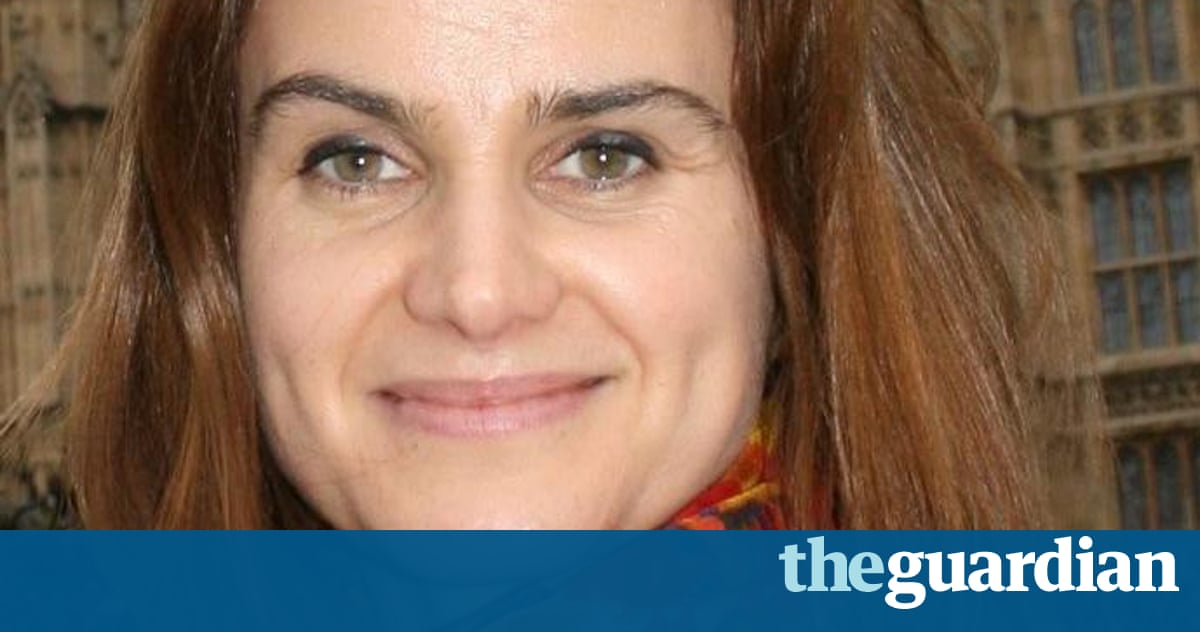 Jo Cox was brilliant in more than one sense of the word. She was exceptionally gifted and she radiated light. I met her in 1994, when she was 20-year-old Jo Leadbeater, at a small party in the room of the man who later became her boyfriend. She was the centre of attention without trying to be. Warm, vibrant, compassionate and funny, she immediately made you want to be her friend. What I remember from that night, and all the other nights, is the smile that I see on newspaper front pages today, a smile so natural and engaging that I didnt understand it was a kind of shield.
Many of us felt like outsiders when we arrived in Cambridge, but by the third year most of us had found our place. It wasnt until I read an interview with Jo last year that I realised how much harder it was for a working-class girl from Batley, the first in her family to attend university, to breathe the sometimes toxic air of extreme privilege. She said it took her years to get over her sense of displacement, an experience that formed her political convictions. But if you saw her in a group, you would never guess that she felt she didnt belong. She made people feel good even when she wasnt feeling good herself.
We remained friends after university and in 1997, we lived in a house-share together in Highbury, north London. This was a time when it was possible for five young people on modest incomes to rent a place like that. It feels like aeons ago. Jo was the calm centre of a chaotic house, a role she understandably didnt want to play for very long. I sometimes felt unconscionably frivolous around her. While I was employed by the dance music magazine Mixmag she was working at Westminster. One evening she invited me for drinks at one of the House of Commons bars, and it felt unbelievably grownup. It struck me that she didnt dither on the doorstep of adulthood like so many of us. She had things to do and no time to waste. She was the first person I knew who was determined to change the world.
At the same time she was fantastic company at gigs and clubs and parties. For New Years Eve in 1999, five of us spent a joyful week in Long Island. Yesterday my wife found some photographs of the holiday and there was Jo, dancing at midnight with that enormous, irresistible smile, explosively alive. It broke me.
Jo was so kind and generous that it took a while to realise how impressive she was. Naked ambition is easy to spot there was plenty of that at Cambridge but she had a quieter, more profound sense of moral purpose. She didnt just want to be an MP; she wanted to be the MP for Batley and Spen, representing the people shed grown up with. Even before that, when she was working for Oxfam, it became clear that she was the best of us. She had more grit and courage and clarity and hope. I marvelled at the good work she was doing: important work, which changed peoples lives for the better.
I was marvelling from afar. We lost touch in around 2000, and our paths didnt cross again until the <a href="https://en.wikipedia.org/wiki/The_Big_Chill_(music_festival)" title="" data-link-name="in" body link" class="u-underline">Big Chill festival in 2005, which was also the last time. It was great to see her. It was always great to see her. When she became an MP I tweeted my congratulations and we resumed our friendship in online form. It was no surprise to any of us who knew her that she instantly became one of Labours rising stars, nor that she was admired and loved by her colleagues and constituents. Of course when somebody is killed the tributes will be warm, but none of them have felt false or overblown. When I read one I think yes, that was Jo. Everyone saw what we saw. She was brilliant.
There are many people who knew Jo better than me, who saw her more recently, who are feeling the loss more deeply, but when she died our youth came flooding back to me. I saw her standing in the kitchen of the house in Highbury on just another day and I couldnt stop weeping.
That period was an eventful time in Britain. I remember us celebrating Labours election victory, not anticipating that she would eventually become an MP herself. And I remember talking to her about the spasm of public grief following the death of Princess Diana, never dreaming that one day people would be laying flowers for Jo.
Read more: https://www.theguardian.com/commentisfree/2016/jun/17/my-friend-jo-cox-the-best-of-us