We must do more for victims of war and persecution, says film star, who reveals his own ancestors flight from famine-ravaged Ireland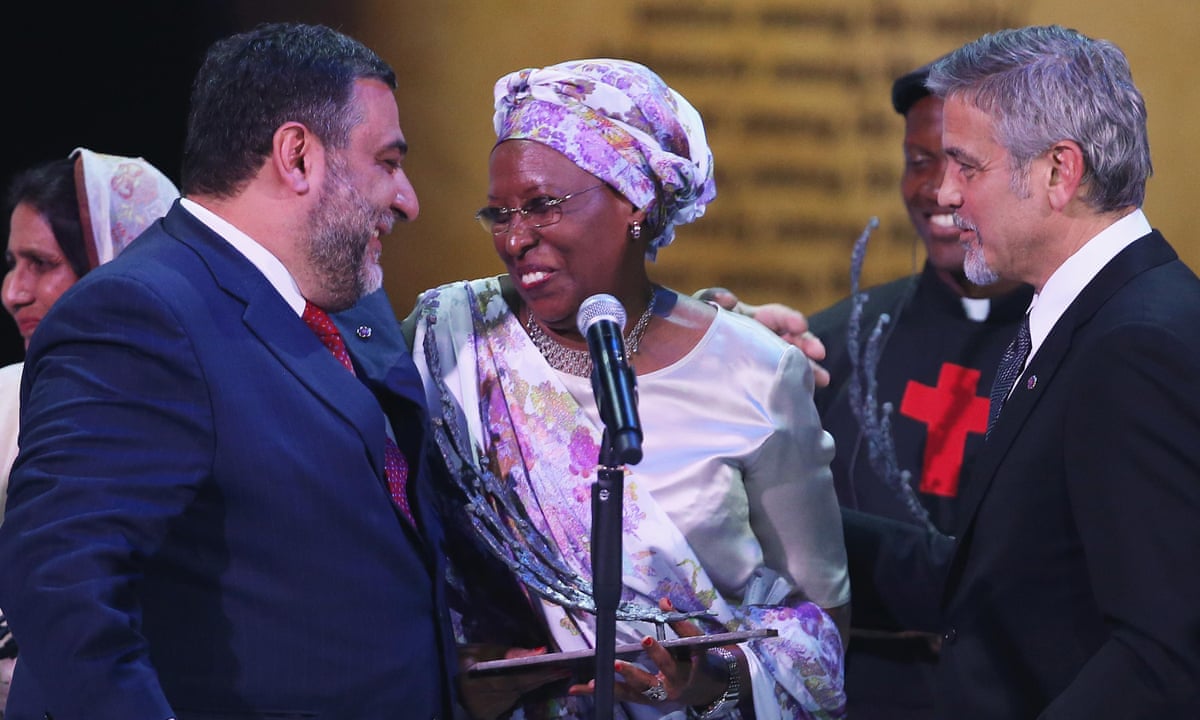 Refugees are people, just like you and me, George Clooney has said in a speech urging humanity to do more to help those escaping war and persecution.
The Oscar-winning actor opened up over his own ancestors struggles in fleeing the famine in Ireland in the 19th century and called on people to believe they could make a difference.
The simple truth is that all of us here tonight are the result of someones act of kindness. We all stand on the shoulders of good people who didnt look away when we were in need, Clooney told a humanitarian conference in Yerevan, Armenia.
The Clooney family fled a famine in Ireland to come to the United States where their very survival required a room, a meal, a helping hand. We call them refugees, but theyre just people, like you and me.
And if you stand right in front of them and take a look deep into their eyes, you might just see an Irish farmer fleeing a famine. If we are to survive as a people, we simply cant look away. Not from the people of Syria or South Sudan or the Congo.
About 4.8 million people have fled Syria since civil war broke out in 2011, according to UN figures.
The actor has previously produced documentaries on the Darfur conflict in Sudan and said on Saturday that he combated the suffocation of fame with human rights activism.
Clooney was in Armenia to present the Aurora prize, an award held to recognise those who put themselves at risk to save the lives of others.
He handed the inaugural award to Marguerite Barankitse, who saved the lives of 30,000 children during the Burundi civil war. She was personally given $100,000 (70,000) and awarded a $1m (700,000) grant to donate to a charity or organisation that has inspired her.
Barankitse, 59, known as Maggie, was heralded as extraordinary by Clooney, who said all the finalists were people who make the world a better place.
She helped children who were left orphans during the civil war in Burundi between the Tutsiand Hutu populations. At the height of the war in 1993, Barankitse, a Tutsi, sheltered a group of Hutus at the Catholic diocese where she worked.
The actor said Barankitse served as a reminder of the impact that one person can have even when encountering seemingly insurmountable persecution and injustice.
He added: By recognising Marguerites courage, commitment and sacrifice, I am hopeful that she can also inspire each one of us to think about what we can do to stand up on behalf of those whose rights are abused and are in most need of our solidarity or support.
Barankitse said she would use the grant to further her work in the region at a time when violence has erupted in Burundi once more. Last year, she was forced to flee again to Rwanda, but she said she remained positive. I am a very optimistic person and my dreams remain my dreams. When you have these values of compassion, nothing can stop you.
Barankitse called on the international community to stand with her over the current crisis and said she would travel to the Netherlands to protest and demonstrate at The Hague.
Among the finalists for the Aurora prize was an American doctor, Tom Catena, the only permanent surgeon responsible for more than half a million people in Sudans conflicted border area with South Sudan.
Also nominated was Syeda Ghulam Fatima, a Pakistani activist who survived attempts on her life during her campaign to liberate bonded labourers, and Father Bernard Kinvi, a Togolese priest providing refuge to both sides of a civil war in Central African Republic.
Clooney, who is visiting Armenia for the first time, earlier joined the president, Serzh Sargsyan, in a solemn memorial service remembering the events of 1915, when Armenia claims the Ottoman Empire killed 1.5 million of its people. Turkey strongly disputes claims that the events were a genocide and the figures stated.
During the prize ceremony, Clooney called for the world to recognise the Armenian genocide.
Read more: http://www.theguardian.com/world/2016/apr/24/george-clooney-marguerite-barankitse-aurora-prize-burundi-civil-war