The first season of the hacker drama starring Rami Malek was award-winning, and the second is just as good, but completely different quite a trick to pull off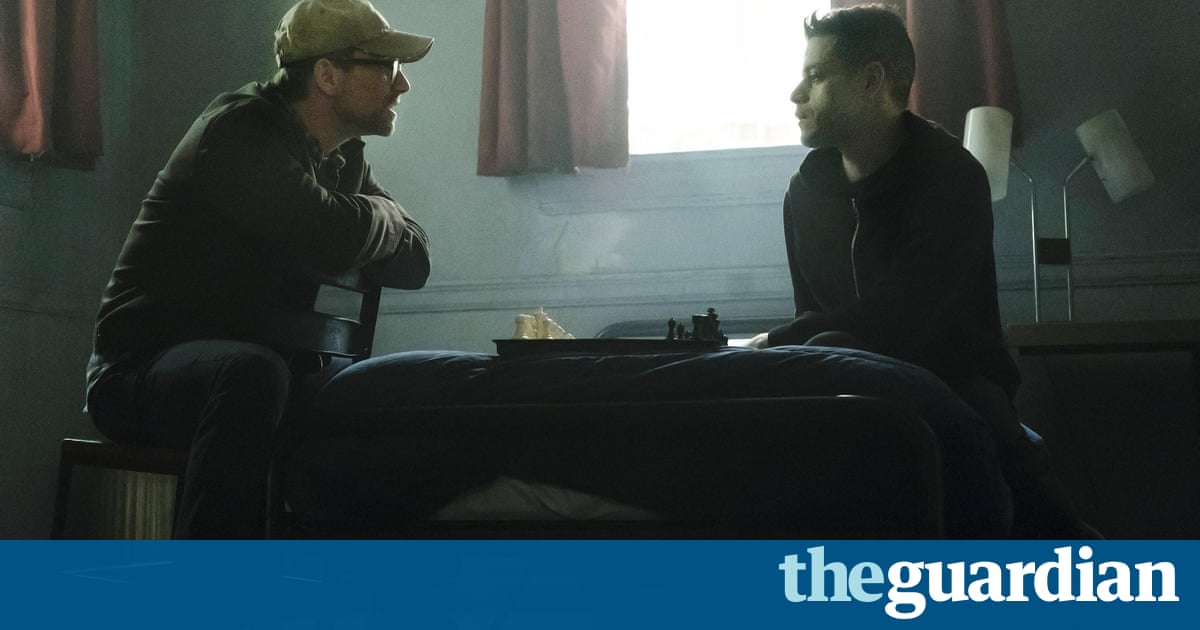 The second season premiere of Mr Robot, which airs on USA on Wednesday at 10pm ET (Amazon in the UK), is a curious thing. After being the critical darling of last summer and a sure bet for Emmy nominations when they come out on Thursday morning people are expecting the dark and twisty hacker drama to be not only as good as the first 10 episodes, but also to provide more of the same. Viewers are expecting riddles to be solved, mysteries to be untangled and protagonist Elliot Alderson (Rami Malek) to be seeking justice through the vagaries of computer science. They will get none of those things.
Mr Robot is one of the most exciting shows on television because it refuses to play by the rules. The first season ended with Elliot and his hacker collective fsociety taking down the world financial system by forgiving everyones debt and making money essentially worthless. We also discover that Elliot blacked out for three days surrounding the hack and that his nemesis turned co-conspirator, Tyrell Wellick (Martin Wallstrm), is missing. Naturally fans expect season two to start with Elliot trying to figure out what happened and where this dude is.
Instead, Elliot is holed away in his mothers house in some undisclosed part of New York (maybe even, gasp, Staten Island) holding to a strict regime that includes eating meals with his new friend Leon (<a href="https://www.theguardian.com/music/2015/jan/29/joey-badass-they-call-me-marxist-anti-white-gangster-rapper" data-link-name="in" body link" class="u-underline">Joey Badass), going to a church group and intense journaling. Yes, the inherently suspenseful act of journaling. While we may be wondering just what the heck happened, Elliot is more concerned with trying to find a way to eradicate Mr Robot (Christian Slater) from his mind, and the only way he can think to do that is maintaining a sense of complete control.

The second season premiere, which runs for two hours with an intermission like a Broadway show, is full of characters getting what they wanted and not sure what to do with it. Elliot got his financial disaster and cant really enjoy it because hes so concerned about his blackouts. His sister Darlene (Carly Chaikin) is now in control of fsociety, but she is increasingly questioning the dedication of its growing membership and her place in it. Angela (Portia Doubleday) has a fancy new job at Evil Corp and is nervous about how much she enjoys working for the corporate giant.
What makes the second season premiere so great is that creator Sam Esmail, who directed every episode of season two, doesnt serve the fans or the story, he serves the characters. He figured out what they needed, which is often the opposite of what the viewers need, and is delivering that instead of filling in the blanks we so desperately want covered.
The retreat into the personal is naturally due to the fact that the biggest twists of season one the ones about Elliots family and Mr Robot being a creature that lives in his own head were laid bare for viewers. These are things woven into the very fabric of the show and since theyve been explained, its now operating on another level. Thats not to say that there arent secrets or twists, but instead of coming from Elliot and his direct circle, theyre coming from the outside world.
The New York that fsociety inhabits has been decimated by the groups massive hack. That creates a world where anything is possible and the consequences for their actions are entirely unknown. However, when the reaction against them starts, the way it plays out seems both natural and utterly shocking. Theres even a terrifying sequence where the horror of the internet of things comes to its natural conclusion. (To say more would ruin the surprise.)
In terms of both the narrative tone and the cinematography, Im happy to say that Mr Robot is just as dark as it was in season one. Everything feels like were viewing the world through the grubby haze that comes the morning after an MDMA trip. Equally gratifyingly, the show seems to be evolving into something familiar but different, with new heroes and villains and old ones revisited. The Mr Robot premiere is a very curious thing indeed, because while its not what you would imagine a season two debut should look like, its even better than you could hope for.
Read more: https://www.theguardian.com/tv-and-radio/2016/jul/13/mr-robot-season-two-rami-malek-usa-network