"Without #CorettaScottKing, there would be no #MLKDay," Bernice tweeted Monday.
Martin Luther King Jr. may be the United States' most well-known civil rights activist of all time, but there's no denying that his wife was a hero in her own right.
Scott King, born and raised in Marion, Alabama, graduated from high school as valedictorian in 1945. She had been studying singing at the New England Conservatory of Music in Boston when she met her future husband in the early 1950s.
After the two were married in 1953, they moved to Montgomery, Alabama, and had four children. Scott King devoted much of her time to raising their children during King's career as a pastor and activist, though she would often speak about civil rights at churches, colleges and other organizations.
Two months after her husband was assassinated in 1968, Scott King founded The Martin Luther King Jr. Center for Nonviolent Social Change, a 23-acre national historic park in Atlanta that includes King's birthplace and hosts over 1 million visitors a year, according to the center's website.
We have a lot more work to do in our common struggle against bigotry and discrimination. Coretta King Scott
After fighting to make her husband's birthday a federal holiday for nearly two decades, Scott King oversaw the first nationally observed Martin Luther King Jr. Day on Jan. 20, 1986.
"This holiday honors the courage of a man who endured harassment, threats and beatings, and even bombings," she wrote in an essay for The King Center. "We commemorate the man who went to jail 29 times to achieve freedom for others, and who knew he would pay the ultimate price for his leadership, but kept on marching and protesting and organizing anyway."
Scott King continued to make history throughout her life. She was the first woman to deliver the annual Class Day address at Harvard University and the first woman to preach at a worship service at St. Paul's Cathedral in London. During her remarkable life, she received over 60 honorary doctorates and helped found dozens of organizations dedicated to advancing human rights. She was a leader in the women's movement and a fierce defender of LGBTQ rights.
"We have a lot more work to do in our common struggle against bigotry and discrimination," she said in a speech during the National LGBTQ Task Force conference in Atlanta in 2000. "I say 'common struggle' because I believe very strongly that all forms of bigotry and discrimination are equally wrong and should be opposed by right-thinking Americans everywhere."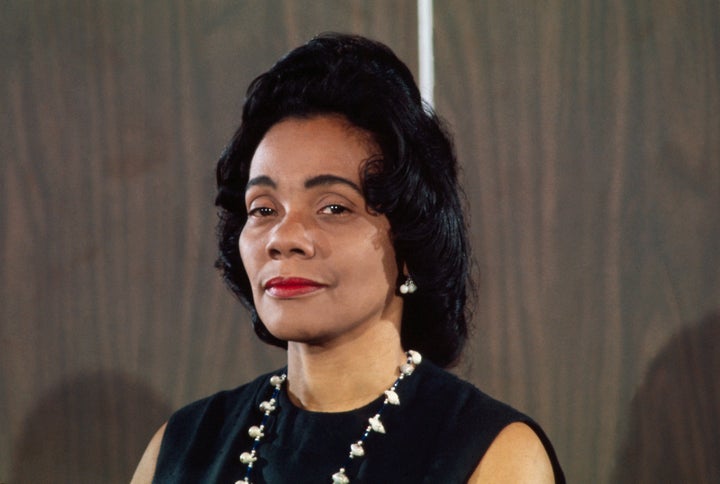 In March 1986, Scott King
wrote a letter
to Congress urging lawmakers to block the federal judgeship nomination of Jeff Sessions, who was then a U.S. attorney.
"Mr. Sessions has used the awesome powers of his office in a shabby attempt to intimidate and frighten elderly black voters," she wrote. "For this reprehensible conduct, he should not be rewarded with a federal judgeship."
Scott King accused the Alabama Republican of pursuing "politically-motivated voting fraud prosecutions" and blasted him for prosecuting civil rights leaders. Allegations of racism against Sessions, including those Scott King mentioned in her letter, led the Senate to kill his nomination.
The letter came back to haunt Sessions in February 2017, when Sen. Elizabeth Warren (D-Mass.) read it aloud on the Senate floor during his nomination hearing, but Sessions still became attorney general.
Scott King died from ovarian cancer on Jan. 30, 2006. She became the first woman and first African-American to lie in honor in the Georgia state capitol's rotunda. Her powerful legacy continues to live on today.
Read more: http://www.huffingtonpost.com/entry/coretta-scott-king-mlk-day_us_5a5cb6c1e4b04f3c55a48bcc