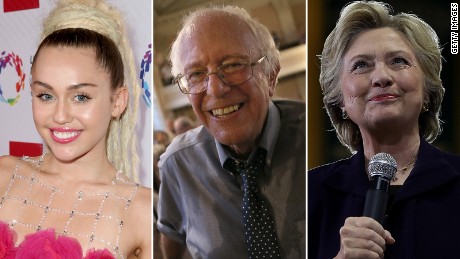 Washington (CNN)Miley Cyrus was feeling the Bern, but now she's all in for Hillary Clinton.
Cyrus, who supported Bernie Sanders during the 2016 primary, said Sanders supporters who are not planning on voting for the Democratic presidential nominee in the general election against Donald Trump are "f***ing crazy."
<
ul class="cn" cn-list-hierarchical-xs cn–idx-4 cn-zoneadcontainer">
"That's f***ing crazy and you're out of your mind. It's literally pissing me off more than anything," Cyrus
told Variety in an interview
published Tuesday.
The Republican presidential nominee has made his case repeatedly to supporters of the Vermont senator, who may be disillusioned with the establishment and uninspired by Clinton.
"If you could ever consider Donald Trump, you never understood Bernie in the first place," the
"Bangerz"
singer said.
Cyrus said that she never expected Trump to make it this far and that when the billionaire mogul announced his presidential run in June 2015, she "was laughing."
"When Trump started this, I was laughing. I thought it's not going to go anywhere; there's no way he'll be the candidate," Cyrus said.
Linking Trump to the Kardashians, the pop star said Trump's rise reflects America's fascination with celebrity.
But Cyrus added that "The Kardashians are better than Trump" because they are "just trying to be famous" and "not trying to run the country."
Referencing an interaction she had with Sarah Jessica Parker while filling in as a host on "Ellen," the
"Wrecking Ball"
singer said she was stumped when Parker asked her if any of her friends are voting for Trump.
"I was like, 'Do you think I have friends that would vote for Donald Trump. Come on! Who do you think I'm hanging out with?'" Cyrus said.
Cyrus, who is an LGBTQ activist, also opened up about coming out as pansexual in the interview.
"Once I understood my gender more, which was unassigned, then I understood my sexuality more," Cyrus said. "I was like, 'Oh that's why I don't feel straight and I don't feel gay.' It's because I'm not."
Read more: http://www.cnn.com/2016/10/12/politics/miley-cyrus-hillary-clinton-bernie-sanders-donald-trump/index.html