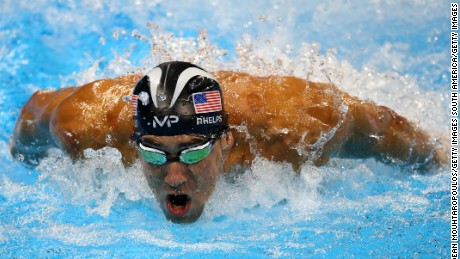 (CNN)Michael Phelps set out with the goal "to change the sport of swimming."
With a record 22 Olympic gold medals — and possibly a 23rd after his final race Saturday in the 4×100-meter medley relay — he has. Swimming is richer because of him, and will be poorer without him.
<
ul class="cn" cn-list-hierarchical-xs cn–idx-4 cn-zoneadcontainer">
People talk about the Phelps legacy, with some arguing his greatest contribution is yet to be realized with the list of pool performers he has inspired.
But the current legacy is illustrated in a decade-old photograph of a delighted nine-year-old Katie Ledecky with Phelps — the American teenager is proving to be the dominant female swimmer of these
Rio 2016 Olympic Games.
Similarly it was captured on Friday in Rio as Joseph Schooling, who himself had been inspired by the Phelps phenomenon and was photographed with him as a youngster, stood disbelieving on the top step of the 100-meter butterfly podium above the US star.
"We've all seen the photo of Katie and I when she was nine, and the photo of Joe and I," Phelps told reporters after the race. "I wanted to change the sport of swimming. That's what I wanted to do. With the people in the sport now, I think you're seeing it."
In the year post-Athens, it rose 7%, after Beijing there was an 11% increase, while what appeared to be his Games swansong in London sparked a 13% rise in those taking up the sport stateside.
A further spike is anticipated by USA Swimming, whose latest figures show that when Phelps made his debut for the team, just 38% of their members were male; that figure is up to 44% and rising.
James Guy
is one of the new breed of swimmers in the pool. The 20-year Briton is the world champion in the 200m freestyle and anchored a British quartet in the 4x200m freestyle to silver behind none other than Phelps.
Signature event
"He's my hero — one day I hope to be remembered like him," Guy told CNN. "I'll remember that for the rest of my life. I just said to him, 'It's an honor to race you, you've inspired me for so many years,' and he said 'thank you very much' and he gave me a hug, which was nice of him."
"He's not as unbeatable as he was," Foster told CNN. "He is human but he came back because he loves it. Swimming is a drug and he's addicted. London made him mortal but the immortality is back.
"But I've never seen a crowd more in love with him than in Brazil. They're just so into Michael Phelps, he has that effect on people. It's like watching Usain Bolt, everyone goes bang and realizes its something special. But here they realize it's finally the end of something special."
"To find swimming on a channel in the US that every family could get, it had to be the Olympics," Lohn said. "But now you'll see the grand prix meets are televised on cable, while the nationals and international meets have quality coverage. That's Phelps — singlehandedly he's elevated the profile of the sport."
Phelps' peak was the eight golds in Beijing which broke Michael Spitz's previous record for a Games by one, although Lohn argues his achievements in Rio have been the next best.
"He doesn't need this, his legacy is going nowhere, which makes this more amazing," he said. "No one will ever match those titles but he always wants something else. The 200m butterfly put him on the map in the first place and he wanted it back.
"It doesn't matter if he's got one, 19 or 23 gold medals, he doesn't think like that. He thinks like he's trying to win his first medal. He has a competitive switch you only see in very few people. Michael Jordan had it … that killer instinct."
Arguably it was best highlighted ahead of the 200m butterfly semifinals, when Le Clos shadow-boxed in front of Phelps — and the American reacted with a death stare that went viral.
Poking the tiger?
"He looks for anything that might motivate him, so what Chad did was not intelligent," Lohn argues. "Why would you poke the tiger? He doesn't need extra motivation so why give it to him?"
The Phelps of 2016 has been unlike any other Games. Now a father and with all the titles to his name, he has appeared more relaxed and enjoyed it far more.
It was there in
the Team USA carpool karaoke
beforehand, it was there in the manner in which he celebrated his first relay gold in Rio and it was even there in finishing second to Schooling.
Lohn says his relationship with Phelps is also more relaxed.
"From my experience, he's never let me into his world. That's changed," he added.
"Four years ago with that first music video, he was in it for a split second and his face said, 'I've got work to do.' This time, he embraced it. He's smiled more than I've ever seen him smile, he's like a different person.
"Before it was like he was on a business trip ticking boxes. Now he enjoys it and that's been great to see."
When Saturday's race ends, the Phelps era is over. What he has done will never be bettered. Swimming will miss him but those he has inspired will continue on.
His lifelong coach Bob Bowman, he knows he will never work with another swimmer quite like him. Asked to describe in one word what he had achieved and the wider impact on the whole sport, he simply said "remarkable."
Read more: http://www.cnn.com/2016/08/13/sport/michael-phelps-legacy-rio-2016-olympics/index.html