Gossip site wrote multiple stories alleging sexual abuse and cited a report that the pop star used sexy photos of his own nephews to excite young boys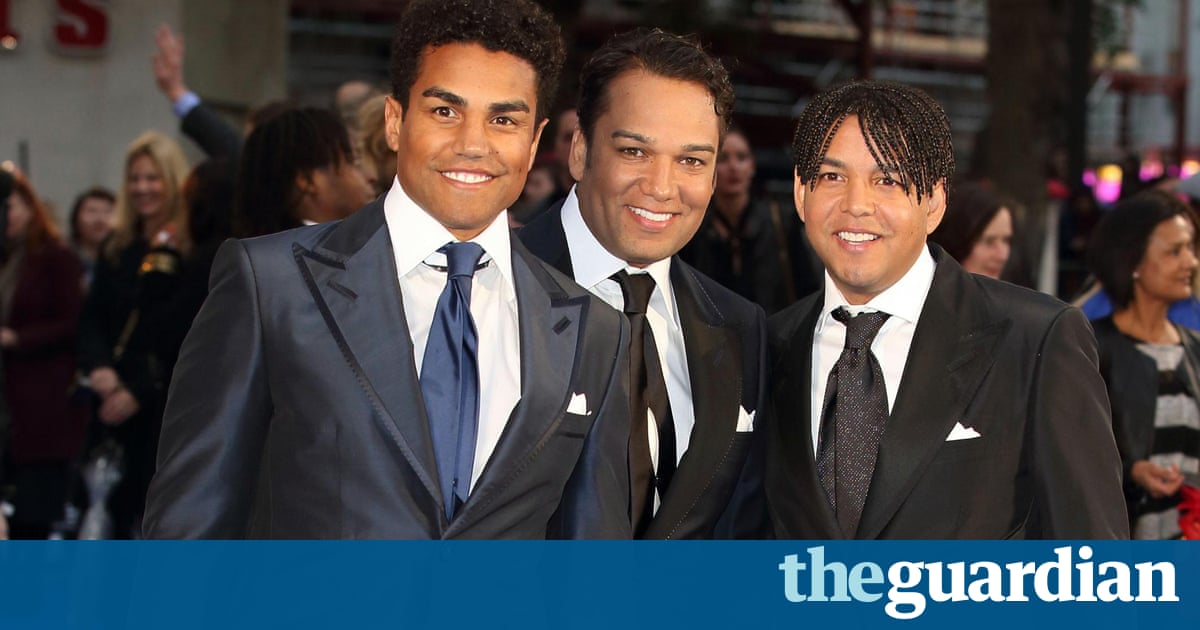 Michael Jacksons nephews are suing a celebrity gossip site that published stories alleging they were sexually abused and bribed by their pop star uncle, according to the Hollywood Reporter. Taj, TJ and Taryll Jackson filed a $100m libel lawsuit against Radar Online on Wednesday.
The suit comes after Radar Online wrote multiple stories last month stating the king of pop stockpiled images of pornography, animal torture, S&M and gore in a bid to seduce innocent young boys, based off of a 2003 police search of his Neverland ranch home.
The detectives report cites Michael even used sexy photos of his own nephews, who were in the band 3T, in their underwear to excite young boys, one article on the site alleged, referring to the three Jackson nephews.
The bands first album, Brotherhood, came out in 1995. Taj, TJ and Taryll Jackson are the sons of Michael Jacksons brother Tito, a member of the Jackson Five. The brothers were the subject of a Lifetime documentary series last year.
Radar has tried to profit by launching a vicious and unrelenting attack on [Jackson] based on claims that, years ago, he was guilty of sexual abuse, even though, at the time, he was found not guilty of that very charge, entertainment lawyer Bert Fields, who represents the Jacksons, wrote in the suit.
Radar represents its reports as new and based on official Detective Reports. Not only have those Detective Reports been available to the public for many years, Radar has misrepresented what the Reports say, Fields continued.
The suit claims the stories are false and defamatory, spawned similar reports about Jackson and his nephews by other news outlets and damaged Taj, TJ and Taryll Jackson personally and professionally, according to the <a href="http://www.latimes.com/local/lanow/la-me-ln-michael-jackson-nephews-lawsuit-20160727-snap-story.html" data-link-name="in" body link" class="u-underline">Los Angeles Times.
The family members said the sexy photos were from an album photo shoot and denied that the images were used to excite young boys or that they were bribed to stay quiet about it, according to the Times.
None of them was ever sexually abused by Michael Jackson or ever had any sort of sexual contact with him, Fields wrote in the complaint. None of plaintiffs ever, in any way, resisted any effort by detectives to inquire about Michael Jacksons supposed criminal conduct.
The Jacksons requested the stories be corrected, but were denied, according to the suit.
A statement by American Media Inc , which owns Radar Online, said the article does not accuse Michael Jackson of molesting his nephews and it does not accuse the Jackson nephews of accepting any bribe.
The Radar article clearly states that detectives reported that Michael Jackson may have used photos of his nephews to excite young boys. This theory was, in fact, presented by the prosecution during Michael Jacksons 2005 criminal trial, the spokesman said. Radar looks forward to correcting plaintiffs misstatements in a court of law.
Read more: https://www.theguardian.com/us-news/2016/jul/28/michael-jackson-nephews-libel-lawsuit-radar-online