Police say the warning to run away from any threat, rather than surrender or try to negotiate, is based on proven advice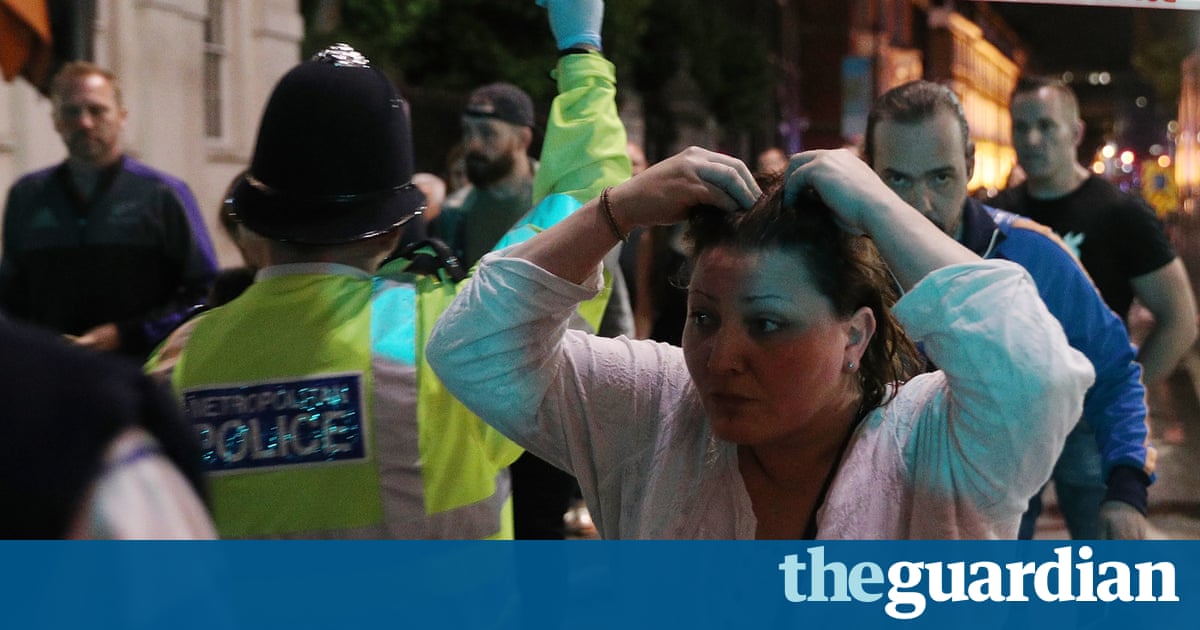 Saturday nights dual terrorist incidents in London prompted the first use of a new police warning to the public, to run, hide, tell in the event of a weapons or firearms attack.
Shortly after 10pm on Saturday, attackers drove a white van into pedestrians on London Bridge, before continuing on to Borough Market and stabbing a number of people in the entertainment district.
Authorities have confirmed six people were killed and that police shot dead three suspects. Dozens of injured people have been taken to London hospitals.
As the incident was underway, the London Metropolitan police issued an alert through social media channels, warning people in the area to run away from any threat, rather than surrender or attempt to negotiate. If that wasnt possible, they should instead hide, turn their phone to silent and barricade themselves in before calling police.
Many people out in London did not get the chance. Others, according to reports, instead took on the attackers head-on in an attempt to rescue victims, fighting back with chairs and pint glasses.
In an information video about the new campaign, assistant commissioner Mark Rowley said the instructions were based on proven advice.
Everyones aware of the terrorism challenges across the world, he said. It can never cater for every possible eventuality and, if someone acts on instinct and perhaps decides to fight because they have no choice, we would never criticise them for that.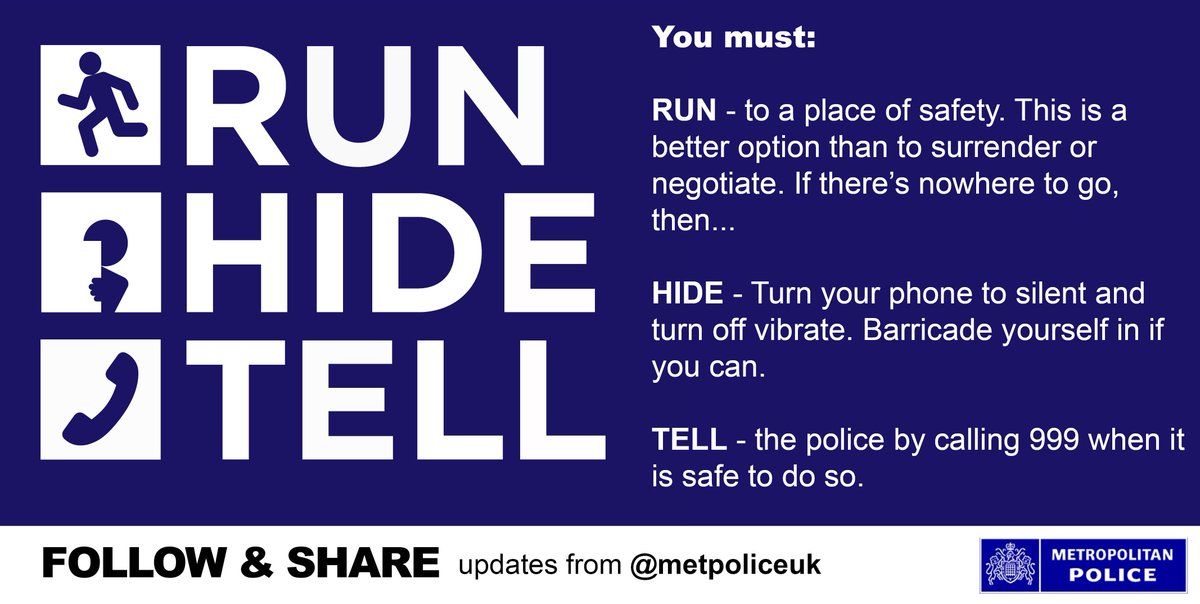 When the police issued the advice on Saturday, reactions were varied. Some suggested it showed weakness. Others described it as practical advice designed to keep people safe. One rightwing Australian politician, Pauline Hanson, published a reworked version of the alert to campaign against Muslim immigration and was roundly criticised.
The new guidelines, developed by counter-terrorism police and released late last month, come amid a heightened security situation in Britain.
At any one time there are 500 active investigations by counter-terrorism agencies, involving 3,000 persons of interest.
Three fatal terrorism incidents have occurred in as many months four people were killed and more than 50 injured at Westminster on 22 March and 23 were killed and 116 injured in Manchester on 22 May.
Police have reportedly foiled five terrorist plots since Westminster, as well as another 13 since 2013.
Following the Manchester attack, intelligence services placed the country on its highest threat warning in almost 10 years, critical, which meant another international terrorism attack was expected to be imminent.
After the arrest of 11 suspects, the threat level was lowered back to severe just four days later, meaning another attack was highly likely.
The British prime minister, Theresa May, at the time said the country should remain vigilant.
Read more: https://www.theguardian.com/uk-news/2017/jun/04/met-police-use-run-hide-tell-warning-for-first-time-after-london-terrorist-attack