<figure class="media-landscape" has-caption full-width lead">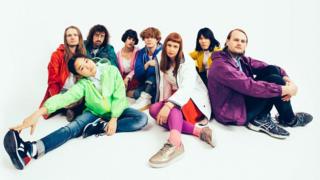 Image copyright Jordan Hughes

Image caption Superorganism: "We skipped the most intimidating part of being in a band"
If you believe everything you see on TV, you'd assume that bands who live together are having a blast.
Whether it's The Monkees teaching Frankenstein's monster to dance or S Club 7 emancipating a pet alligator; the combination of domesticity and pop stardom seems like one big adventure.
The reality is much more mundane.
"Our house is the worst thing," groans Harry Young, one eighth of indie pop collective Superorganism, who share a house in East London.
"For sure," adds singer Orono Noguchi in a heartbeat. "It's so small."
<div id="bbccom_mpu_1_2_3″ class="bbccom_slot" mpu-ad" aria-hidden="true">