<figure class="media-landscape" has-caption full-width lead">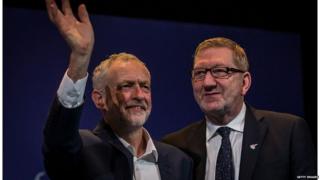 Image copyright Getty Images

Image caption The Unite boss suggested enemies of Mr Corbyn were behind the claims
Labour does not have a problem with anti-Semitism, Len McCluskey has said, suggesting those who believe it does are seeking to undermine Jeremy Corbyn.
The Unite leader told the BBC that he had never heard anti-Semitic language at any party meeting he had attended.
Claims the leadership was condoning anti-Semitism, racism and misogyny were designed to "bring Jeremy Corbyn down".
His comments came shortly after members voted to back new rules to tackle claims of anti-Semitism in the party.
The Jewish Labour Movement (JLM) is demanding action over what it says was the use of an "anti-Semitic trope" in the conference hall at Brighton. It is calling for "zero tolerance" of such comments at the event.
<div id="bbccom_mpu_1_2_3″ class="bbccom_slot" mpu-ad" aria-hidden="true">