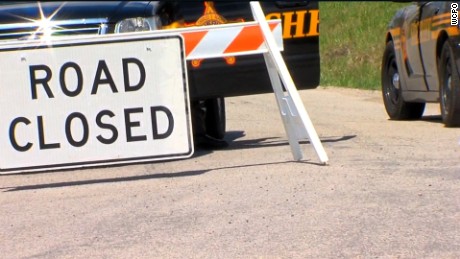 (CNN)Investigators found three marijuana "grow operations" at rural residences where eight family members were slain in southern Ohio, state Attorney General Mike DeWine said Sunday at a news conference.
Authorities wouldn't say publicly whether they thought the killings were drug related, but an official with knowledge of the operation told CNN's Nick Valencia: "This operation was not for personal use; it was for something much bigger than that. It was a very sophisticated operation."
<
ul class="cn" cn-list-hierarchical-xs cn–idx-4 cn-zoneadcontainer">
The cold-blooded nature of the killings has rattled Piketon, a town of about 2,000 people 90 miles east of Cincinnati.
The victims, aged 16 to 44, were methodically shot in the head while sleeping at four residences, including a mother with a 4-day-old infant lying beside her, authorities said. The newborn, along with a 6-month-old and a 3-year-old, survived. The official said the killings happened before dawn.
"This was a preplanned execution of eight individuals," DeWine said. "It was a sophisticated operation and those who carried it out were trying to do everything they could do to hinder the investigation and their prosecution."
The killer or killers were specifically going after the Rhoden family, Pike County Sheriff Charles Reader emphasized, though he didn't say why.
"I cautioned them they are a target and I cautioned them, 'Be armed,' " he said.
Pike County has 30,000 residents and deputies cannot be everywhere to protect residents, Reader said. To the public he said, "I can tell you if you are fearful, arm yourselves."
DeWine said 50-60 people have been interviewed, 100 tips received, 18 pieces of evidence submitted to the crime lab and at least five search warrants issued and completed. Seven of the eight autopsies of members of the Rhoden family have been performed so far, the last one is scheduled for tomorrow, said DeWine.
He wouldn't say how many guns were used and if the Rhoden family was involved in any crimes. At first he wouldn't answer when a reporter asked if marijuana was involved.
"We will not be telegraphing or telling the bad guys everything we know," he said.
But as the news conference ended, DeWine said, "Let me go ahead and I think it's OK for me to confirm that we did find marijuana at three locations."
"Like bags of marijuana?" a reporter said. "Grow operation?" another asked.
"Grow operation," DeWine said and walked away.
The victims were identified as Hannah Gilley, 20; Christopher Rhoden Sr., 40; Christopher Rhoden Jr., 16; Clarence "Frankie" Rhoden, 20; Dana Rhoden, 37; Gary Rhoden, 38; Hanna Rhoden, 19; and Kenneth Rhoden, 44.
Dana Rhoden left work about 11 p.m. Thursday, Valencia reported. The sheriff's office received calls about 7:30 from relatives who found bodies in the residences. Two residences are within walking distance, authorities said. A third is about a mile away and the fourth about eight miles away, they said.
A Cincinnati-based restaurant owner, Jeff Ruby, has offered a $25,000 reward for information leading to an arrest in the case, DeWine said Saturday.
Read more: http://www.cnn.com/2016/04/24/us/marijuana-grow-operation-found-at-ohio-slaying-sites/index.html