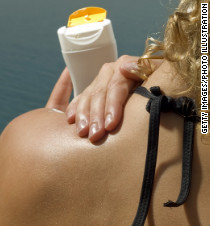 (CNN)Nearly half of sunscreen products in the United States do not live up to the SPF claim on their bottles, according to a new study.
Researchers at Consumer Reports independently evaluated the Sun Protection Factor value of 65 sunscreen products — including lotions, sprays and sticks — and found that 43% of them had less SPF than the label promised.
<
ul class="cn" cn-list-hierarchical-xs cn–idx-4 cn-zoneadcontainer">
Any reduction would block fewer UVB rays from sunlight, which can cause sunburn and skin cancer.
The American Academy of Dermatology recommends choosing a sunscreen that is at least SPF 30, which would block 97% of UVB rays.
"[Sunscreens] should live up to the claim on their label, and in our test we found some of them did not," said Patricia Calvo, Consumer Reports' deputy content editor for health and food, who worked with the researchers to create Tuesday's report.
<
div class="zn-body__read-all">
The findings are consistent with previous Consumer Reports studies, she said. Over the past four years, since the U.S. Food and Drug Administration updated requirements for how sunscreen manufacturers label and test their products, 48% of sunscreens have fallen short of their SPF claim.
How many are incorrect?
In this year's report, 13 of the 35 sunscreen lotions that were tested had an SPF less than 30, despite all claiming to be at least SPF 30. This included two of the 18 sprays and three of the eight face sunscreens.
Because of this difference, it is possible that part of the problem with the sunscreens in the new study was that they did not live up to their claims of being water-resistant.
"Sunscreens are supposed to maintain their SPF level through water immersion for the amount of time they claim to be water-resistant," Calvo said, explaining that for most products, this is 80 minutes.
"Their protocol sounds very different, but it is possible that the Consumer Reports study is testing in a more realistic fashion. … [It] seems geared toward the person going on vacation who will sit by pool or ocean," said
Dr. Cameron Rokhsar
, associate clinical professor of dermatology at Mount Sinai Hospital in New York. He added that this would be very different from someone using them every day for protection while walking outside for a few minutes.
"My impression all along has been that the sunscreen industry is involved in a game of numbers to sell more products, by having a higher SPF rating on their tubes," he said. Rokhsar suggests the FDA keep a closer eye on the industry, like it does on the pharmaceutical industry, to ensure more rigorous testing.