<figure class="media-landscape" has-caption full-width lead">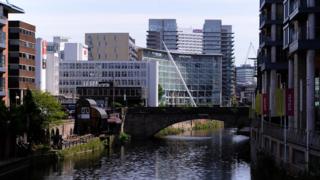 Image copyright Getty Images

Image caption Business groups expect the financial impact on the city to be 'short-lived'
Like other terror attacks in Europe: London, Paris and Brussels, Manchester was fundamentally a human tragedy.
But even in the immediate aftermath, Manchester was resolute that it would carry on; it was "business as usual".
Growth in professional services, tourism and the burgeoning tech sector over recent years means it is now the UK's second city in terms of economic activity.
However, businesses in the area near to the Manchester Arena said they experienced a noticeable drop in trade following the event on 22 May in which 22 people were killed.
<figure class="media-landscape" has-caption full-width">
Image caption There was an increased police presence in the city following the attack
Howard Burns, who runs a jewellery business that has been in the city since the late 1800s, says that in the days immediately following the attack "there was no one shopping here".
<
div id="bbccom_mpu_1_2_3″ class="bbccom_slot" mpu-ad" aria-hidden="true">