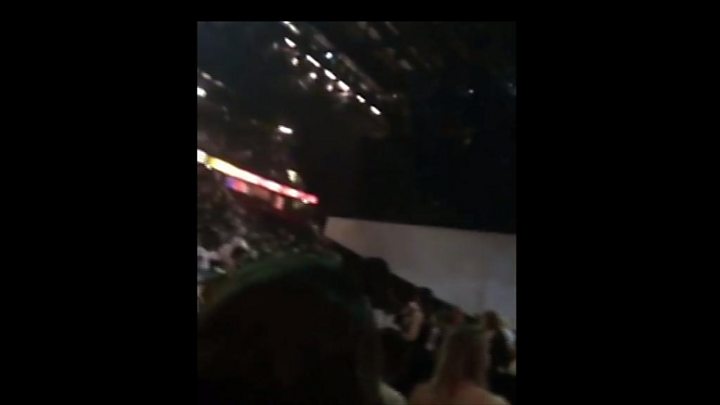 Twenty-two people, including children, have been killed and 59 injured in a suicide attack at Manchester Arena.
The blast happened at 22:35 BST on Monday at the end of a concert by US singer Ariana Grande.
Greater Manchester Police said the lone male attacker, who died in the blast, was carrying an improvised explosive device which he detonated.
Relatives are using social media to hunt for missing loved ones.
Police have set up an emergency telephone number in response to the attack. It is: 0161 856 9400.
Sixty ambulances attended the incident and those wounded are now being treated at six hospitals around the city.
Chief Constable Ian Hopkins said it was "the most horrific incident" Greater Manchester had ever faced.
He said the "fast-moving investigation" was now working to establish whether the attacker "was acting alone or as part of a network".
Eyewitnesses described seeing metal nuts and bolts among the debris, and spoke about the fear and confusion that gripped those caught up in the events.
Andy Holey, who had gone to the arena to pick up his wife and daughter, said: "An explosion went off and it threw me about 30ft from one set of doors to the other set of doors.
"When I got up I saw bodies lying on the ground. My first thought was to go into the arena to try to find my family. "
'Absolutely terrifying'
Emma Johnson said she and her husband were at the arena to pick up her children, aged 15 and 17.
"We were stood at the top of the stairs and the glass exploded – it was near to where they were selling the merchandise," she told BBC Radio Manchester.
"The whole building shook. There was a blast and then a flash of fire afterwards. There were bodies everywhere."
Teenager Abigail Walker, who was at the concert, told the BBC: "I had to make sure I had my sister. I grabbed hold of her and pulled hard. Everyone was running and crying.
"We were just trying to figure where everyone was. It was absolutely terrifying."
Charlotte Campbell's daughter Olivia has been missing since the concert.
"She's only a 15-year-old girl, she's out there on her own because her friend has been found," she told the BBC.
"If anyone sees her contact me. Give her your phone and let her ring me. I just want her home."
The explosion happened in the foyer of the arena shortly after Ariana Grande left the stage.
Grande – a 23-year-old American TV teen actress-turned-singer – has a strong following among teenage girls and children.
She tweeted: "broken. from the bottom of my heart, i am so so sorry. i don't have words."
Home Secretary Amber Rudd said it was "a barbaric attack, deliberately targeting some of the most vulnerable".
The prime minister is to chair a meeting of the government's emergency Cobra committee at around 09:00.
Flags are flying at half mast in Downing Street and political parties have suspended general election campaigning.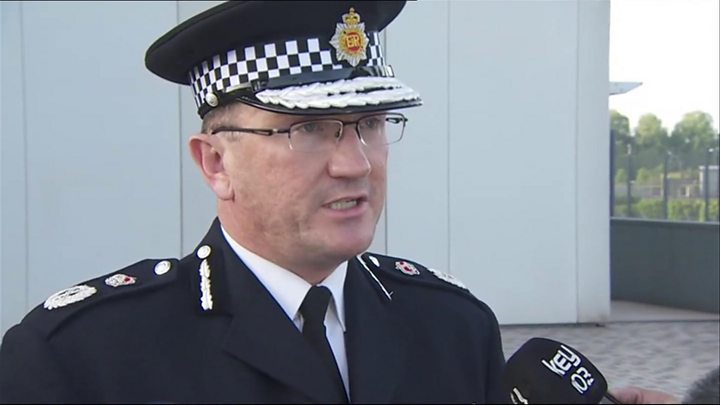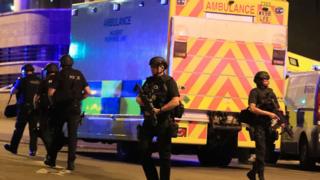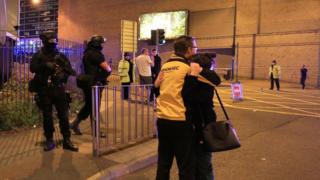 <figure class="media-landscape" has-caption full-width">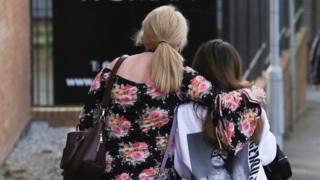 Image copyright Getty Images

Image caption Shocked concert-goers returned to the arena on Tuesday morning to lay flowers
Police have established a help centre at the Etihad Stadium, access Gate 11, for anyone who needs assistance in tracing loved ones.
Twitter has been flooded with appeals from relatives and friends of missing concertgoers via the hashtag #MissingInManchester.
Facebook also activated a safety check feature so that people can let their family and friends know they are safe.
The blast happened close to the entrance to Victoria train and tram station. The station has been closed and all trains cancelled.
Police also carried out a precautionary controlled explosion in the Cathedral Garden area of the city at about 01:32. The force later confirmed it was not a dangerous item.
Greater Manchester Mayor Andy Burnham said the city would "pull together", adding: "That's what we are. That's what we do. They won't win."
The Manchester Arena or MEN is the city's largest indoor venue with a concert capacity of around 21,000.
<figure class="media-landscape" no-caption full-width">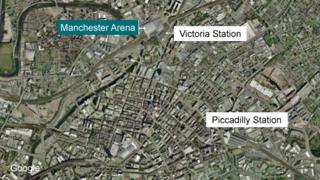 ---
Have you been affected by the events at Manchester Arena? If you are OK and able to get in touch please email us haveyoursay@bbc.co.uk
You can also contact us in the following ways:
Or use the form below
<div class="contact-form" optional-is-default">