Rhythm guitarist was the co-founder of, and driving force behind, the Australian rock band AC/DC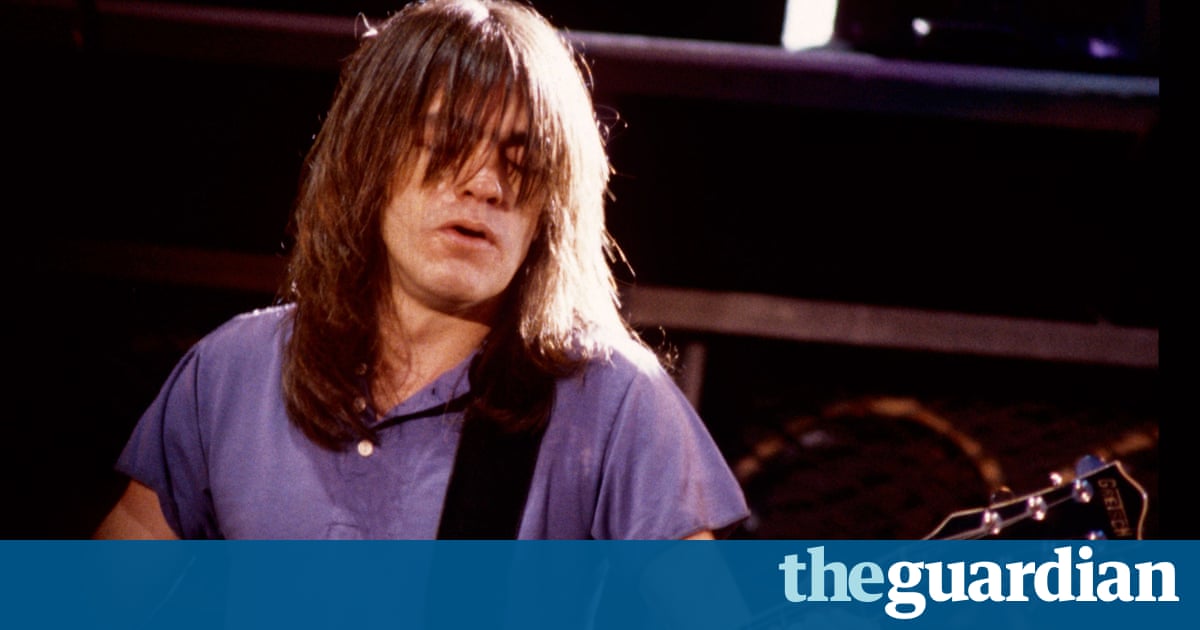 Malcolm Young, who has died aged 64, was the driving force behind AC/DC, the rock outfit that sold more than 200m albums over 40 years to become one of the highest-grossing bands of all time. His brother Angus, the bands lead guitarist, may have been the most recognisable character in AC/DC, largely thanks to his habit of wearing school uniform on stage, but it was Malcolm whose inventive rhythm guitar and storming riffs formed the backbone of the bands sound. Malcolm often took the crucial decisions about the bands strategy, and he became notorious for abruptly firing various managers, producers and band members.
AC/DC rocketed into rocks front rank with the release of Highway to Hell in 1979. Its swaggering juggernaut of a title track encapsulated everything that would make AC/DC great. Bass, drums and crushing guitar chords created a roaring bulldozer of sound, enhanced by Angus Youngs molten soloing, while the lead singer Bon Scott howled soulfully overhead. Disaster threatened the following year when the charismatic Scott died from alcohol poisoning. They came back with their next album, Back in Black (1980), featuring a new vocalist, Brian Johnson. It bristled with such powerhouse tracks as Hells Bells, You Shook Me All Night Long and the title song, and was a defiant statement of intent that sold over 50m copies.
For Those About to Rock We Salute You (1981) was another smash, and AC/DCs first US chart-topper (a feat they wouldnt repeat until Black Ice in 2008). The title track became a regular encore piece in AC/DC shows for decades to come. All three of these albums were produced by Robert John Mutt Lange, a Zambian-born British songwriter and producer who went on to work with Def Leppard among others, and they formed the core of the AC/DC legend.
Malcolm was born in Glasgow, the seventh of the eight children of William Young, who had been an RAF mechanic and a spray painter but became unemployed in the 1950s, and his wife, Margaret. The family lived in the Cranhill housing estate until 1963, when William and Margaret emigrated with six of their children to Sydney via the Australian governments ten pound pom scheme (adults paid 10 each for the fare while children travelled for free).
It was George Young, six years older than Malcolm, who first enjoyed musical success, as co-founder of the Easybeats, the so-called Australian Beatles who scored international hits including Friday on My Mind (1966). Finding the family home besieged by Easybeats fans influenced Malcolm and his younger brother Angus to form a band of their own. Malcolm cut his teeth with early groups including Beelzebub Blues, and developed an assured guitar technique influenced by Eric Clapton and Jimi Hendrix as well as Santana and Stevie Wonder. Angus, meanwhile, practised furiously to become a virtuoso lead player.
The brothers, neither of whom was much over five foot tall, assembled the first version of AC/DC in November 1973, with Dave Evans as vocalist. When Scott, another Scottish immigrant to Australia, replaced Evans the following year, the band released their first album, High Voltage (1975), produced by George Young and his Easybeats songwriting partner Harry Vanda. With Bon, thats when the band became a band, said Malcolm. We had a real character with his own style and his own idea for lyrics. Those lyrics were primarily concerned with sex, drugs, drink and rocknroll.
The drummer, Phil Rudd, and bassist Mark Evans then joined, and played on three further albums, T.N.T. (1975) featuring their early favourite Its A Long Way to the Top (If You Wanna RocknRoll), Dirty Deeds Done Dirt Cheap (1976) and Let There Be Rock (1977), before Evans was replaced by Cliff Williams for Powerage (1978).
In 1976 the band signed a deal with Atlantic Records and were soon recognised as an influence on British rock bands including Saxon and Iron Maiden, while also being bracketed with punk by the British music press. We were always saying: We aint a punk band, were rocknroll, said Malcolm. But it was good that punk came along and changed the face of music for a while.
After their albums with Lange, AC/DC led by Malcolm decided they wanted a simpler approach, but Flick of the Switch (1983) and Fly on the Wall (1985), both produced by the brothers, were lacklustre efforts. Who Made Who, the soundtrack to Stephen Kings film Maximum Overdrive (1986), mixed old and new material and put the band back in the charts, while Blow Up Your Video (1988) continued the good work by selling a million in the US.
As the band prepared for the Blow Up Your Video tour, however, Malcolm announced he needed a break to deal with a worsening alcohol problem. It caught right up to me and I lost the plot, he admitted. Angus was going: Im your brother, I dont want to see you dead here. Remember Bon? So I took that break and cleaned myself up. His place on the tour was taken by a nephew, Stevie Young, son of Malcolms oldest brother, Steven.
Malcolm was back for the next album, The Razors Edge (1990). Produced by Bruce Fairbairn renowned for his work with Aerosmith and Bon Jovi it swept AC/DC back to multiplatinum glory, selling 5m copies in the US alone. The Razors Edge tour produced an acclaimed live album, Live, though when 1995s Ballbreaker appeared it was AC/DCs first new material for five years. A further half-decade passed before they released Stiff Upper Lip (2000), a solid though uninspiring effort.
While their new material dwindled, their back catalogue remained hugely profitable. In 1997 they released the five-disc set Bonfire, featuring studio and live material. In 2002 they signed with Sony Music, which reissued expanded versions of their past albums. Plug Me In (2007) was a multi-DVD package comprising rare live footage. The band also licensed tracks for use in the Rock Band series of computer games.
In 2003 AC/DC were inducted into the Rock and Roll Hall of Fame. The album Black Ice (2008) confirmed their status; it debuted at No 1 on album charts in 29 countries, and achieved global multi-platinum sales. During the ensuing 20-month world tour they played to more than 5 million people in 28 countries.
In 2011 Angus Young spoke of plans for a new album, possibly to mark the bands 40th anniversary in 2013, but Johnson told US radio it would be delayed because of an unnamed band members health issue. In April 2014 AC/DCs website announced: Malcolm Young is taking a break from the band due to ill health. It was rumoured that their nephew Stevie Young (son of Alex Young, who died in 1997) might once again stand in for his uncle. Malcolms elder brother George <a href="https://www.theguardian.com/australia-news/2017/oct/23/george-young-pioneering-songwriter-and-member-of-the-easybeats-dies-at-70″ data-link-name="in" body link" class="u-underline">died last month aged 70.
He is survived by his wife Linda, daughter Cara, son Ross and brother Angus..
Malcolm Young, musician, born 6 January 1953; died 18 November 2017.
Read more: https://www.theguardian.com/music/2017/nov/18/malcolm-young-driving-force-behind-acdc-obituary