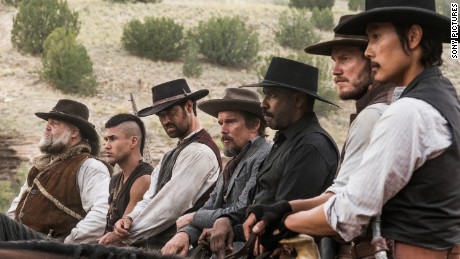 (CNN)Westerns are one of Hollywood's most beloved genres — but not one of its most diverse. That isn't the case with this weekend's "The Magnificent Seven."
The film has a wide variety of actors from different races and backgrounds including Asian actor Byung-hun Lee, who's from South Korea; Mexican actor Manuel Garcia-Rulfo; and its star, Denzel Washington, who plays bounty hunter Sam Chisolm.
Washington told CNN at the Toronto International Film Festival earlier this month that the film's diverse cast speaks to the reality of the setting in the west of the 1800's.
<
ul class="cn" cn-list-hierarchical-xs cn–idx-4 cn-zoneadcontainer">
"That was the reality of what was going on in those days," Washington said. "The question is why wasn't that the case for 100 years in the movie business?"
Washington added that having a positive film about outlaws trying to do the right thing could also have an impact on today's audiences.
"People are afraid. They're getting boxed in. They're polarized. It's this side against that side, so how do they feel safe?" he said. "We were talking about this earlier, 'oh movies are going to fade away.' No, people are going to the movies now more than ever because they want to be together."
Another star in the cast, Chris Pratt, who plays gambler Josh Farraday, said being part of the film allowed him to help make a new mark on an old genre.
"I always wanted to do a western," Pratt said. "This is a timeless tale that has been told many times but it's a relevant and new perspective. It's a diverse cast of characters that's really reflective of the modern world."
"Magnificent Seven," which is a remake of the 1960 film of the same name, is expected to have a solid weekend at the box office, with revenue projections of about $30 million. But it could do better than that if it strikes a powerful note with moviegoers conscious of how issues of diversity have been in the news lately.
"There's this scene where I go to Denzel and [my character] is breaking down and he says, 'you told me the war is over and the war is not over,'" said Ethan Hawke, who plays Goodnight Robicheaux, a former Confederate soldier. "And as I'm running these lines in my head, driving to set I'm listening on the radio in Louisiana, they were talking about the right to wave the Confederate flag in South Carolina… and I'm thinking, 'wow, the war really isn't over.'"
Read more: http://www.cnn.com/2016/09/23/entertainment/magnificent-seven-denzel-washington-chris-pratt/index.html