<figure class="media-landscape" no-caption full-width lead">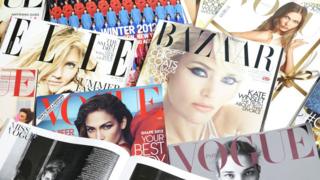 Image copyright Getty Images
Print sales have been declining for several years as readers find their content online – but now, something unusual is happening.
When was the last time you bought a magazine?
The answer is likely to depend on whether you prefer reading about Theresa May or Taylor Swift.
Magazine sales have generally been falling since the day the inventor of the internet said: "Hey, why don't I invent the internet?"
But the latest ABC figures, released this week, show that sales of certain titles are actually going up.
<div id="bbccom_mpu_1_2_3″ class="bbccom_slot" mpu-ad" aria-hidden="true">