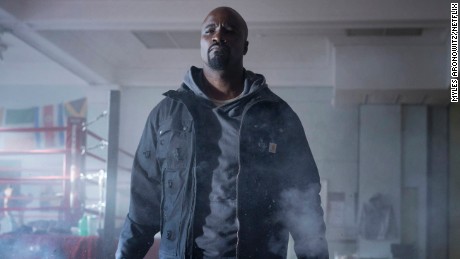 Los Angeles (CNN)As superhero team-ups go, Marvel and Netflix continue to make a pretty powerful pair. Enter, on the heels of "Daredevil" and "Jessica Jones," "Marvel's Luke Cage," which closely adheres to that gritty formula and should win its own loyal legion of fans behind Mike Colter's imposing presence in the title role.
Moreover, there's symbolic importance in "Luke Cage's" arrival, representing a franchise built around an African-American superhero — described by first-time showrunner Cheo Hodari Coker as "a bulletproof black guy" — before "Black Panther" can hit the big screen. (Disclosure: Coker is a former colleague from our overlapping stints at the Los Angeles Times.)
These streaming shows built around lower-profile characters operate on a parallel tier of the Marvel Cinematic Universe, referencing the theatrical world populated by "The Avengers" but operating in a much more spare, scaled-down environment.
<
ul class="cn" cn-list-hierarchical-xs cn–idx-4 cn-zoneadcontainer">
As a result, the title character (who previously appeared in "Jessica Jones") can be introduced gradually. The start is so leisurely, in fact, that the origin story — explaining how Cage came to be nearly indestructible and incredibly strong, via the ever-popular experiment gone wrong — doesn't come until the fourth episode.
Then again, with Netflix, spooning out plot sometimes just makes for a better binge. Set in Harlem, the low-key intro finds Luke Cage sweeping up in a barbershop, one of several odd jobs he takes to make ends meet. And while the owner (Frankie Faison) knows his secret and urges Luke to use his powers "helping people" like those better-known heroes, he resists the temptation, harboring past emotional wounds even if he's mostly impervious to physical pain.
That changes, naturally, thanks to a crooked businessman known as Cottonmouth ("House of Cards'" Mahershala Ali) and his corrupt politician cousin, Mariah (Alfre Woodard) — both culled from the comics, but rendered decidedly more earthbound here in terms of being able to trade punches with Luke.
Indeed, one drawback of these Netflix series has been that these heroes reside in a world populated by street thugs and henchmen (including "Sons of Anarchy's" Theo Rossi as Cottonmouth's enforcer), not super-villains. As a consequence, Luke spends a lot of time tossing hapless thugs through windows, which tends to deliver diminishing returns thrill-wise.
Then again, "Luke Cage" is as much about atmosphere as thrills. The series breezes along at its own pace, eventually bringing in Rosario Dawson in the fifth episode (seven were previewed) as Claire, the character she played in "Daredevil." And the dialogue is generally sharp, giving characters room to do things like bicker about their favorite NBA teams.
While the show is light on special effects, Colter (perhaps best known, before "Jessica Jones," for "The Good Wife") not only oozes charisma but manages to look like a superhero just walking around in a sweatshirt, or even (in rare moments) a jacket and tie.
Dark and serious, Marvel's Netflix series have generally been more satisfying than something like ABC's "Agents of SHIELD," and, in commercial terms, have demonstrated the value of these lesser-known characters — who will eventually unite in team-up series "The Defenders" — especially for a subscription-based service.
Viewed that way, even allowing for its occasional weaker spots, "Luke Cage" looks rock-solid.
"Luke Cage" premieres Sept. 30 on Netflix.
Read more: http://www.cnn.com/2016/09/28/entertainment/luke-cage-review/index.html