<figure class="media-landscape" has-caption full-width lead">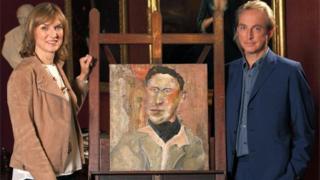 Image caption The origin of the painting was uncovered on Fake or Fortune presented by Fiona Bruce and art historian Philip Mould
An early Lucian Freud painting worth at least 300,000 has been identified by the BBC, despite the artist's own denials that it was his work.
The painting, by the acclaimed portrait artist who died in 2011, was identified by BBC One show Fake Or Fortune.
Experts at Christie's auction house claimed it to be a Freud in 1985, but the artist denied it was his.
However notes uncovered from the artist's former solicitor and further analysis prove the painting was by him.
Fake Or Fortune presenters Fiona Bruce and art historian Philip Mould had the breakthrough when they spoke to the solicitor, who found a note in her files of a phone conversation with Freud from 2006.
<div id="bbccom_mpu_1_2_3″ class="bbccom_slot" mpu-ad" aria-hidden="true">