<figure class="media-landscape" no-caption full-width lead">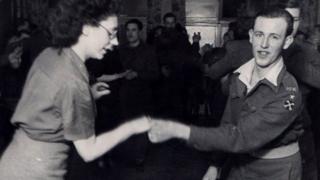 Image copyright LMA
Dance halls were a huge part of people's lives across Scotland and beyond.
Many met their partners there, had a taste of freedom and encountered new and exciting kinds of music.
A new exhibition about the social history of music and venues from the 1920s to the 1970s opens in Edinburgh this weekend.
"One Saturday we happened to meet each other at the dancing and he took me for a gin and tonic," says Evelyn Whitfield, remembering her dancing days as a teenager in Cupar.
She worked with the man who is now her husband but dancing was key in how things developed.
<div id="bbccom_mpu_1_2_3″ class="bbccom_slot" mpu-ad" aria-hidden="true">