Jos Mourinhos tactics drew the sting from the home side in a much-hyped Premier League encounter that neither he nor Jrgen Klopp could afford to lose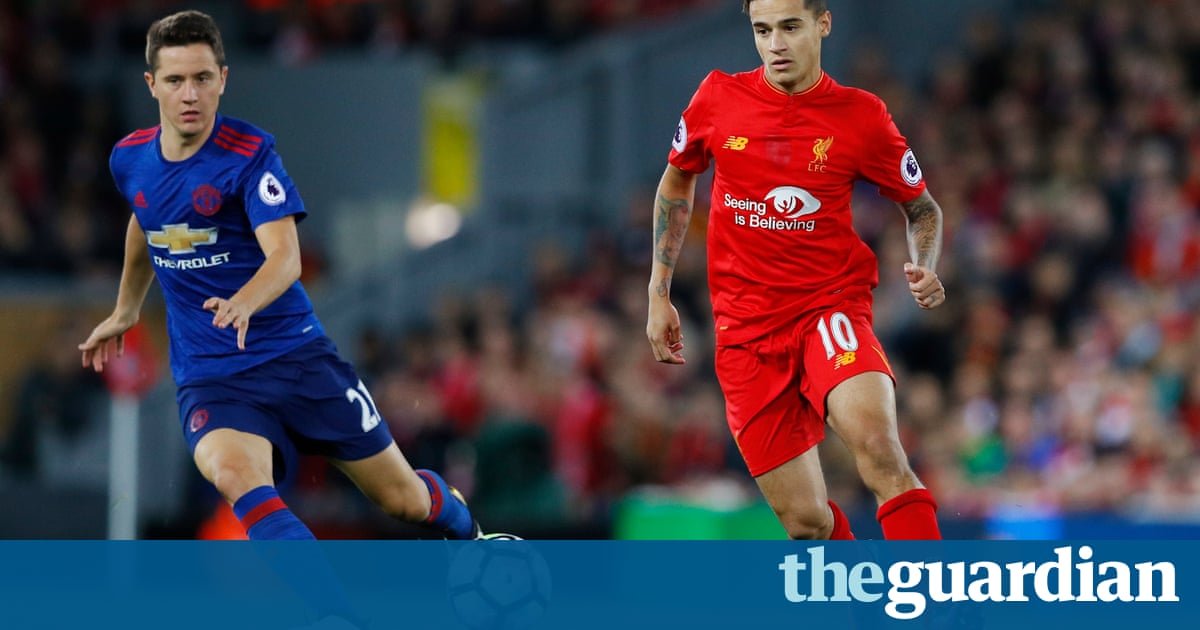 If the world was watching, as the hype would suggest, then Liverpool and Manchester United owe a lot of apologies. The biggest ticket the Premier League has to sell to a global audience did not include incident or entertainment at Anfield and Jrgen Klopp looked beyond convenient excuses to lament his teams responsibility for the non-event.
When you are in a good moment you can play much better and it should not depend on how the opposition defends because the spaces are always similar, he said. Our problem was that we didnt see them tonight. When his adrenaline levels subside in a few days time, however, the Liverpool manager may place greater value on a point and a first clean sheet of the Premier League season than a below-par display he said stemmed from the fact his team couldnt get rid of the hectic.
Liverpool, lacking several key components in central midfield, were a reflection of their goalkeeper Loris Karius unconvincing but unscathed. The German goalkeeper twice fluffed his lines but was reprieved by refereeing decisions against Zlatan Ibrahimovic on both occasions. The home sides main flaw was a lack of intelligence in possession, according to Klopp, and his selection issues did provide an explanation despite his lack of interest in excuses.
The first game to be played under the floodlights of the revamped Anfield turned the spotlight on Liverpools strength in depth for the first time this term. Klopp had no cause to change his central midfield trio of Adam Lallana, Jordan Henderson and Georginio Wijnaldum, with the former Southampton man enjoying the finest spell of his Anfield career, the club captain flourishing in the holding role, where he had been developing by the game, and the 25m summer signing from Newcastle United settling instantly. They have enhanced Liverpools threat and ability to harry opponents according to their managers wishes, but injury deprived Klopp of two thirds of his preferred midfield and it had a major bearing on Liverpools performance.
Only when Lallana replaced Daniel Sturridge in the second half and Roberto Firmino shifted into the central striking position did Anfield catch a glimpse of the teams potential.
For the first time in the Premier League, Liverpool started without Lallana-Henderson-Wijnaldum in the centre. Lallana was only deemed fit enough for the substitutes bench having suffered a groin injury in the win at Swansea City before the international break and trained for two days. Wijnaldum did not get that far, with the hip injury picked up in Hollands World Cup-qualifying defeat by France ruling him out completely.
The disruption resulted in Emre Can making his first start of the campaign in place of Lallana and Philippe Coutinho dropping into the Dutchmans position to the left of Henderson, but was not confined to personnel. There was a lack of energy, adventure and understanding at the heart of the Liverpool team and that, more than any stifling tactics from Mourinho, was responsible for the flattest of the three league fixtures at Anfield.
Dropping Coutinho into the deeper role made sense in so much as that positional change had ignited Liverpools display when the Brazilian replaced the injured Lallana at Swansea. A reduction in the home sides menace and movement was inevitable with their creative force 50 yards further away from David de Geas goal, but the extent of its impact clearly shocked and enraged Klopp. His furious instructions to his disjointed midfield was the stand-out feature of an otherwise incident-free first half, although it was Can on the receiving end of most of the managerial volleys.
The German internationals only other start this season had come in the EFL Cup <a href="https://www.theguardian.com/football/live/2016/aug/23/burton-albion-liverpool-efl-cup-second-round-live" data-link-name="in" body link" class="u-underline">tie at Burton Albion on 23 August, when he aggravated an ankle injury. Rusty would be the kindest description of his return to the side as Can lost possession and challenges too easily against Marouane Fellaini and Ashley Young, while his reluctance to break forward prompted Klopps first outburst in his compatriots direction.
Coutinho confirmed he is not averse to dogs work when he chased Antonio Valencia across the pitch and roused an already fired up Anfield with a precise tackle on the United right-back. Otherwise, with Hendersons distribution below-par, Coutinho unable to compensate for Wijnaldums ability to protect the Liverpool defence when United countered and Can toiling, there was a distinct lack of cohesion to the home team. Even Zeljko Buvac, Klopps first assistant coach, made a rare appearance in the technical area to cajole an improvement from the Liverpool midfield.
Naturally, midfield problems had a knock-on effect for the isolated Sturridge, Sadio Man and Firmino. Lallanas arrival came moments after Can almost rectified his contribution with a low shot that brought a superb save from De Gea and with the England international injecting urgency, Coutinho also forced a stunning stop from the United keeper from distance. We had a few good moments but not enough to deserve the win, Klopp said.
Read more: https://www.theguardian.com/football/blog/2016/oct/17/liverpool-manchester-united-jose-mourinho-jurgen-klopp