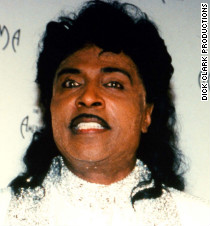 (CNN)Here is a look at the life of self-proclaimed "Architect of Rock 'n' Roll" Little Richard.
Personal:
Birth date: December 5, 1932
Birth place: Macon, Georgia
<
ul class="cn" cn-list-hierarchical-xs cn–idx-4 cn-zoneadcontainer">
Birth name: Richard Wayne Penniman
Father: Charles Penniman
Mother: Leva Mae Penniman
Marriage: Ernestine Campbell (1959-1961, divorced)
Children: Danny, adopted (date unavailable publicly, now an adult)
Education: Attended Oakwood College (now Oakwood University), Huntsville, Alabama.
Other Facts:
As a teenager, he traveled across Georgia with vaudeville and minstrel shows.
His stage name "Little Richard" came from the time he spent performing with a troupe called B. Brown and his Orchestra.
Jimi Hendrix
and Billy Preston were both backing musicians for him.
The lyrics for "Tutti Frutti" were changed due to the obscene nature of the original words penned by Little Richard.
Elvis Presley
, Pat Boone and the Beatles all covered his songs. Some were bigger hits than the recordings by Little Richard himself.
He may be as famous for his pounding piano style, pompadour hairdo, makeup and outrageous antics on stage as he is for his music.
He is a Seventh-day Adventist but has also been a member of the Church of God. He has stated that "there are good people in all churches."
Timeline:
1951 – Wins a talent contest in Atlanta which leads to a recording contract with RCA.
September 1955 – At a recording studio in New Orleans, he records "Tutti Frutti."
1956 – Elvis Presley performs "Tutti Frutti" twice on national television.
1957 – Announces that he is quitting rock and roll to devote his life to God.
1960 – Releases three gospel albums.
November 1962 – While on tour in Germany, he shares the stage with an unknown band called the Beatles.
1963 – Tours with the Rolling Stones, Bo Didley and the Everly Brothers.
1984 – Little Richard is inducted into the Georgia Music Hall of Fame, and his authorized biography, "The Life and Times of Little Richard" is released.
October 8, 1985 – Suffers a badly fractured right leg that requires a steel rod to be surgically implanted.
December 1987 – Presides over a second wedding ceremony for actors Bruce Willis and Demi Moore.
June 21, 1990 – A star on the Hollywood Walk of Fame is placed in his honor.
1992 – Releases a children's album, "Shake It All About."
1993 –
Receives a
Grammy
Lifetime Achievement Award.
2009 – Hip surgery leaves him in chronic pain after surgeons are unable to remove a broken bone.
October 2012- At 79 years-old, he plays a 90-minute show at the Pensacola Interstate Fair.
2013 – In a Rolling Stone interview, he claims he is finished making music.
Read more: http://www.cnn.com/2015/01/28/us/little-richard-fast-facts/index.html