Steven W Thrasher questions medias lack of nuance and affirms when a safe space is invaded Latinos and others will stand up and be heard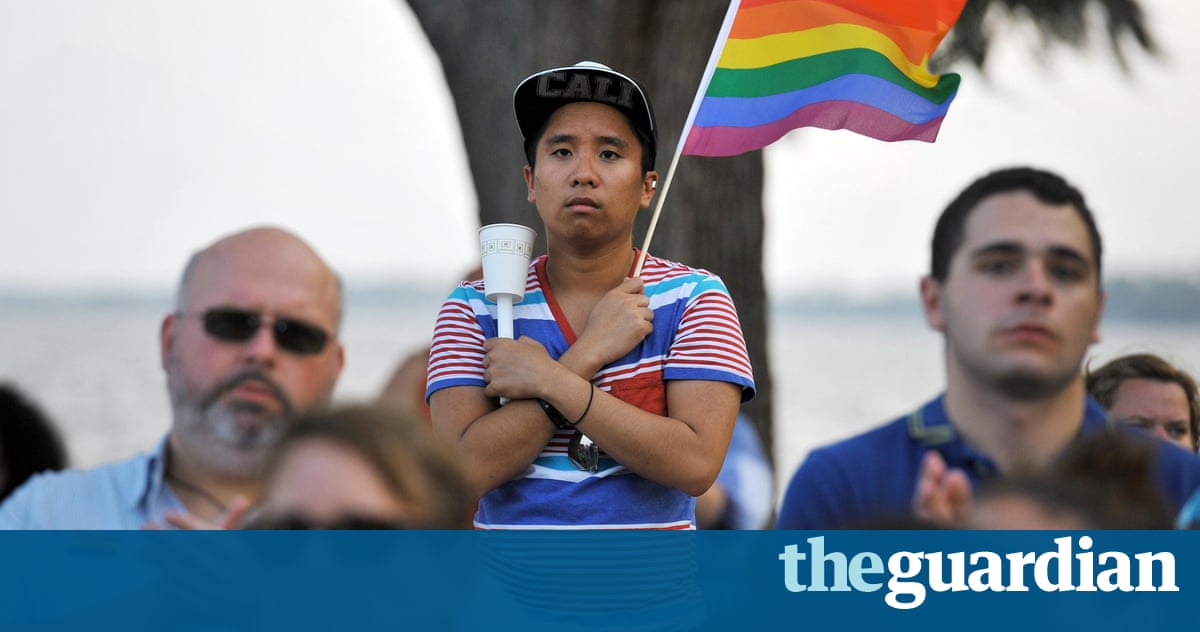 On Tuesday night in Orlando, there was no sight of a reporter at the Parliament House, the ageing gay resort whose club is the biggest queer gathering place in the city now that Pulse is closed, when a drag queen who had survived the shooting took the stage. It was Hip-Hop night, and gay people of color turned out en masse to dance, to remember, to forget.
I stayed at the run-down gay resort all week, and it was one of the most queer spaces Ive ever encountered. Many of the staff who worked at Pulse also worked there. Drag queens and buff bartenders worked in the front bar, and a Bear Den in the back welcomed older men for late-night drinks . Sex workers and those looking for sex for free wandered around all hours of the day and night. It definitely sits in the margin.
The Parliament House community is used to being left alone, but the community is large, and working class. Staff who lost multiple friends during the attack were bussing tables the next day because, like many of those who died, they have service jobs.
While some reporters turned up at Parliament House midday, the place only really came alive late at night. The Hip-Hop nights drag show began well after 1am, and drag queen Angelica Sanchez took the stage around 2am. Sanchez had survived the horrors of the Pulse just a few nights before. And with a blackness that could have been divined from RuPaul, Bessie Smith, Nina Simone, or Audre Lorde, she gave face, and spun and dipped to the song Survivor. The performance, despite the flashing lights and pounding music, had a stillness to it. It was one of the most beautiful, most gay, and most black things I had ever seen.
And as I watched her give the performance of her life a performance birthed shortly after she faced death just days ago, as so many of her loved ones were gone a beautiful brown young man sat down next to me, took my hand in his, kissed me on the cheek, and laid his head down on my shoulder. I put my arm around him and held him through the rest of the song. With no words, we comforted each other.
Simply scroll through the images of the faces of the Pulse shootings victims, and youre going to see a lot of tan, black and brown skin. Or you can simply read their names out loud: Leroy Valentin Fernandez. Juan Chevez-Martinez. Xavier Emmanuel Serrano Rosado. Mercedez Marisol Flores. Miguel Angel Honorato. The list goes on.
And yet, Latino organizations had to hold a press conference to get the media to acknowledge that the shooting happened not just inside of a LGBT club, but on a Latin Night too.
On Tuesday, Pete Sessions, a member of the house of representatives from Texas, reportedly said Pulse was a young persons nightclub with some [LGBT ppl] there, but it was mostly Latinos as if Latino LGBT people dont exist. And earlier this week, Stonewall Democrats invited singer Nick Jonas to address a vigil at the Stonewall Inn as if a straight, white singer plugging an album was an appropriate choice to speak out an attack on queer Latino community.
Why such tone deafness?
Contrary to what the TV show Will and Grace might have shown, most LGBT Americans are working class or poor and at least half are women. A lot of them are not affluent, nor white. But even LGBT film-makers, organizations and publications reinforce the idea that gayness equals whiteness; gay people in power often choose to make their front men be white men.
Roland Emmerich, the gay film director who made the widely panned film Stonewall, was accused of whitewashing the roles of Puerto Ricans and transgender women of color in the riots. The largest LGBT rights organization in the US, the Human Rights Campaign, has been called a white mens club by its own internal report. And in April, the hashtag #GayMediaSoWhite began trending on Twitter.
Fusion interviewed the mixed-race performer Mykki Blanco shortly after, who wondered if Gay Media in 2016 are at all embarrassed when you go to their websites/content and its only shirtless white guys?
I asked Aaron Hicklin, the editor-in-chief of Out magazine, about this disparity. He told me he watched #GayMediaSoWhite unfold but kept his distance because I understood that it was not a time that someone wanted to hear from a white guy. He defended his magazine, saying there are people of color, there are trans people, in every issue of Out, and I do not think these are simply crumbs but often substantive articles. (Disclosure: I wrote for them in the past.)
But while he added it is absolutely right that this painful moment for our community makes our obligation to be as inclusive as possible starker than ever, hes never believed a cover is representative of whats inside. Covers, he said, are primarily designed to sell magazines. In a nutshell: selling those covers often means selling whiteness.
Sometimes that sale funds other kinds of important coverage such as the work of two gay journalists for the Advocate and Out magazine who also stayed at the Parliament House last week. But too often the most visible image in LGBT media is that gay equals rich and white.
Andrs Duque, a Latino LGBT rights advocate and blogger, concurred. You need capital investment and sustained ad revenue that target more affluent readers which usually means that publications end up catering to mostly white gay male readers.
Linda Villarosa, director of the journalism program at the City College of New York in Harlem, tends to agree. She thinks that the LGBT media should know better and do better, but admits that as the media landscape has shifted and news outlets have shriveled up and too often died, its hit our media harder.
I arrived in Orlando on Sunday. On Monday morning, I got as close as I could to the Pulse nightclub downtown. A familiar scene was unfolding, similar to ones Ive seen unfold in Baltimore and Ferguson and other sites of American disaster in which the victims were people of color: legions of white journalists were setting up.
This is not surprising, given the overwhelming the whiteness of the American media. Newsrooms are about 13% non-white, even as the non-white population of the country is 37% and will grow to a majority over the next three decades.
I worried that an obviously white and probably mostly straight press would miss the the nuances of a story in which an American of Afghan descent slaughtered dozens of queer Latino and Hispanic people while saying, according to <a href="http://www.usmagazine.com/celebrity-news/news/orlando-shooting-survivor-patience-carter-why-gunman-spared-me-w210121″ data-link-name="in" body link" class="u-underline">one black survivor, that he spared her because black people have suffered enough.
This is something Duque, the blogger, agrees with. Ones sexuality or ethnicity does not necessarily make you a better or worse journalist, Duque said. But when you cover issues that touch on both angles, there is certainly a chance that a reporter who is gay and a person of color might bring insights and nuance other reporters might not bring.
For years, he told me, one of my pet peeves was the way the New York Times seemed to illustrate most stories about queer people of color outer borough life with dark street photographs, usually taken after dark, making it seem dark and forbidden.
He thinks that for mainstream media it sometimes seems like a shock to the system to realize that not every one of us is deeply closeted, unwilling to talk to media, or share expertise about the communities we come from.
This not only applies to journalism, but to LGBT organizations as well. I met Paulina Helm-Hernandez, co-director of Southerners on New Ground, an Atlanta-based LGBT organization run for and by queers of color, at Parliament House and we struck a conversation. As I had been trying to get a handle on how the white gaze was downplaying or erasing the Latino aspect of this tragedy, she was seeing the same thing among service organizations.
Theres often a rush to decentralize marginalized people at traumatic moments, she told me. As a queer Latina, she says, even when its our community under attack, our community is not allowed to set the tone, and I hate to say it, white people just rush in. Ive watched it over and over again in recent years. The consolidation of gay white power, even in organizations that say they are committed to doing multiracial LGBT work.
Helm-Hernandez told me that all of her Latino colleagues who were arriving in town have tried to be a part of coalition community programs, and weve all been finding that a list of speakers has already been set. And do you think any of them were people of color? And were Latinos? No, we have to elbow in, and maybe theyll give us one minute or we have to create our own autonomous people of color spaces, which we have always done.
Ive thought a lot about how Pulses Latin Night was just that: an autonomous space safe for Latino queers not in getting shelter from heterosexuals, but from a white gay culture that doesnt see them.
I thought of this again the next day, when a young sex worker saw me typing on my laptop in the Parliament Houses courtyard. I was underneath an awning as the sky opened up and poured. He plopped down and tried to pick me up for a few dollars forbus fare. I just gave him the money instead.
He then lit up a cigarette and started telling me about how he fled Pulse. He went to most Latin Nights.
I heard gunshots and I got the hell out of there.
I asked if he knew immediately that the sounds were gunshots, or if hed considered hiding in the bathroom. Hell no! If you grow up in the hood, you know what gunshots sound like and you dont wait around. You dont walk towards gunfire like white people do in the movies.
There was a dark comedy in what he was saying, a protective wit; he seemed not to take it too seriously because he survived and had perhaps known violence for much of his life. It was the kind of thing he probably would never have said to a white or straight reporter.
It struck me that he was the opposite of the buff, white, cisgender, hyper-masculine, violent white American straight male. He was the anti-Nick Jonas, the anti HRC donor.
And as he went to catch a bus once the rain stopped, I thought that he is the kind of person made invisible by society and media that the Pulse tried to welcome every Latin Night.
Read more: https://www.theguardian.com/us-news/2016/jun/18/orlando-latino-lgbt-media-whitewash