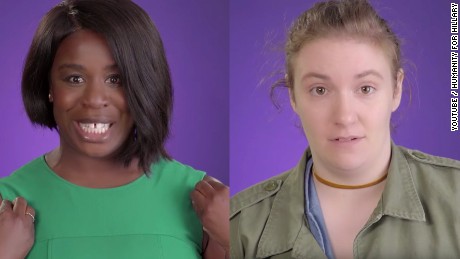 (CNN)Lena Dunham, Uzo Aduba and Taylor Schilling are some of the celebrities who teamed up to create Humanity for Hillary, an organization working to build support for Hillary Clinton's presidential campaign.
The group launched Monday with a website and video that calls for more women in elected offices.
<
ul class="cn" cn-list-hierarchical-xs cn–idx-4 cn-zoneadcontainer">
In the video entitled, "This is What My Revolution Looks Like," Dunham says revolution "looks like women having a seat at the table — at the head of the table."
"Women made up 53% of all voters in the last election, and yet we make up 19.4% of our Congress. What the f***," Aduba says in the video.
Aduba's "Orange is the New Black" co-star, Taylor Schilling, also appears. Schilling criticizes the lack of paid leave offered to new mothers in the United States and says, "[There's] no family leave like literally every other developed nation in this world."
The video tackles a variety of other issues and also features Rosie Perez, Lea Delaria, Natasha Lyonne and Hill Harper.
Read more: http://www.cnn.com/2016/07/25/entertainment/lena-dunham-uzo-aduba-humanity-for-hillary/index.html