Riyad Mahrez scored with a superb free-kick and a penalty as Leicester City beat Club Brugge 3-0 away on their Champions League debut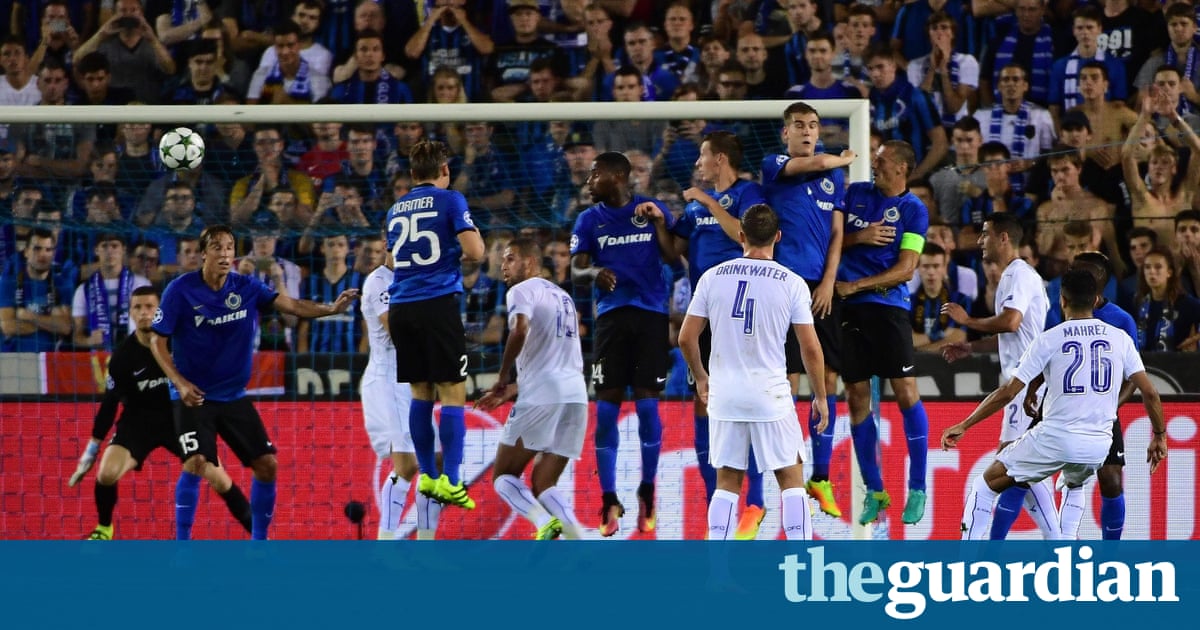 As first experiences of the Champions League go, Leicester City are probably entitled to wonder whether it is always this straightforward. It is not, as they will no doubt discover later in the competition, but this was a hugely satisfying way to start their European excursions and a reassuring way to discover there is no reason to be apprehensive about taking their place at the top table.
Not every team will be as generous as Club Brugge but it was still striking to see Claudio Ranieris side rediscovering the form that won the Premier League last season. Tough at the back, penetrative in attack this was more in keeping with the story of the English champions, as opposed to the slightly dishevelled performances that have marked the start of their title defence.
It finished with Leicesters first win in Europe since 1961 when Matt Gilliess team beat Glenavon in the preliminary round of the Cup Winners Cup and, for the current side, it leaves them in a position of strength as they try to add to the statistic that says that, since 2002, only nine out of the 46 teams playing in the Champions League for the first time have qualified for the knockout rounds.
They can certainly be encouraged when Jamie Vardy is worrying defences in this manner. Riyad Mahrez had started the season slowly but his two goals, the first a splendid free-kick, should soothe his confidence. I said to the players that when you hear the Champions League music it charges the battery and makes you fight, Ranieri said. The entire team looked energised, taking control once Marc Albrighton gave them an early lead and never looking like they might hand it back.
Leicester certainly set off like a team in a hurry. Only five minutes had elapsed when Albrighton applied the decisive touch after the Club Brugge goalkeeper, Ludovic Butelle, made a hash of trying to claim the ball in mid-air. Luis Hernndez had hurled in a long throw from the right and Albrighton was loitering at the far post when Hans Vanaken inadvertently flicked the ball into the path of the Leicester player.