<figure class="media-landscape" has-caption full-width lead">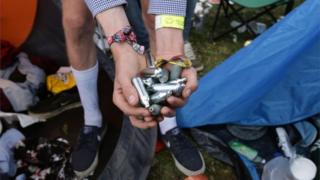 Image copyright PA

Image caption Empty canisters of laughing gas are a common sight in fields after music festivals
The Home Office says it will continue to prosecute those who sell nitrous oxide, despite the collapse of the first contested cases under new laws.
The Crown Prosecution Service is reviewing two cases after a judge and the government's own expert witness said "laughing gas" was exempt.
This now raises questions as to whether the new law will need to be amended.
The Psychoactive Substances Act was introduced last year to deal with the problem of new manufactured drugs.
Nitrous oxide, also known as laughing gas, is taken by hundreds of thousands of people every year as a recreational drug. But the gas is also used by doctors for its pain-relieving properties.
<div id="bbccom_mpu_1_2_3″ class="bbccom_slot" mpu-ad" aria-hidden="true">