After strong performances in two debates, several new surveys show the Communist-backed candidates popularity surging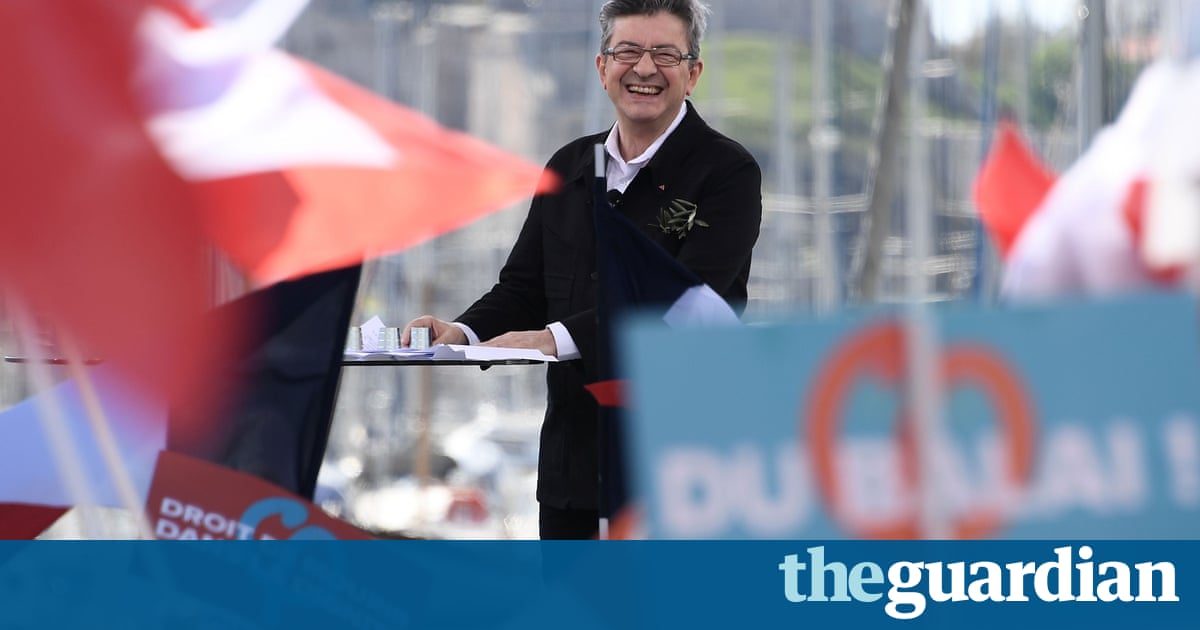 The French Communist-backed presidential candidate Jean-Luc Melenchon is closing in on the frontrunners Emmanuel Macron and Marine Le Pen, according to new polls.
A rally held by Melenchon drew tens of thousands of supporters on Sunday, underlining his surging popularity just two weeks from the election on 23 April and adding new drama to a rollercoaster campaign.
After strong performances in two televised debates, several surveys at the weekend showed him climbing to third position, with 18% to 19% of voters saying they would vote for him.
Speaking in Marseille, Melenchon said voters had a choice other than the extreme-right condemning our great multi-coloured people to hate itself and fans of the free market that transforms suffering, misery and abandonment into gold and money.
The left-leaning news magazine LObs commented that the sudden emergence of Jean-Luc Melenchon among the four candidates with around 20% has shattered all the predictions, [and] is sowing doubt among the favourites.
Analysts say forecasting the two-stage election is even more difficult than usual, with an unusually high number of voters saying they plan to abstain or have not made up their minds.
The scandal-hit rightwinger Franois Fillon also held one of his biggest rallies so far, gathering thousands of supporters at a Paris conference hall. The former prime minister is desperate to pick up momentum after a campaign dominated by allegations he paid his wife hundreds of thousands of euros for a fake parliamentary job.
Im not asking you to love me Im asking you to support me, because its in Frances interest, he told the crowds.
One former minister and Fillon ally admitted on condition of anonymity: If he doesnt rise a few points [in the polls] this week, its over.
Le Pen, meanwhile, sparked criticism from Jewish groups with an interview in which she denied the French state was responsible for the wartime roundup of more than 13,000 Jews at Pariss Vel dHiv cycling track, who were then sent to Nazi death camps.
I think that generally speaking if there are people responsible, its those who were in power at the time, she told LCI television. Its not France.
The CRIF umbrella grouping of Jewish organisations called the comments an insult to France, which honoured itself in 1995 by recognising its responsibility in the deportation of Frances Jews.
Le Pen and her closest allies had hit the airwaves Sunday selling their vision of a nationalist France, unburdened by the European Union and the euro currency and tougher on crime and Islamists.
Macron, meanwhile, detailed what his priorities would be for his first few months in office, telling the Journal du Dimanche newspaper that one of his first measures would be to pass a law setting new ethical standards for parliament. This would be followed by other legislation to cut the number of MPs by a third and to free up the labour market.
Asked about a slight fall in support, according to surveys, he replied: They show exactly what I feel that nothing is decided yet. We are entering a crucial phase.
In a sign that his team are growing anxious about the impact of Melenchon, particularly among the young, supporters spread a video online set to techno music warning about the leftwingers huge tax-and-spend plan.
Melenchons radical programme includes a new 100bn ($106bn) stimulus plan and a reduction in the working week to 32 hours, as well as proposals to overhaul the EU and pull France out of Nato.
Polls published at the weekend confirmed shifting momentum after the final televised debate between the 11 candidates vying to lead France, with a survey for KANTAR Sofres-Onepoint even putting Melenchon a point ahead of Fillon.
Le Pen and Macron are neck and neck but both have lost ground slightly and would win 23% to 24% if the vote were held today, the polls say.
This would mean both qualifying for the runoff scheduled for 7 May, which polls suggest Macron would win comfortably although analysts caution against firm predictions.
Read more: https://www.theguardian.com/world/2017/apr/10/jean-luc-melenchon-shakes-up-frances-presidential-race