Lawsuit alleges Led Zeppelin lifted their 1971 songs famous opening riff from Spirit, a psychedelic band they shared concert billings with in the late 1960s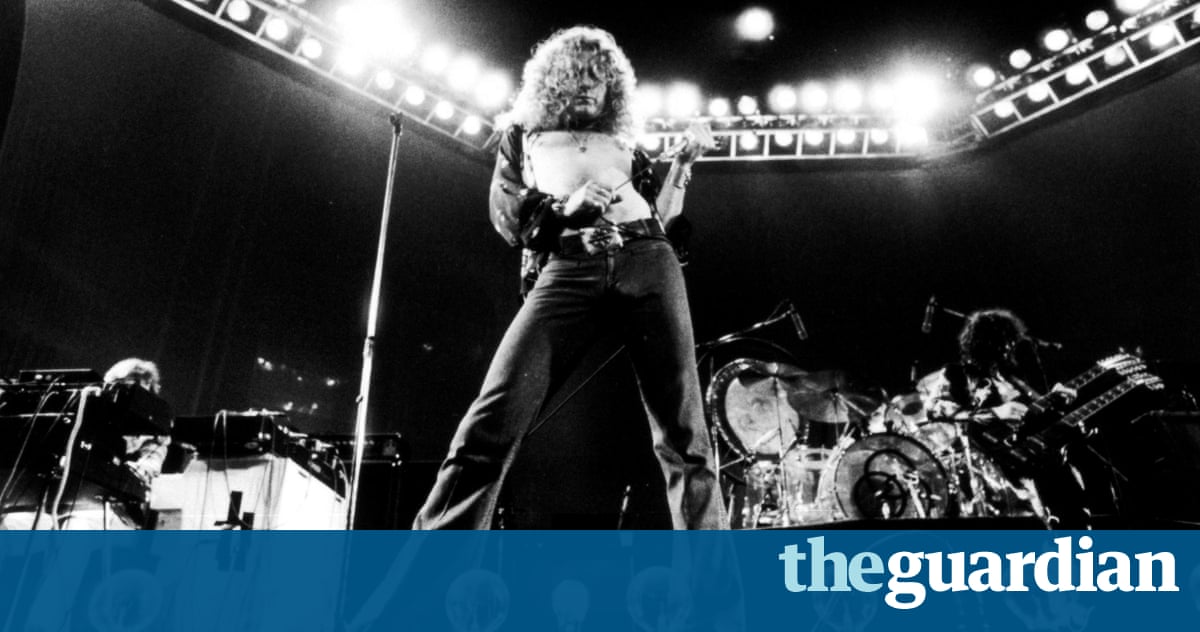 Led Zeppelins Jimmy Page and Robert Plant appeared in a Los Angeles court on Tuesday to defend Stairway to Heaven, one of the most famous anthems in rock, from accusations of plagiarism.
The British duo, sporting dark suits and ponytails, arrived for the start of a trial which will reach back into centuries of music history to determine if they stole a melancholic riff which has enchanted and irritated millions around the world.
It is alleged the band nicked the 1971 songs opening passage, which evokes Renaissance folk music, from an LA-based psychedelic band called Spirit. The two bands shared concert billings in the late 1960s.
The estate of Spirits guitarist Randy Wolfe, also known as Randy California, who died in 1997, is suing for recognition and a share of the proceeds from a mega-hit estimated to have generated more than $500m.
The estates trustee, Michael Skidmore, claims Led Zeppelin ripped off a musical theme which recurs in Taurus, an instrumental on Spirits 1968 debut album, three years before Stairway to Heaven featured on the British bands untitled fourth album, known as Led Zeppelin IV.
If you listen to the two songs, you can make your own judgment Id say it was a rip-off, Wolfe, speaking shortly before his death, said in magazine interview, quoted in the lawsuit. And the guys made millions of bucks on it and never said thank you, never said, can we pay you some money for it? Its kind of a sore point with me.
Page, the guitarist who wrote Stairway to Heaven, and Plant, the singer, did not speak to reporters as they arrived on an overcast morning at the Edward Roybal federal building in downtown LA.
The eighth-floor courtroom, a sombre blend of marble and wood, was an incongruous arena to revisit a bacchanalian era of rocknroll. US district court judge Gary Klausner, with a black robe, silver hair and glasses, said formalities will be preserved in the case, which is expected to last the rest of the week. Never use a first name, he told lawyers. Everybody should have the dignity to be addressed by their last name.
Plant and Page, seated beside their lawyers, took notes during brief legal exchanges. The media were then asked to leave while the court selected a jury, after which the trial will begin in earnest.
After two years of legal argument Judge Klausner ruled in April that the case should go to a jury but he stopped short of agreeing that the song was copied.
Led Zeppelins lawyers are expected to argue that the opening of Stairway to Heaven, a descending sequence mostly in A-minor, has been a common musical device for centuries and that the lawsuit ignores the rest of the song, which lasts eight minutes.
Page and Plant, who have given filmed depositions, have said they never had substantive interaction with Spirit or listened to the bands music.
The lawsuit alleges Led Zeppelin have a deep-rooted history of lifting composition from blues artists and other songwriters who they have repeatedly failed to credit. It cites disputes over 16 other Led Zeppelin songs, including Whole Lotta Love and Babe Im Gonna Leave You.
The Led Zeppelin dispute is the latest in a string of high-profile music plagiarism cases in LA.
Last week Ed Sheeran was hit with an infringement suit claiming his 2015 hit Photograph ripped off the song Amazon, by Martin Harrington and Thomas Leonard. Last year <a draggable="true" href="https://www.theguardian.com/music/2015/mar/10/blurred-lines-pharrell-robin-thicke-copied-marvin-gaye" data-link-name="in" body link" class="u-underline">Marvin Gayes family won a $7.4m award against Robin Thicke and Pharrell Williams for infringing on Gayes Got to Give It Up in their song Blurred Lines.
Read more: https://www.theguardian.com/music/2016/jun/14/led-zeppelin-stairway-to-heaven-plagiarism-trial-spirit