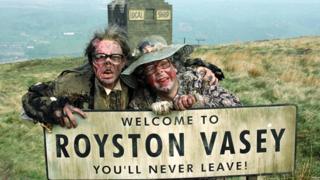 "Welcome to Royston Vasey. You'll never leave." That sign greeted visitors to The League of Gentlemen's fictional home town. And it's proving true for the cult sketch show's creators, who have been drawn back there for three Christmas specials after more than a decade away.
Mark Gatiss has a grey dressing gown over a bare chest, and is wearing a long ginger wig. Reece Shearsmith is next to him in blue and white striped pyjamas.
It's daytime and the League of Gentlemen co-stars are in a meeting room in central Manchester. But they are dressed like this because they've just come from Royston Vasey.
Or, rather, they've just come from another part of the building, where the show's sets have been recreated for three new episodes – 15 years after the last series ended.
Their co-star Steve Pemberton is in the meeting room doing press interviews too, as is League of Gentlemen co-creator and co-writer Jeremy Dyson.
<
div id="bbccom_mpu_1_2_3″ class="bbccom_slot" mpu-ad" aria-hidden="true">