Harrelson might not look like Lyndon B Johnson even with the benefit of heavy prosthetics but he gives a convincing performance of a troubled leader in Rob Reiners conventional presidential drama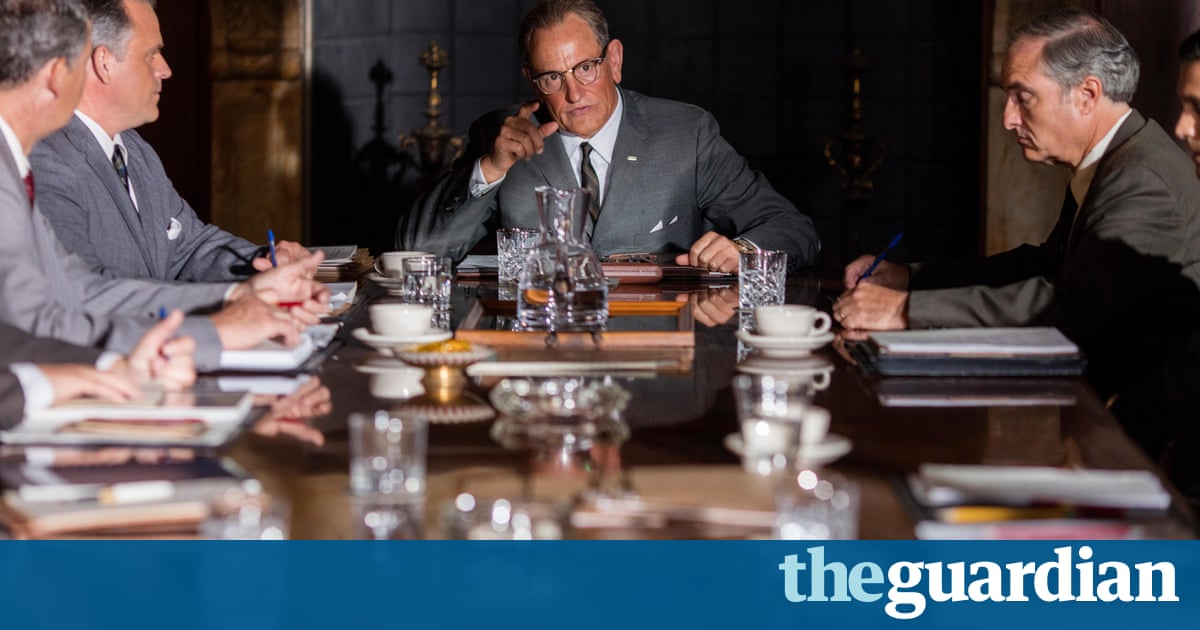 Its inevitable that an election year would have an effect on Hollywood, but 2016 has seen an unusually high number of films centred on, or at least relating to, US political history. Theres been Elvis & Nixon, the two Obama dramas, Southside with You and the Toronto-premiering Barry and even a Purge sequel subtitled Election Year. But even within this subgenre, Lyndon B Johnson has been a surprisingly recurrent character.
Bryan Cranston took on the role in HBOs All the Way, he cropped up in Pablo Larrains Oscar-tipped Jackie and hes now front and centre in Rob Reiners earnest but entertaining drama. Hes played by Woody Harrelson, an odd choice for anyone whos ever seen a picture of Johnson, but with heavy prosthetics, distracting at first and also strangely useless given that he ends up looking more like Nixon.
The film focuses on Johnsons rivalry with John F Kennedy as the pair go up against each other as the democratic candidate and once Johnson loses, we see him deal with life as an over-experienced vice-president and, after tragedy strikes, president. Overwhelmed with responsibility and disrespected by Kennedys aides, he finds himself stuck in a difficult situation.
From the first notes of worthy presidential music, its clear that LBJ is not going to worry itself with reinventing the political biopic. Reiners take on the Kennedy years of Johnsons life is strictly conventional, even down to the oft-used marching drums in the background, but its solidly entertaining nonetheless, its adherence to formula never dulling its drama.
The dialogue might often resort to painfully clunky exposition but it never resorts to a simplistic portrayal of Johnson and his politics. As an older southern democrat, hes torn between his heritage and Kennedys progressive views and, in particular, his strong belief in the importance of civil rights. Hes painted as a man playing both sides but also learning, his pragmatism and values ultimately ushering him towards equality. Its refreshing in a rigid, and often cliched, film as this to see such a flawed protagonist.
Theres also a pleasing focus on political minutiae, detailed enough but accessibly conveyed and the film weaves in the growing issue of aesthetics (Johnson is deeply aware of his position as workhorse compared to JFKs showhorse) at a time when media representation was starting to have a profound effect on voters. Theres also a nicely played scene where Johnson discusses the importance of civil rights with a bigioted southern senator (a believably foul Richard Jenkins) as his black maid serves them dinner.
Harrelson overcomes the heavy layer of prosthetics to deliver a commanding and layered take on the president. He easily flips from confidence (bragging about the size of his penis to a busy room) to embarrassment (a Dallas crowd eager for JFK has no interest in him) and its a pleasure to see him play something other than wisecracking support. Yet Jennifer Jason Leigh has precious little to do in the thankless role of his wife and, at a tight 98 minutes, the film feels somewhat short on their relationship.
Its a well-worn road but Reiner steers with skill, delivering his best film since 1995s The American President, hinting that he might have more political tales in him yet. It might not go all the way but its a biopic thats just about worth your vote.
Read more: https://www.theguardian.com/film/2016/sep/15/lbj-review-woody-harrelson-compelling-if-physically-unconvincing-in-firm-biopic