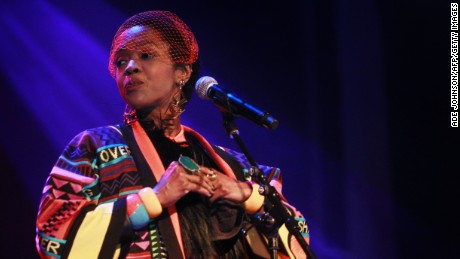 (CNN)It's been almost 20 years since Lauryn Hill left The Fugees to record her solo album "The MisEducation of Lauryn Hill," which fans still love.
The performer, though? Not so much lately.
<
ul class="cn" cn-list-hierarchical-xs cn–idx-4 cn-zoneadcontainer">
Hill caused a firestorm on social media over the weekend after showing up two hours late for a concert in Atlanta. Because of the venue's strict curfew, that meant concertgoers got only about 40 minutes of performing from Hill.
In a Facebook post the singer explained that she has "nothing but Love and respect for my fans."
"The challenge is aligning my energy with the time, taking something that isn't easily classified or contained, and trying to make it available for others," Hill wrote. "I don't have an on/off switch."
Aligning energy? Ummm, OK.
Her reasoning didn't go over too well with fans, especially because a video of a concert attendee questioning Hill about her tardiness had her blaming her driver for getting lost.
It's not the first time the singer has been late, nor is it the first time she has spurred controversy. Here are a few other times Hill had the streets talking:
When she got pregnant with her first child
Hill was a star thanks in part to her acting (courtesy of roles on the soap opera "As the World Turns" and the 1993 film "Sister Act 2: Back in the Habit") and being a part of the multiplatinum-selling rap group The Fugees. Fans were surprised when in 1997 she announced that she was pregnant with her first child.
In August 1997 she gave birth to son Zion, whose father is Rohan Marley, the son of reggae legend Bob Marley. The next year she released her debut album, which included the single "To Zion."
"I wanted it to be a song that had two meanings, where 'Zion' is representative of not just my son but of this holy place,"
Hill told Rolling Stone.
"I wanted it to be a revolutionary song about a spiritual movement, and also about my spiritual change, going from one place to another because of my son."
She and Marley would go on to have more children together.
Her 'MTV Unplugged' episode
In 2001 Hill performed an acoustic set that was recorded as a live "MTV Unplugged No. 2.0" album. Appearing to not be entirely proficient on the guitar, Hill thoroughly confused the audience with her ramblings in between songs.
Los Angeles Times writer Robert Hilburn did not have kind things to say about the album.
"In retrospect, 'Unplugged' could hardly have been a worse word in the album title,"
he wrote.
"After the eccentric nature of Hill's performance on the album, 'Unplugged' was too easy a target for jokes. 'Unhinged' might have been the only title more unfortunate."
Taking on the Vatican
Hill used a 2003 concert in Vatican City as an opportunity to read a letter criticizing the Catholic Church for its pedophilia scandal. "I realize some of you may be offended by what I'm saying, but what do you say to the families who were betrayed by the people in whom they believed?" she said.
"Hill's personal problems do not justify her rants against the Catholic Church," the story said, quoting a news release. "After all, Sinead O'Connor isn't exactly normal, either, and she justifiably paid a price for her stunt on 'Saturday Night Live' when she ripped up a picture of the Pope. We expect Hill's career, already in decline, will continue to head south. Columbia Records should show her the gate."
Call me Ms. Hill
In 2009 Hill famously made the gossip column rounds for supposedly demanding to be called "Ms. Hill."
"I've always been wise beyond my years. I've always been a teacher.," she told writer Joan Morgan. "When I was a child, I was teaching adults, because I was always learning. I'm Ms. Hill because I know I'm a wise woman. That is the respect I deserve."
Hill heads to prison
Read more: http://www.cnn.com/2016/05/09/entertainment/lauryn-hill-concert-controversies/index.html