Comics including Jimmy Kimmel discussed Trump in Puerto Rico, and the coverage of the Las Vegas attack, the deadliest mass shooting in US history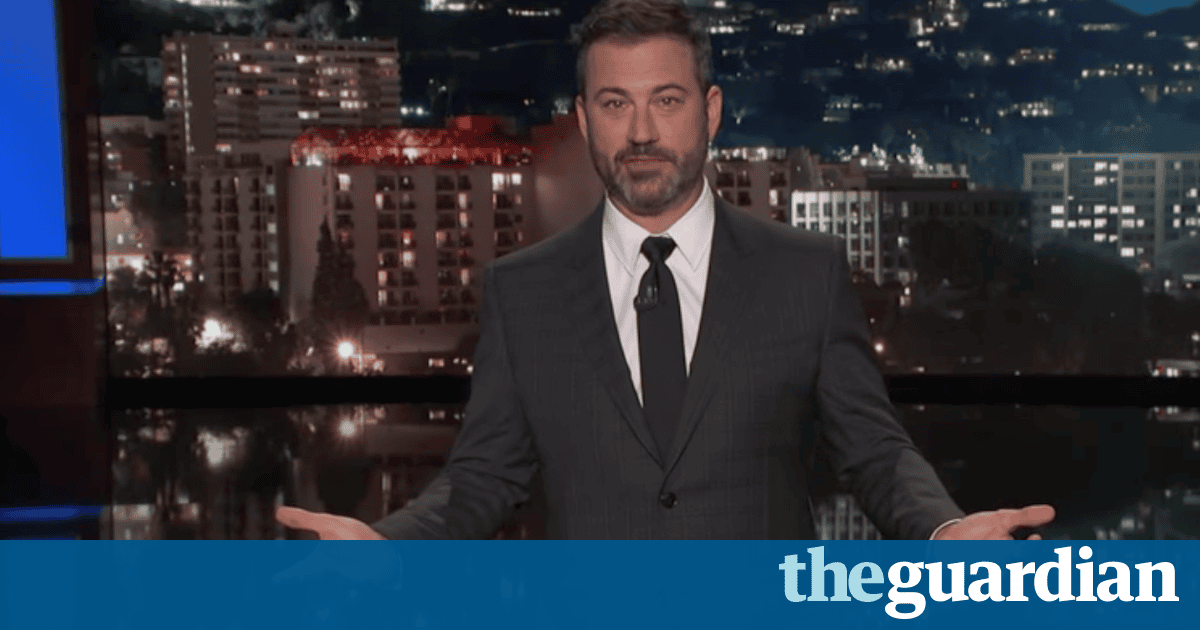 Late-night hosts on Tuesday addressed Donald Trumps trip to Puerto Rico to survey the damage caused by Hurricane Maria, as well as calls from Fox News hosts not to politicize the deadly shooting in Las Vegas.
Thirteen days after Hurricane Maria, yet another disaster struck Puerto Rico, Stephen Colbert began. Donald Trump visited the island. But before the president left for San Juan, he gave this objective assessment of his administrations disaster relief effort.
Colbert, showing footage of the president grading his administrations performance in Florida, Texas and Puerto Rico an A+, responded: You know you cant give yourself an A+. Thats not how grades work.
Trump addressed the devastation this hurricane caused to him, Colbert continued, showing Trump, speaking before the press in Puerto Rico, saying that the damage caused by Maria has thrown our budget out of whack.
The budget is out of whack? Colbert said. Thats like a fireman rescuing you from a burning building and saying, You understand what our water bill is going to be, right?
Of course, Trump didnt just go to Puerto Rico to talk, he also handed out much-needed supplies in the Trumpiest way possible.
The host showed clips of the president nonchalantly tossing paper towel rolls to a crowd of Puerto Ricans awaiting disaster relief.
After that he went to a hospital and distributed antibiotics with a T-shirt cannon.
Jimmy Kimmel also discussed Trumps visit to Puerto Rico. The president was in Puerto Rico today to survey the damage caused by Hurricane Maria, Kimmel began. He likes to bring Melania to these kind of things in case he encounters situations that require showing concern for other human beings. That becomes her job.
He continued: Trump has said some not-so-nice things about Puerto Rico over the past week, including a tweet where he said Puerto Ricans want everything to be done for them. Says the guy whos never carried a piece of luggage in his entire life. But at a news conference this morning, he regaled those who still dont have power on 95% of their island with hilarity like this.
Kimmel then showed the now-infamous clip of Trump claiming relief efforts for Puerto Rico have messed with the federal budget.
Next time you allow a storm to ravage your island, think about the cost, Kimmel joked. He really puts the ass in compassion, doesnt he?
The president didnt just pitch in to help with his words, he also took some time at a relief center, where this actually happened, Kimmel continued, showing Trump throwing paper towels as if shooting a basketball. What is he doing? Who does that? What planet is this man from?
Kimmel went on: Trump also had an uncomfortable meeting with the mayor of San Juan who he criticized via tweet. While the president has been very critical of some in Puerto Rico, theres one person he had very nice things to say about.
The host then showed, like Colbert, footage of Trump claiming hed received good marks, done a great job and made tremendous strides on his efforts in Puerto Rico.
Its amazing how hes able to get those tiny hands around his back to pat it, Kimmel concluded.
Finally, Trevor Noah of Comedy Centrals The Daily Show addressed the coverage of the Las Vegas shooting on the Fox News Network, where calls not to politicize the tragedy have mounted as hosts try to deflect from growing concerns about lax gun control laws.
Today, we learned more details about the shooter, Noah began. He was a 64-year-old man from Florida with no criminal record and he owned 42 guns. And apparently he was a multimillionaire, which means right now he doesnt fit any profile of any mass shooter. And you know whos having a hard time processing all of that information? The good people at Fox News.
Noah then showed a clip of Fox News host Brian Kilmeade claiming we dont know enough about him to hate him yet.
How do you hate someone who killed 59 people?, Noah responded. Because hes not Muslim. He wasnt known to be mentally ill. He doesnt kneel for the anthem. Hes just a rich white guy who shot people at a country music concert.
Since Sundays shootings didnt fit any of Fox News established narratives, they couldnt politicize it, the host continued, showing clips from the network of hosts taking offense at the suggestion that the Las Vegas shooting should lead to conversations about gun control. And if they couldnt politicize it, then I guess neither should anyone else.
I like how Fox News says, Please dont politicize this today, as if theres any time theyd be willing to talk about gun control, Noah said. What kind of terrible people would push a political agenda the day after a mass shooting, a shooting like Orlando?
Noah then showed clips from the networks coverage of last summers massacre at a gay nightclub in Orlando, after which Fox anchors and pundits fervently called for more immigration reform and referred to radical Islamic terrorism.
So, clearly Foxs whole dont politicize it is BS, or maybe just a way to buy time while theyre figuring out how to politicize it, Noah said, showing Fox host Jesse Waters claiming that NFL players kneeling were disrespecting the police officers who defend us from mass shooters like Stephen Paddock.
Wow, did this guy just find a way to use a mass shooting to pivot back to the NFL argument?
Read more: https://www.theguardian.com/culture/2017/oct/04/late-night-tv-trump-puerto-rico-visit