<figure class="media-landscape" has-caption full-width lead">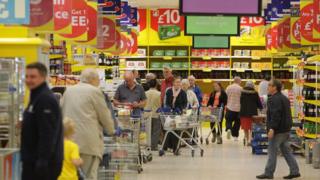 Image copyright Getty Images

Image caption Tesco says the Clubcard change makes it "simpler" for customers
As soon as Tesco said it was cutting some of its Clubcard rewards, customers started venting their anger.
"Kick people while they're down," said one. Another called it a "blow" after saving up the vouchers for two years.
The supermarket has now backtracked and delayed the cut until the summer.
But experts believe the move is part of a wider trend, and said the days of shoppers using plastic loyalty cards and collecting supermarket reward vouchers are numbered.
"This concept of swiping a card at the till is dated. It's not what attracts us to a supermarket," says retail analyst Natalie Berg of Planet Retail.
<div id="bbccom_mpu_1_2_3″ class="bbccom_slot" mpu-ad" aria-hidden="true">