The 6 God has smashed Jackos record for AMA nominations and there are other categories in which he has eclipsed the late star too. Knitwear, for example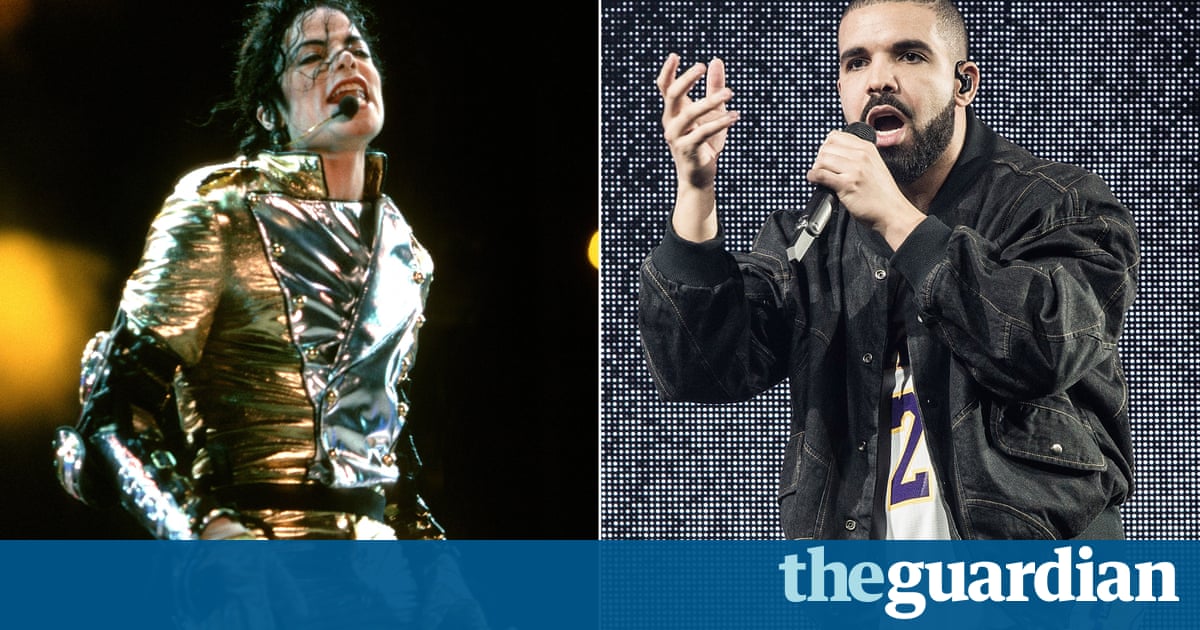 Everythings coming up Aubrey. On Monday it was announced that Drake Aubrey Graham had broken Michael Jacksons record for the most American Music awards nominations in one year, and living up to the nickname he gave himself in Forever back in 2009. (Greatest Ever, in case you didnt know. Which hopefully means hell be fighting less at the Cheesecake Factory than he will be celebrating at it.)
Earning a whopping 13 nominations in this, the year of our lord 2016, Drake officially eclipsed MJs Thriller (which earned 11 in 1984), and sent the eternal question in the stratosphere: is Drizzy really better than Michael?
In a word? Yes. In a few more words? Here we go.
As a Canadian person and Drakes close and personal friend (at least in my mind please do not ask him about me), I can confidently state that Views trumps Thriller tenfold if only because Michael Jacksons cover art does not feature the late King of Pop sitting sullenly on the tallest building in Canada. And while we know Drakes image was photoshopped (because it is illegal to sit casually on the CN Towers ledge without a visible harness), it sends a very clear and distinct message: I am the 6 God, and thou shalt honour me. And I will, by valiantly arguing Drizzys merits over his history-making predecessor.
Nomination numbers
So where it took MJ six albums to earn 11 AMAs, it took Aubrey only four to secure 14. And while Im no mathematician, the algebraic equation looks something like this: success. (#math)
Collaborations
While Thriller is still the bestselling album of all time, three decades after its 1982 release (we get it its wonderful), it did not include a collaboration with Rihanna, Future, PARTYNEXTDOOR, Wizkid, Kyla, Pimp C, and dvsn which Views proudly does. On top of that, Drakes working relationship with Rihanna soon evolved into a summer romance that played out onstage, as the two appeared at each others shows and briefly made us all believe in love again.
MJs Thriller collaborations? Eddie Van Halen (Beat It), Vincent Price (Thriller) and Sir Paul McCartney (The Girl Is Mine). None of which stroked the publicity flame by making us all believe in true love again, at least temporarily.
Clothes
Were Michael Jacksons 80s-era clothes impeccable? Is his leather jacket still an iconic mainstay of our cultural landscape? Have we all thought about wearing one glove in hopes of establishing ourselves as creative beacons in our increasingly dark and morose world? Sure. But heres a word: sweaters. Lots of them, worn stateside and courtside, paired with everything from shearling coats to dad glasses, and putting them front and center with his video for Hotline Bling.
Add to this Drakes OVO store (IRL and online) and the Canadian climate, and Drizzy has not just outfitted himself, but an army. Winter gets cold. We need to stay warm. Which one sparkly glove doesnt do.
Video stats
At time of publication, Hotline Bling has garnered 966,331,955 views on YouTube while Thriller has only earned 354,325,435 (sad!), which Im sure has absolutely nothing to do with the fact that the latter premiered decades before YouTube was even a thing, nor the fact that it actually sold (sold like, people used to buy music videos, Im serious) over 9m copies.
But Im sure if Drake sold Hotline Bling, we would for sure think about buying it, maybe. Im positive it would cross our minds for a second before we moved on to something else. So there.
Choreography
Admittedly, Michael Jacksons choreography went on to inspire Usher and Justin Timberlake, awed audiences, and was praised for its gravity-defying nature, but could he move and shake like this?