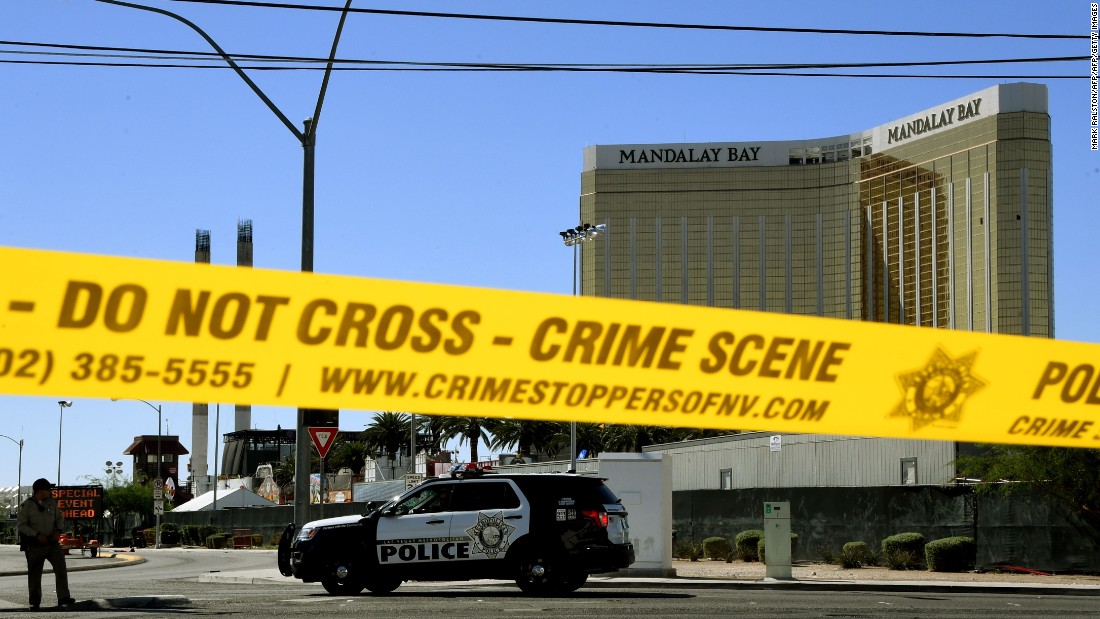 (CNN)Every detail of this indiscriminate mass murder seemed meticulously planned.
The selection of a hotel room overlooking a music festival, days before the attack. The cache of 23 weapons inside the gunman's Las Vegas suite. And thousands of rounds of ammunition — plus an ingredient used in explosives — inside the killer's home and car.
The latest revelation came Tuesday afternoon when police said gunman Stephen Paddock set up cameras inside his hotel suite and in the hallway. Police are not aware whether the devices were transmitting — the FBI is investigating their use — but the Clark County sheriff told reporters he thinks the shooter might have used them to watch for people approaching his room.
<
ul class="cn" cn-list-hierarchical-xs cn–idx-5 cn-zoneadcontainer">
One camera looked out the peephole on the suite's door.
The Bureau of Alcohol, Tobacco, Firearms and Explosives disclosed that Paddock had outfitted 12 of his rifles with a legal device called a bump-fire stock, which enables a shooter to fire bullets rapidly, similar to an automatic rifle.
Authorities released the first body camera footage of police responding to the shooting. It captured the rapid staccato of the gunfire at a fairly close range.
Officers were seen hunkering down behind a wall. "Go that way, get out of here! There's gunshots coming from over there," one officer is heard yelling at civilians. At one point, they were next to a patrol vehicle on Las Vegas Boulevard, where one officer was shot, Undersheriff Kevin McMahill said.
No one knows why Paddock morphed from a retired accountant to the deadliest mass shooter in modern US history. His relentless gunfire — police say he fired for nine to 11 minutes after the first 911 call — on country music fans at an outdoor concert left 58 people dead.
Another 500 people are still trying to recover from injuries — everything from gunshot wounds to stampede injuries suffered when 22,000 people tried to flee the gunman's aim.
So far, police believe Paddock acted alone — which could make the motive harder to determine.
Latest developments
— Paddock's girlfriend, Marilou Danley arrived at LAX on Tuesday night, and is being accompanied by the FBI in Los Angeles, a law enforcement source told CNN. Danley flew from Manila, said Maria Antoinette Mangrobang, a spokeswoman for the Bureau of Immigration in the Philippines. Danley had entered the Philippines in September 15, and again on September 25, traveling on her Australian passport, she said. There has been communication between authorities in the Philippines, the FBI and US Department of Homeland Security, Mangrobang said.
— Clark County Coroner John Fudenberg said that 58 people were killed. Authorities had previously said 59 were killed in the shooting, but on Tuesday clarified that number included the shooter.
— The Daily Mail newspaper of the UK has published several photos taken in Paddock's room after the shooting. In one photo, the legs of a dead shooter can be seen on the floor. The photos show semiautomatic assault-style rifles on the floor and on furniture. Stacks of ammunition magazines used in rifles can also be seen.
— Paddock wired $100,000 to the Philippines, a law enforcement source said. However, officials haven't able to see yet precisely when the wire happened or who was the recipient. The FBI is working with Filipino authorities to determine details.
— President Donald Trump tweeted: "It is a 'miracle' how fast the Las Vegas Metropolitan Police were able to find the demented shooter and stop him from even more killing!"
— Five handguns, two shotguns and a "plethora" of ammunition were found in Paddock's Verdi, Nevada, property, police said. Authorities previously found 42 guns in Paddock's hotel room and at his Mesquite, Nevada, home.
'I felt him get shot in the back'
Heather Melton heard the noise interrupting the concert and told her husband, Sonny, she thought it might be gunfire. He, like most people, thought it was fireworks.
Then the bullets started ricocheting off the ground around the Tennessee couple. She wanted to get low; he said, no, we'll get trampled.
So they ran, away from the gunfire, Sonny just behind Heather, until he was felled by a bullet.
"I felt him get shot in the back," she told "Anderson Cooper 360." There were bodies all over the ground.
"I was trying to talk to him and he wasn't responding," said Heather, an orthopedic surgeon. She said she got over him and started doing CPR. People said to get down. Sonny, a registered nurse, was bleeding from the mouth.
Heather Melton said she knew he probably was gone, but she wanted to hope.
Sonny was declared dead at the hospital.
"He was the most selfless person that I ever met, and even until his last breath he proved that," Heather said.
The investigation
Paddock's violent transformation has mystified everyone —
his brother
, investigators and the families he victimized.
Police had no prior knowledge of the gunman before the attack. "I don't know how it could have been prevented," Lombardo said.
The massacre has no known link to overseas terrorism or terror groups, a US official with knowledge of the case said. And authorities say it's too early to tell whether the killings were an act of domestic terrorism.
"We have to establish what his motivation was first," Lombardo said.
For an act to be considered terrorism, it must appear that it was intended to intimidate or coerce a civilian population, or try to influence political change.
The gunman's brother, Eric Paddock, said he was "completely befuddled" by his brother's actions.
He said Stephen Paddock was an avid gambler who had "no history of violence. No history of anything — couldn't give a s*** less about politics, religion, pointy hatted people, etc, etc. He just wanted to get a freaking royal flush."
On Tuesday, Paddock's family sent condolences to the victims.
"There are no words to describe the sadness we feel for those who lost their lives in this tragic event. Please know that you are in our prayers and that our hearts are heavy for the families who have been left heartbroken and without answers," the family said in a statement.
Running back into danger
Country singer Jason Aldean was on stage when bullets started raining onto the crowd.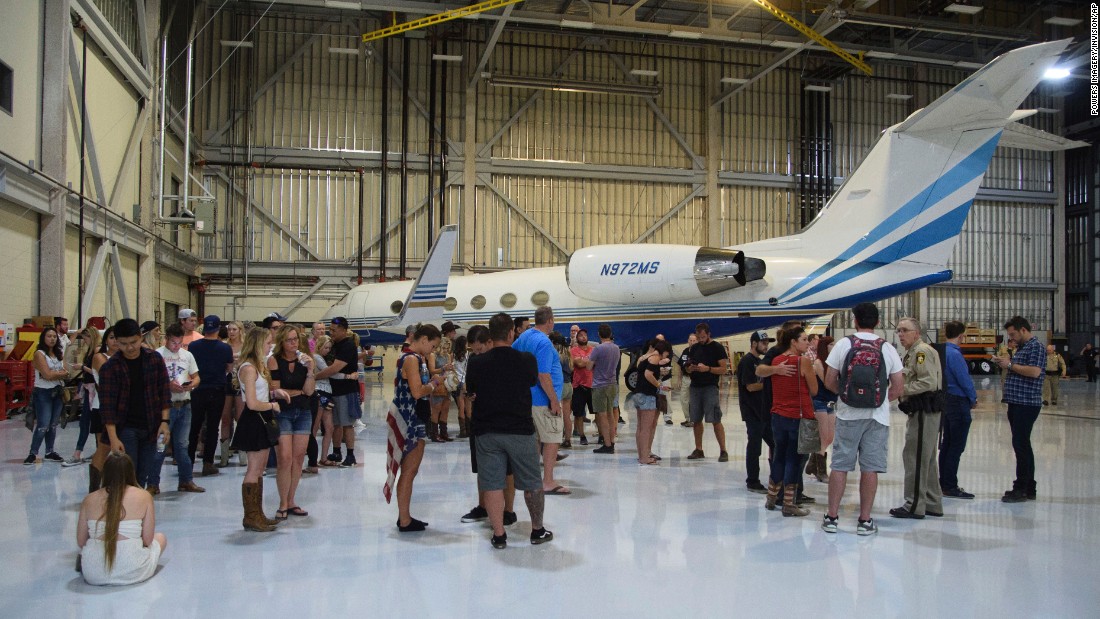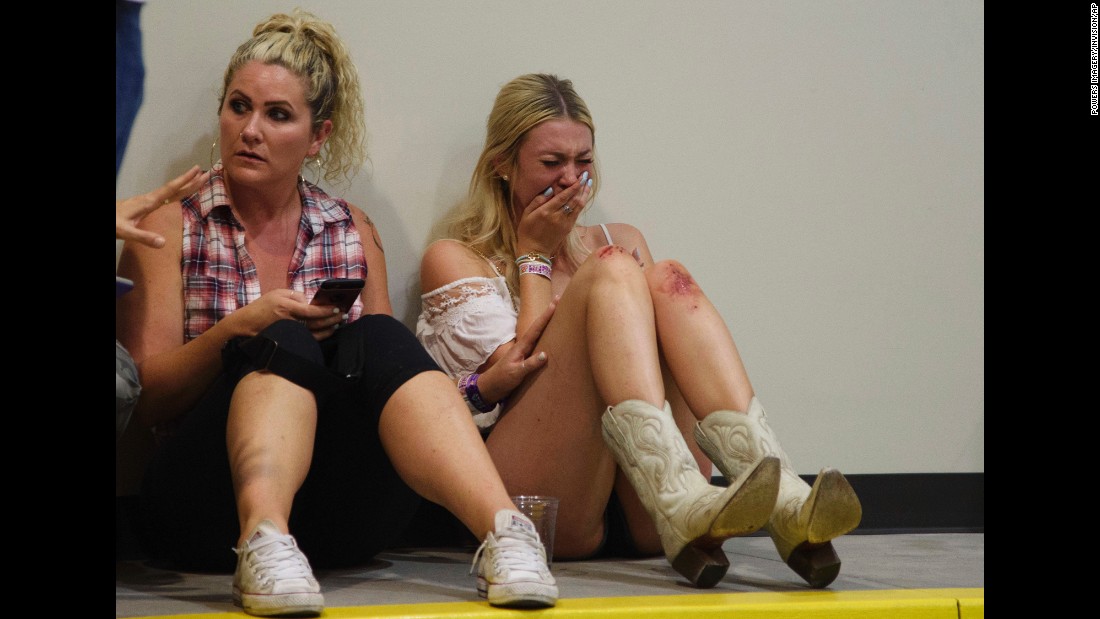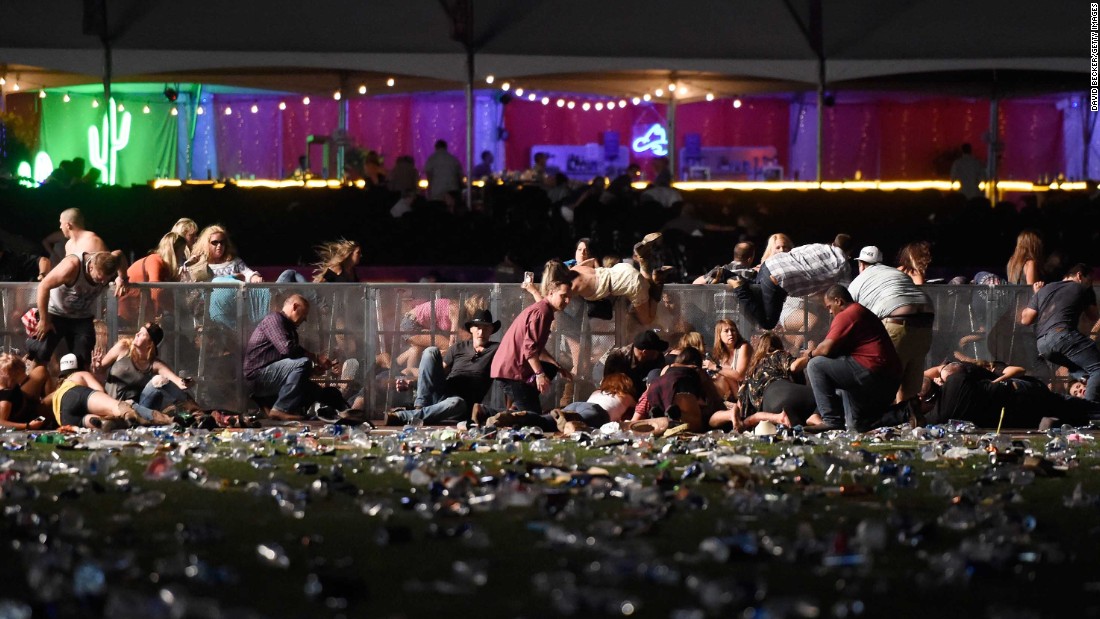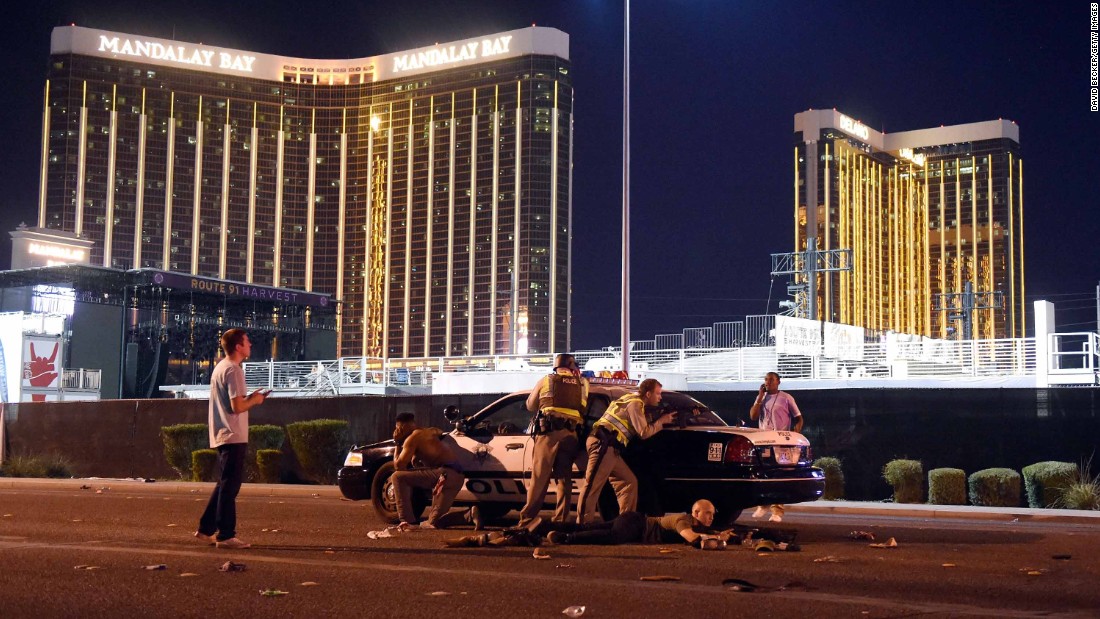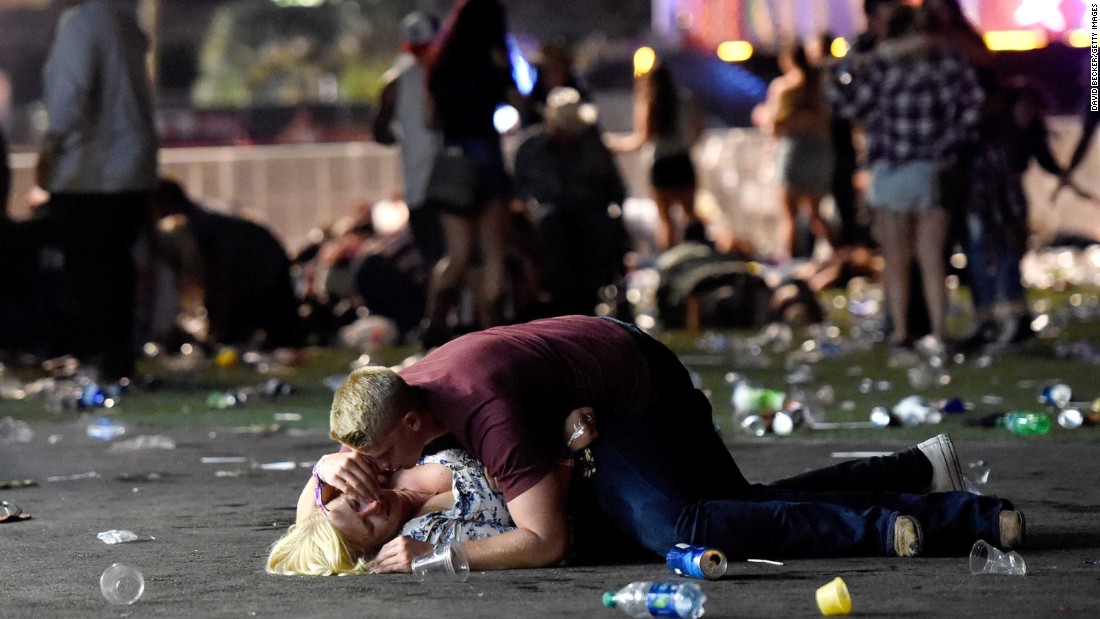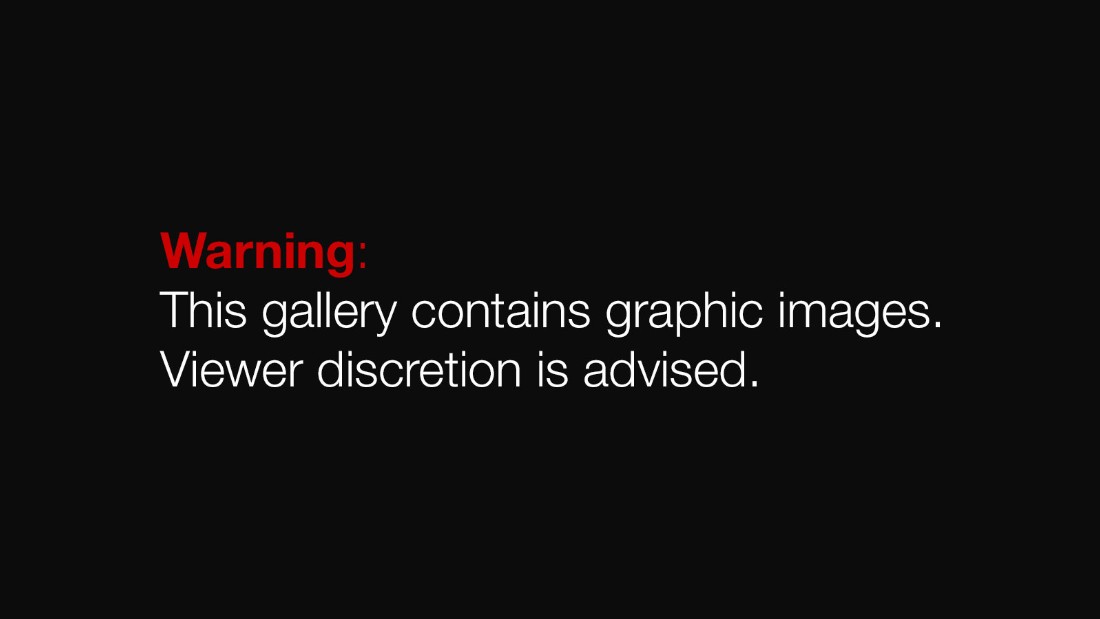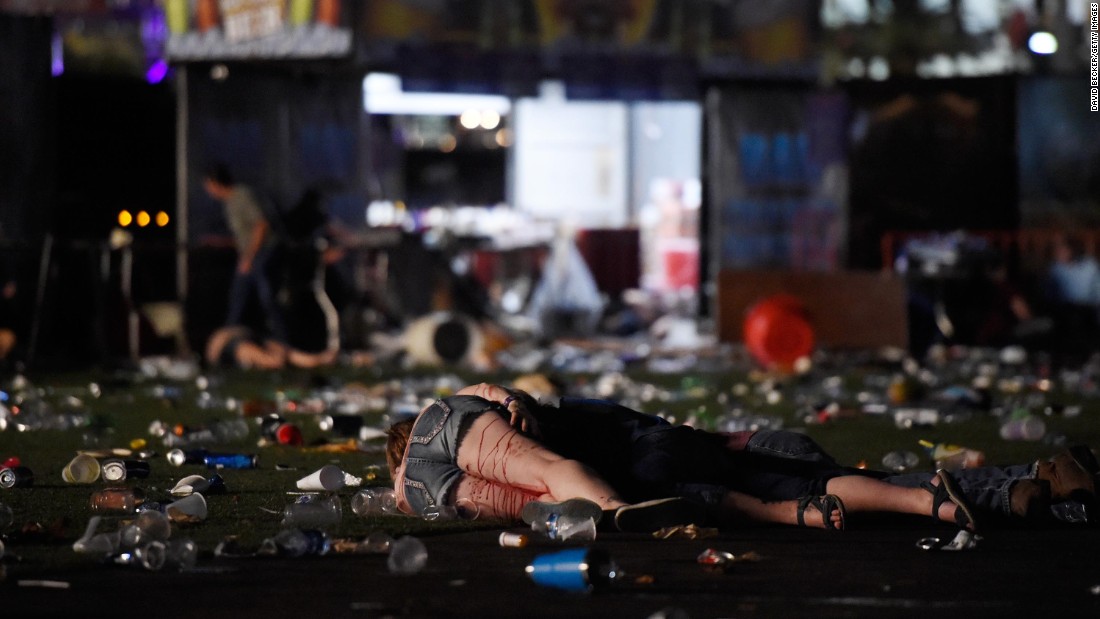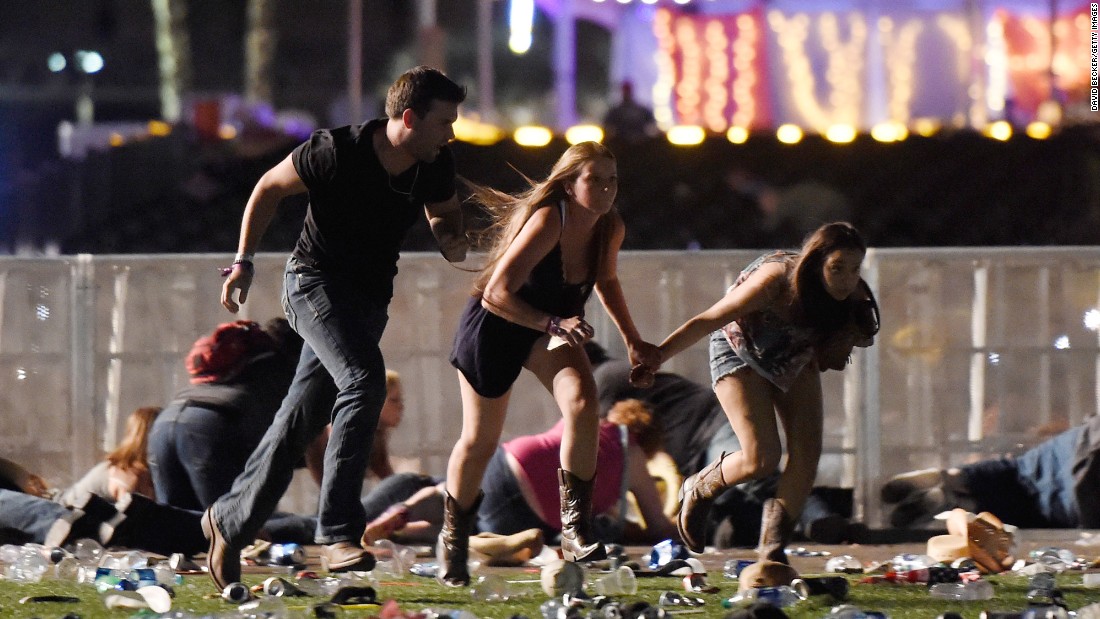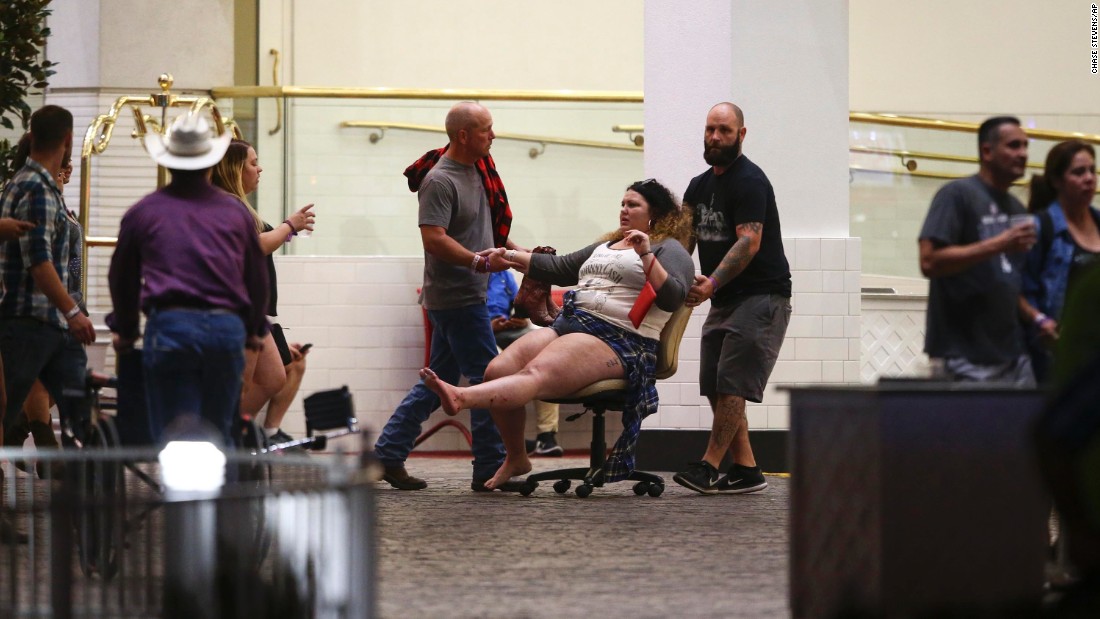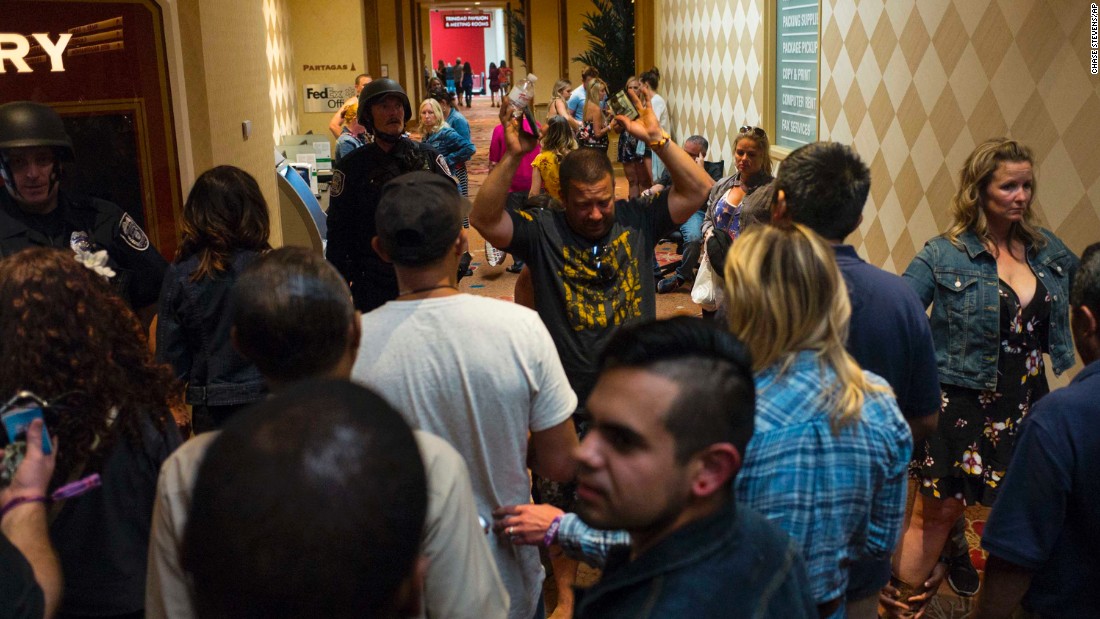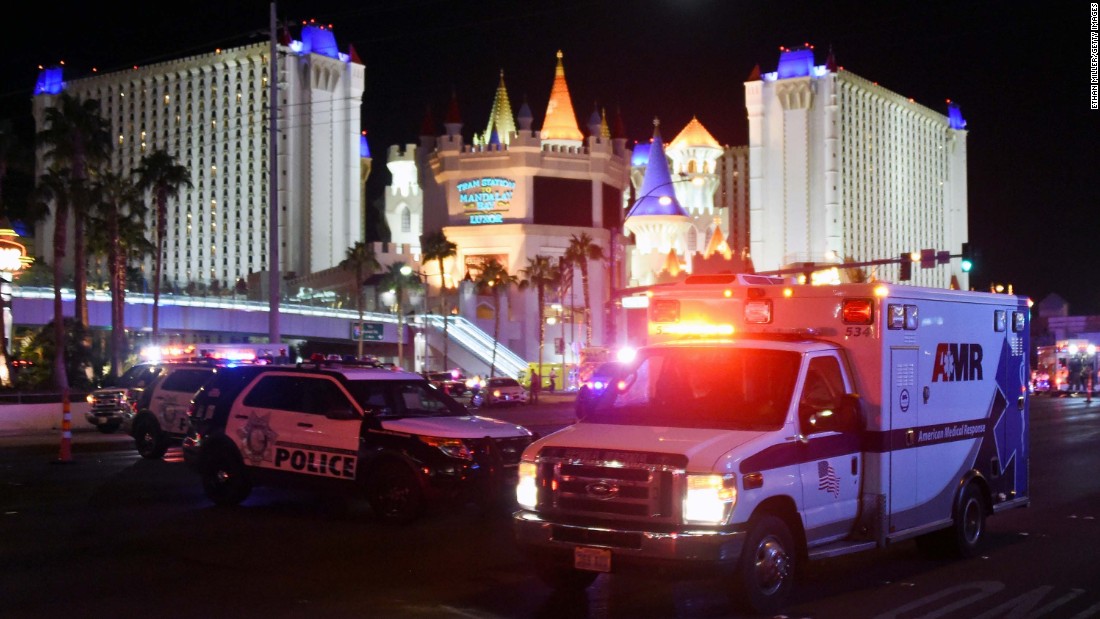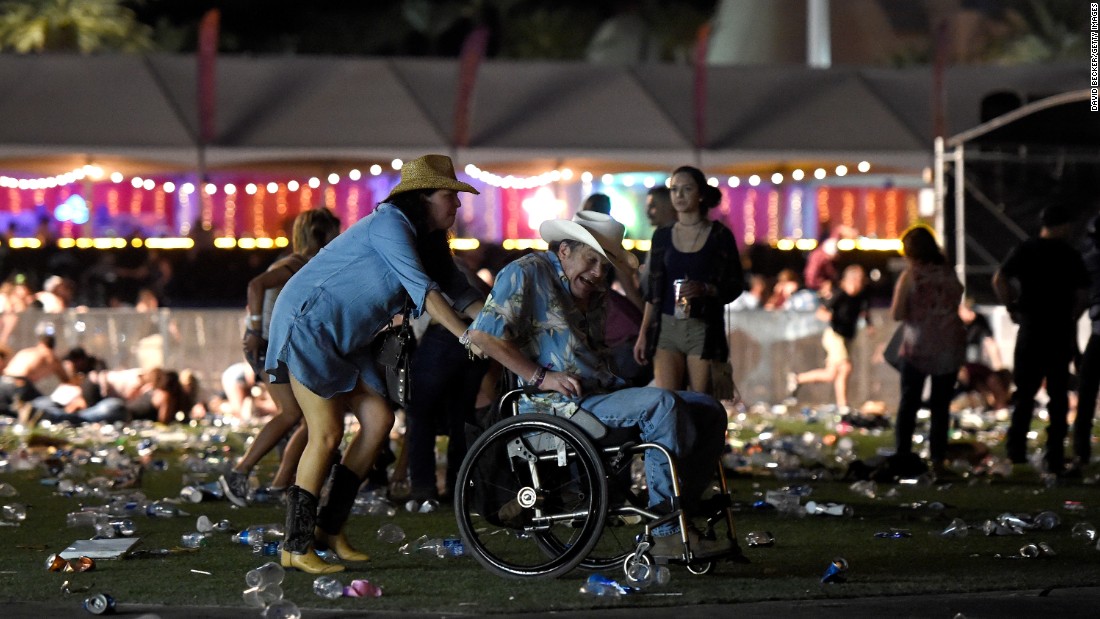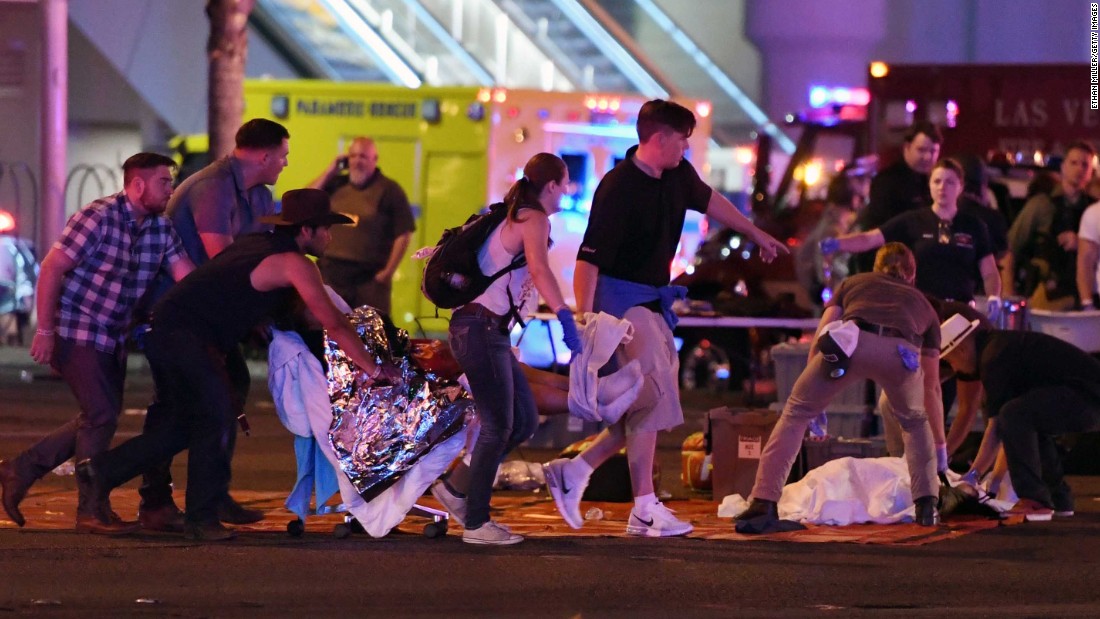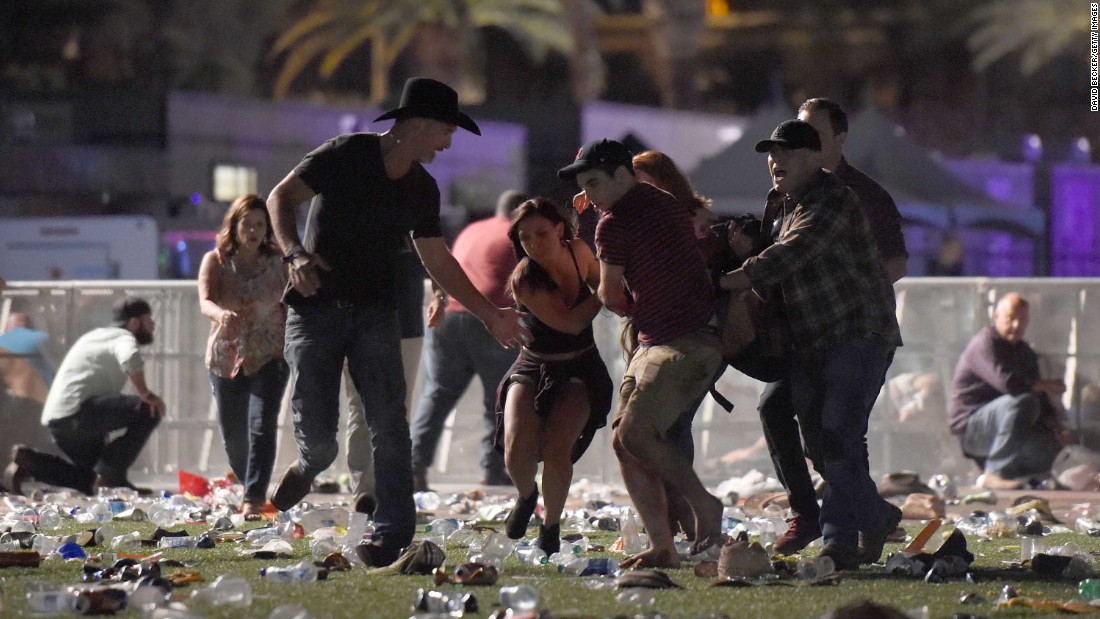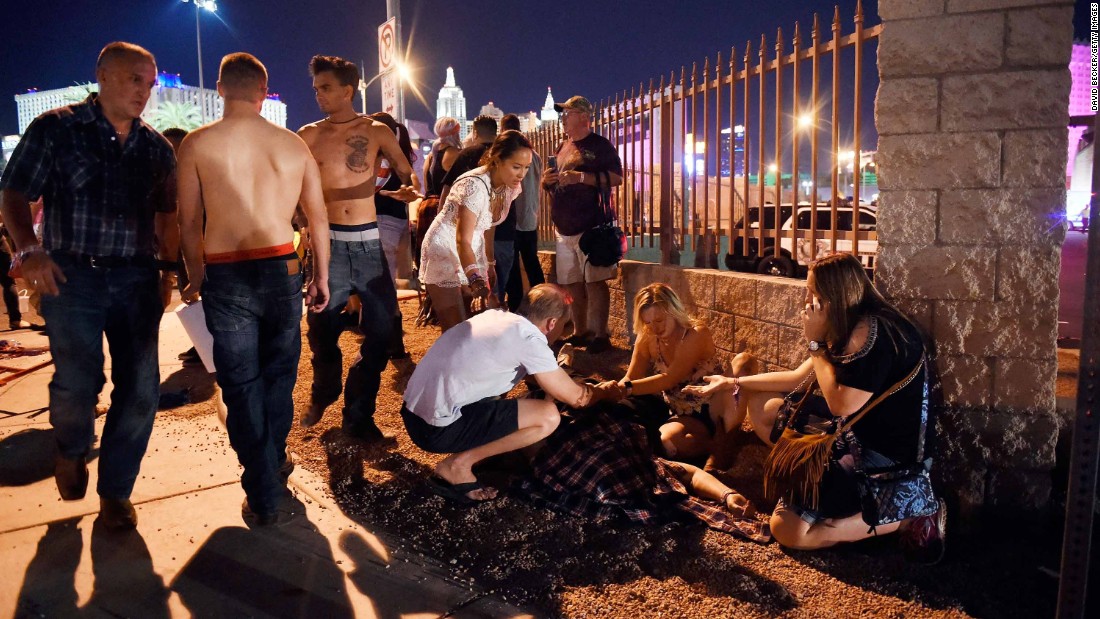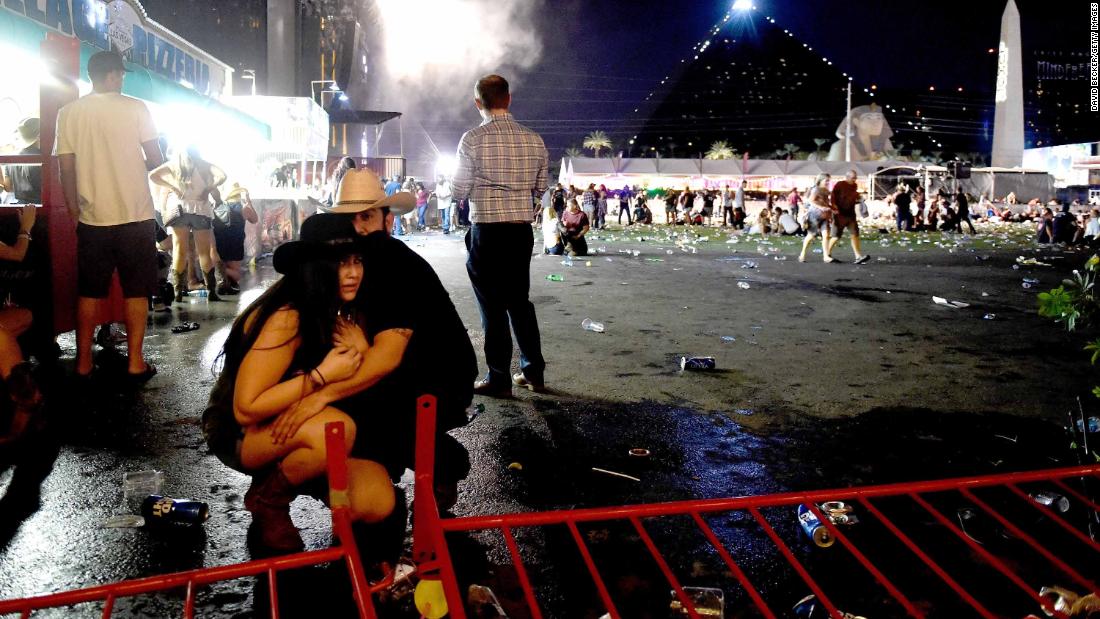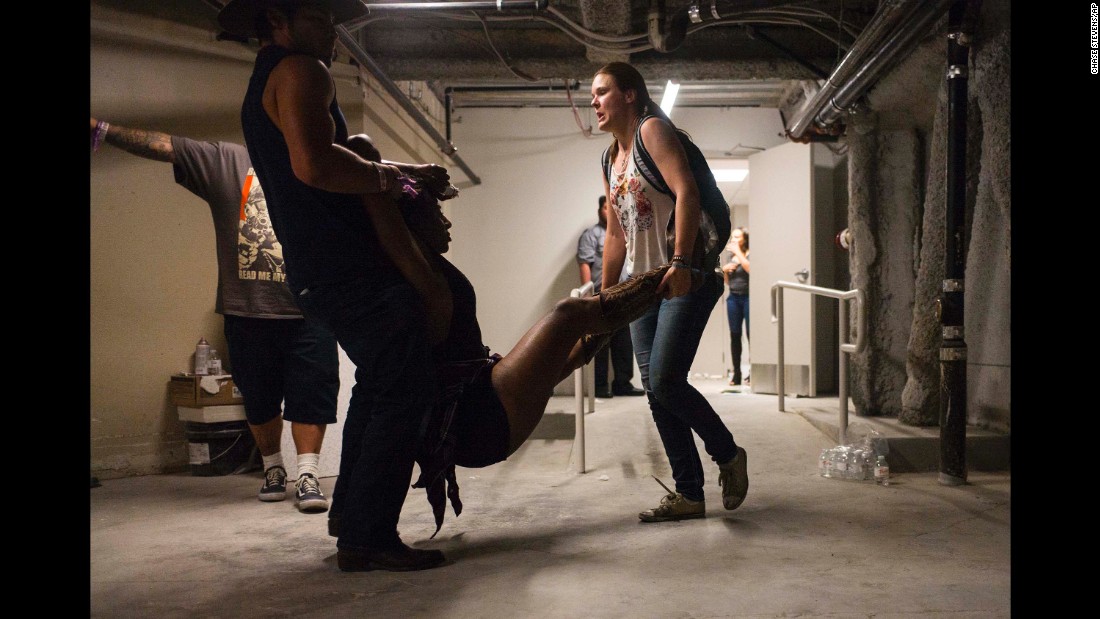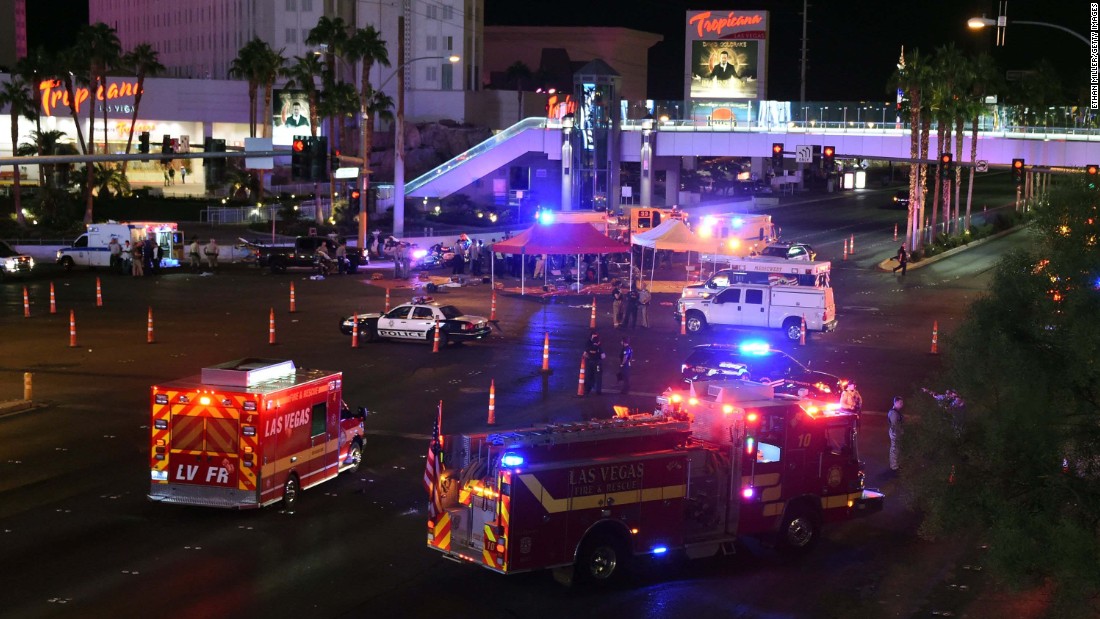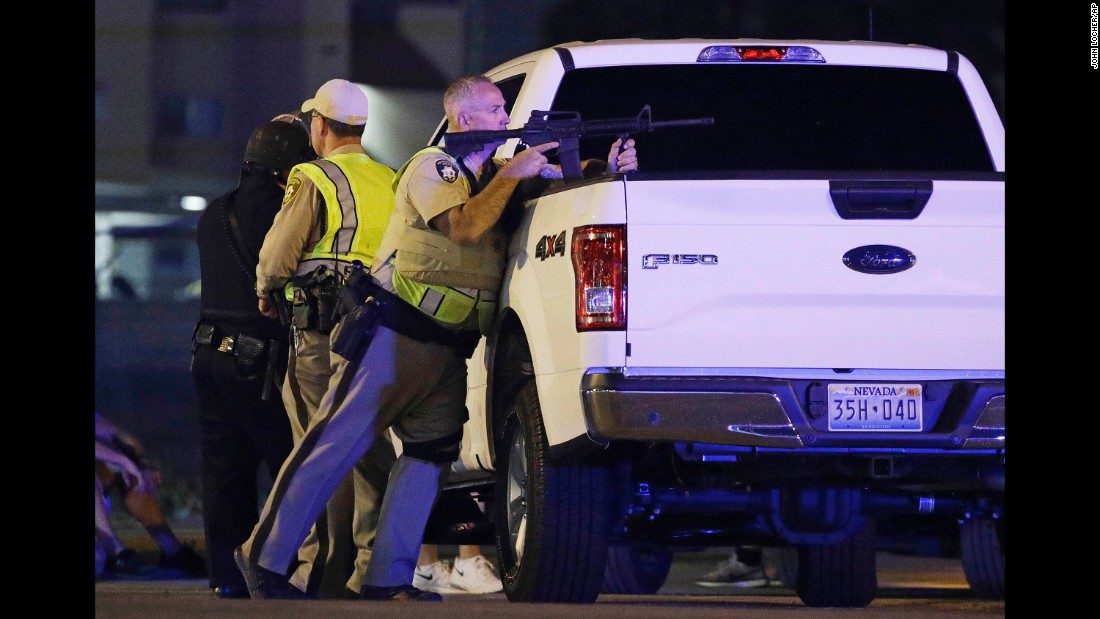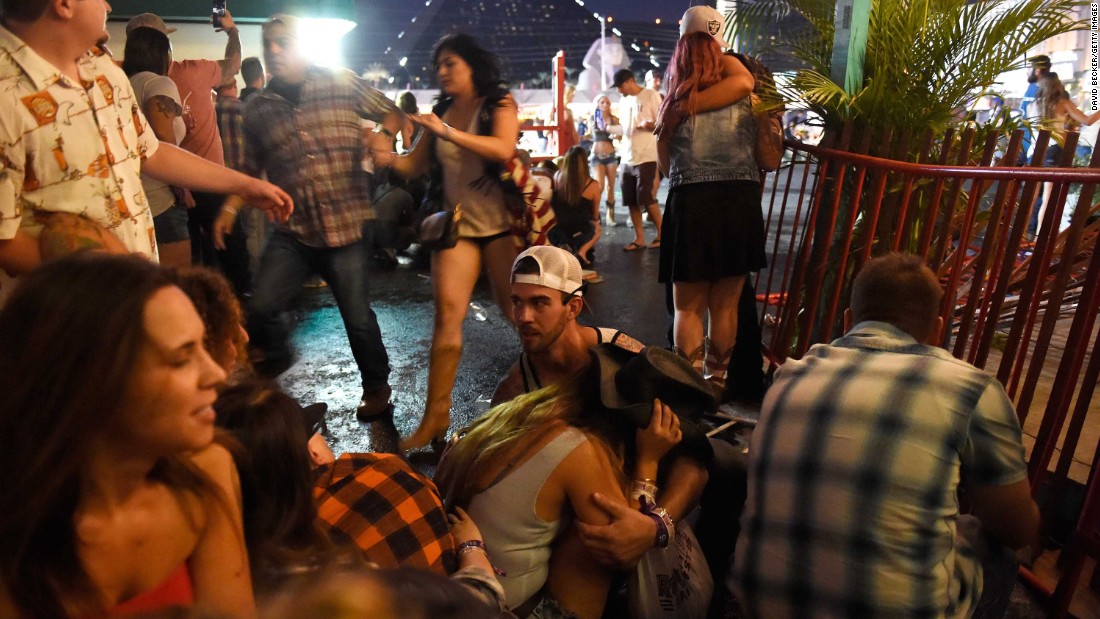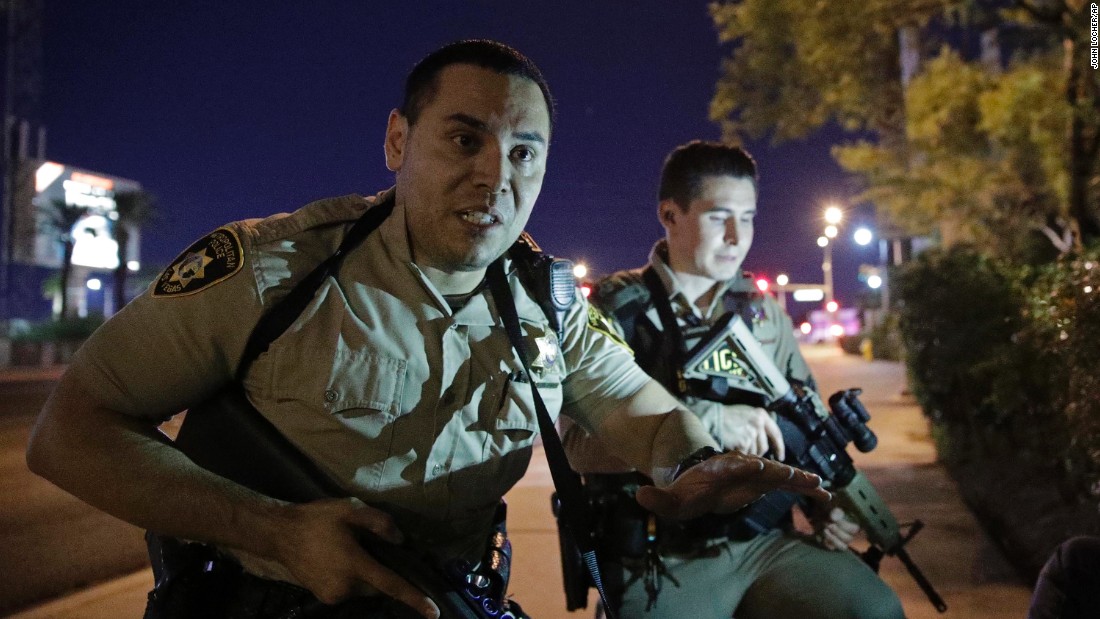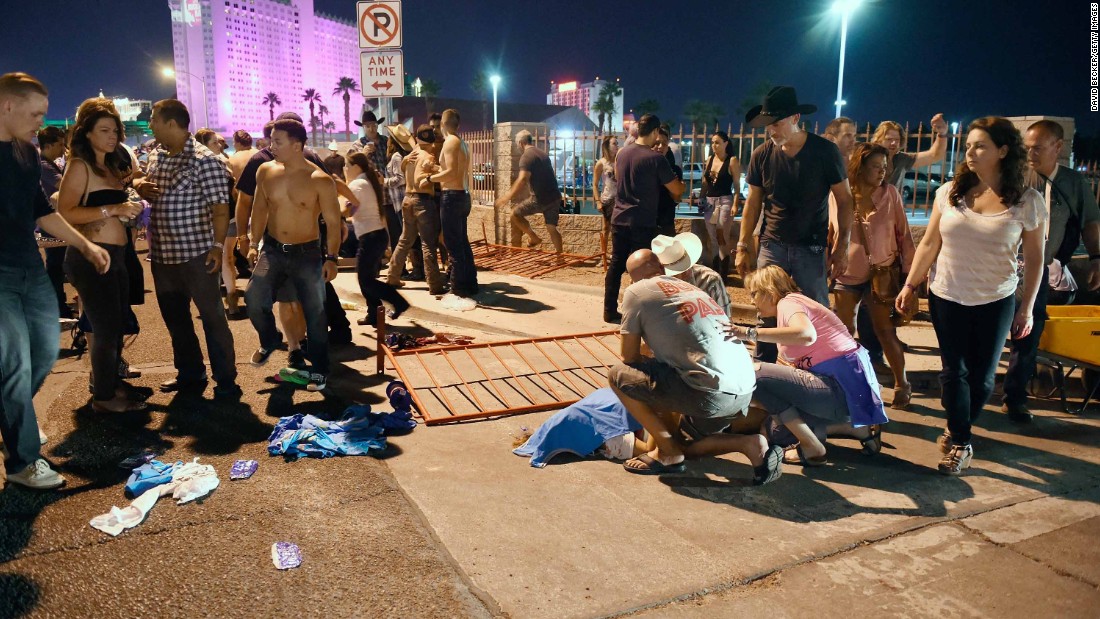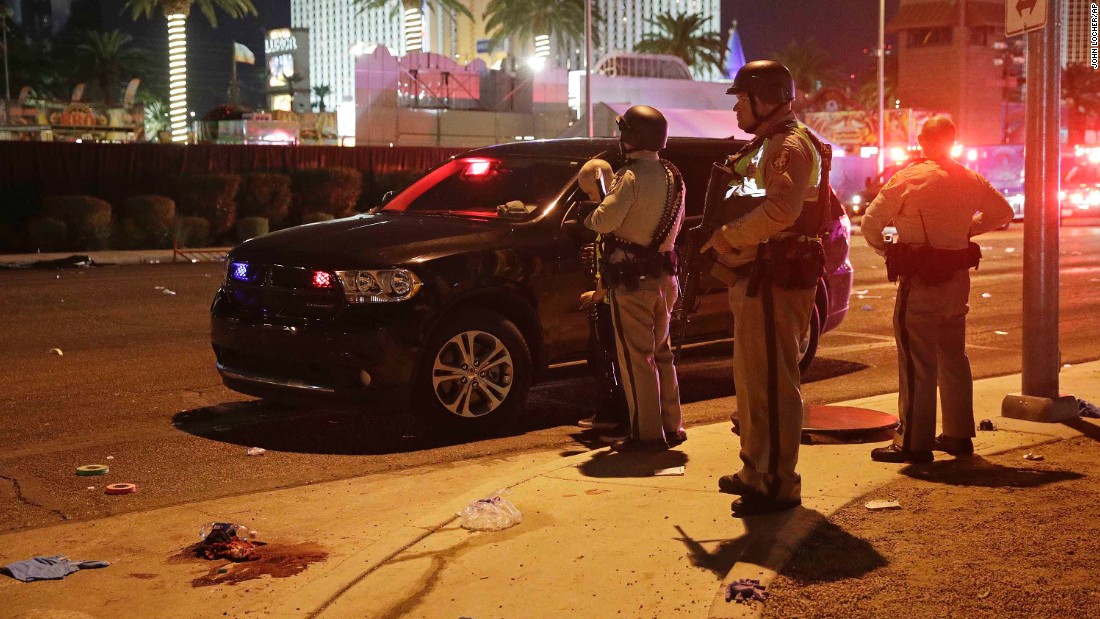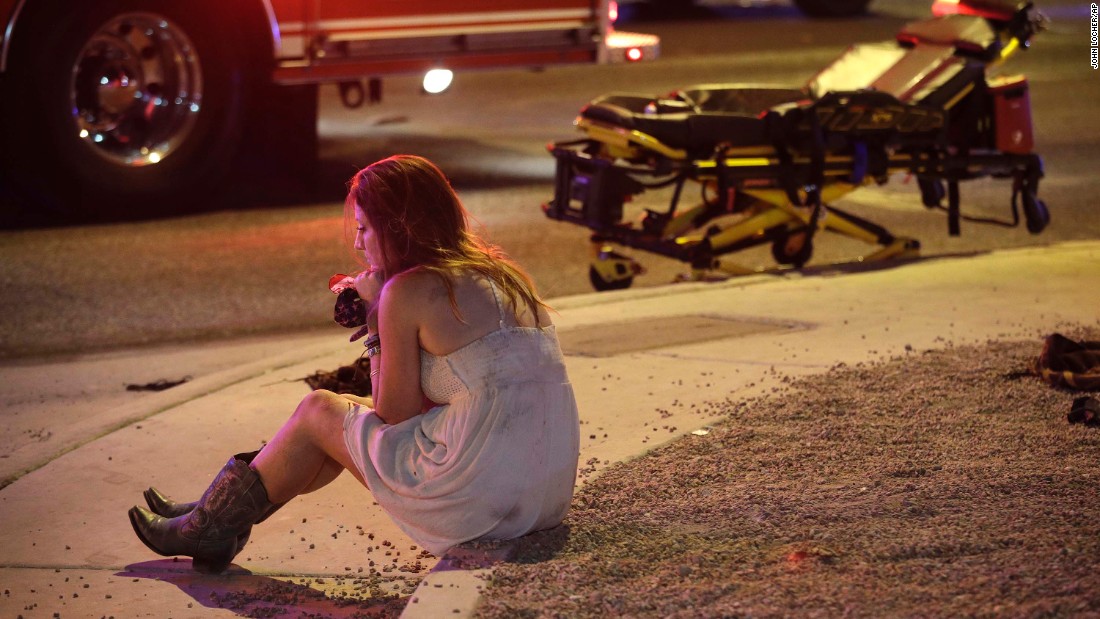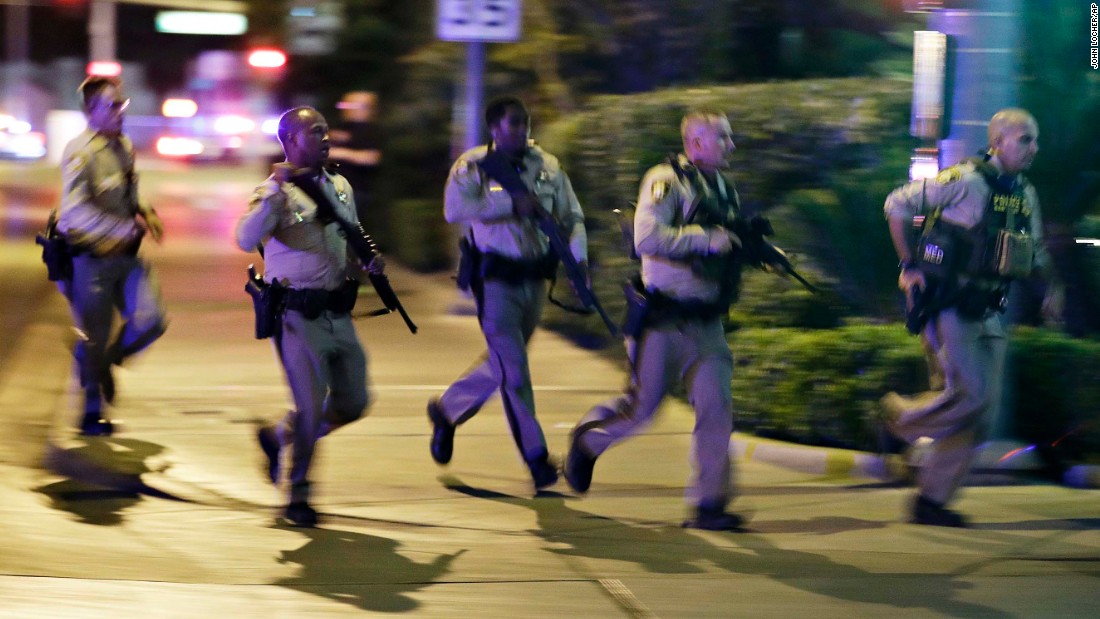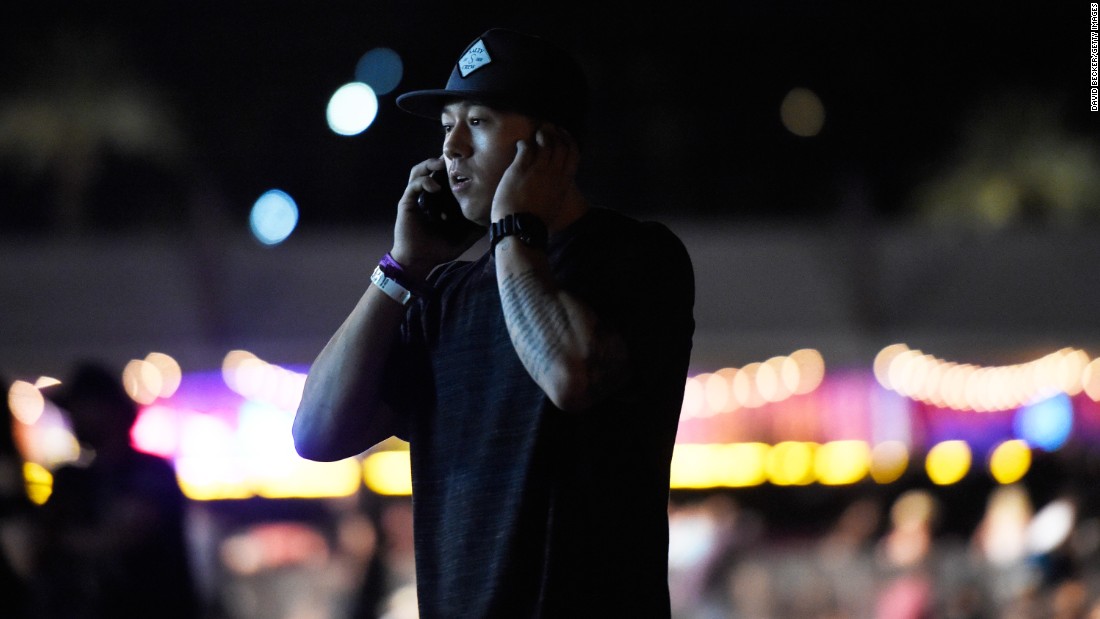 Corrine Lomas recalled the heroism of fellow concertgoers.
"A lot of really good people (were) holding people's wounds shut, trying to help them while everybody was just ducked down," she said.
$8.1 million raised
Countless strangers have rallied to support victims, donating blood, money and supplies.
By Tuesday evening,
a GoFundMe page
started by a Clark County commissioner had raised more than $8.1 million.
"Funds will be used to provide relief and financial support to the victims and families of the horrific Las Vegas mass shooting," county commission chair Steve Sisolak wrote.
Throngs of blood donors lined up for hours to help the wounded.