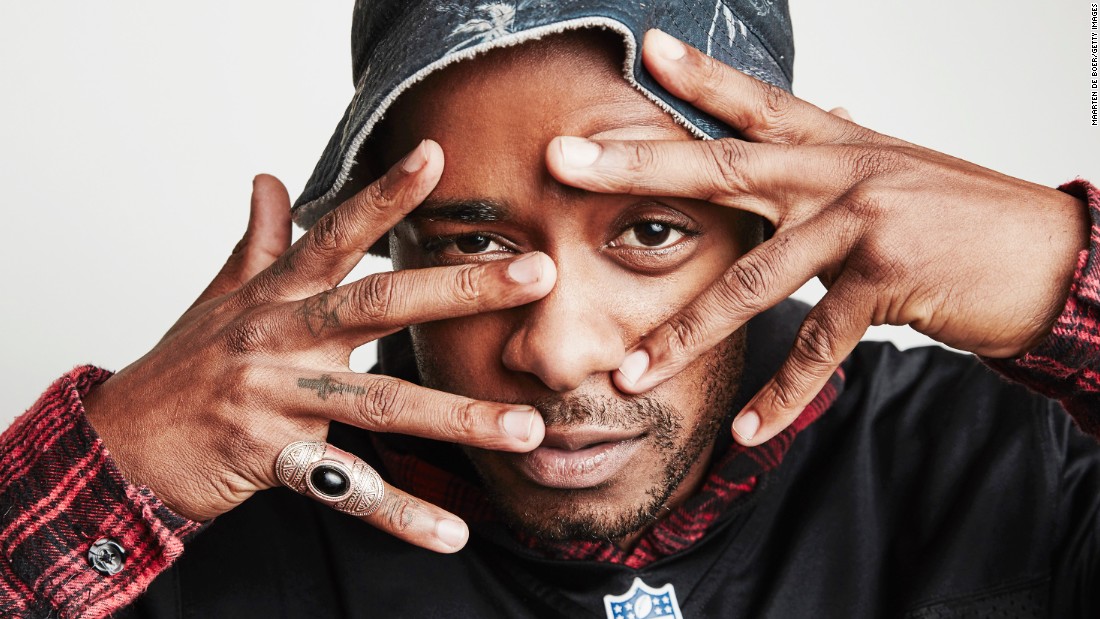 (CNN)There is no shortage of new TV shows vying for viewers' attention. Hopefully not lost in the chaos of dozens of series premieres? The great batch of fresh new talent poised to have breakout years.
CNN's Fresh Faces interview series aims to introduce some of those talented newcomers.
<
ul class="cn" cn-list-hierarchical-xs cn–idx-4 cn-zoneadcontainer">
Name: Lakeith Stanfield, 25
Hometown: San Bernadino, California
Where you might know him from: "Selma" (MTV), "Straight Outta Compton"
Now starring in: "Atlanta" (On Tuesdays at 10 p.m. on FX)
He plays: Darius, best friend and sidekick to Alfred "Paper Boi" Miles
Acting hero: Doesn't have one
Favorite TV show: "Mr. Robot"
Last show he binge watched: "Mr. Robot"
We usually like to start out by asking what was your first paying job you had in the industry?
I think it was "Short Term 12." I'm talking about the original short which came out in 2008 (it was later made into a feature film starring Brie Larson in which Stanfield also appeared). I think I made a couple hundred dollars on it.
You also played [real-life rapper] Snoop in "Straight Outta Compton" and now you are playing Darius on "Atlanta." Is there something to your seeming affinity for playing characters who love weed?
(Laughs) No. I think nowadays people are much more liberal about their usage of it. So a lot more characters are coming up who, in fact, indulge.
You character is inspiring think pieces about how he's redefining the stoner character as someone who isn't lazy, but much more erudite and deeper. How does it feel to have people picking it apart to the point they are writing essays?
That's great. As long as something is inspiring conversation that's always good. That's what we always try to aim for as artists, to be a part of the discussion and spark inspiration in people. The credit really goes to the creator, Donald [Glover], and the writers who came up with this brilliant character I have the opportunity to portray.
I have to tell you that when [the character] Darius said that he was Nigerian, I think I received texts from every single Nigerian person I know. You must be getting a lot of love from the Nigerian community.
I've had people reach out on social media and say "Yo, I'm Nigerian." So, that's cool. I haven't run into anyone personally yet, but yeah, shout out to Nigeria.
I might be Nigerian. I don't even know what I am. I think I'm going to do that DNA test.
What drew you to the character of Darius?
He's interesting. I couldn't really figure him out. I couldn't figure out where he placed in the world and what was going on with him and I really kind of liked that. I just knew that he was funny.
He's just been revealing himself more and more to me as something really special.
He's so mysterious. Is Darius really as clueless as he comes across or is he, as a lot of us want to believe, the smartest cat in the room?
I think there is always an interesting fine line between genius and absurdity, which I think he is always kind of walking. I think a lot of us are, as humans. We've got high levels of intelligence but it usually causes us to do stupid things. He's just a reflection of that general thing all of us have. You would think we would be making smarter decisions, but we don't always.
What ties Darius to Paper Boi?
I think because Paper Boi is much more of a grounded character. I think Darius tends to take more risks and put himself in situations that may, for better or worse, create new opportunities. Paper Boi does that, but not to the degree Darius does and he also has a place he stands in which is very rooted and you may not necessarily see.
Also, I think they have just been around each other for a long time and have grown to love things about each other — as have me and Brian [Tyree Henry, who portrays Paper Boi]– as we have been going through this so, I think there is this interesting parallel.
There's also some opposites in that [Paper Boi] is a big dude, Darius is a little skinny guy and they just go together like two peas in a pod.
Are you a risk taker when it comes to your career?
Yeah, yeah. That's my whole life.
You also have a career in music [as part of the rap group Moors]. So do you consider yourself a rapper who acts or an actor who raps?
I just kind of look at as as being really expressive. I paint as well and write poetry — if you could call it painting, it's messing around with colors. I just like to express myself and I am grateful that there are avenues where I can do that and even more grateful it's appreciated.
Are we ever going to see Darius rhyme on the show?
I don't know. That's interesting. I guess we are going to have to wait and find out.
This interview has been edited and condensed for clarity.
Read more: http://www.cnn.com/2016/10/27/entertainment/lakeith-stanfield-darius-atlanta/index.html