<figure class="media-landscape" has-caption full-width lead">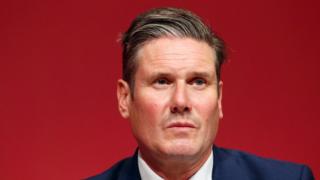 Image copyright EPA

Image caption Sir Keir Starmer wants six changes to the government's repeal bill
Labour will back Conservative rebels over Brexit unless the prime minister accepts changes to its repeal bill, the party's shadow Brexit secretary says.
Sir Keir Starmer wants six changes to the bill, which aims to transfer EU legislation into British law.
If these are not accepted Labour will back Tory rebels in an attempt to force a vote on the final EU deal, he said.
The government said it would listen to MPs about possible improvements to the bill but would not let it be "wrecked".
Reality Check: Why Brexit transition may not buy time
<div id="bbccom_mpu_1_2_3″ class="bbccom_slot" mpu-ad" aria-hidden="true">