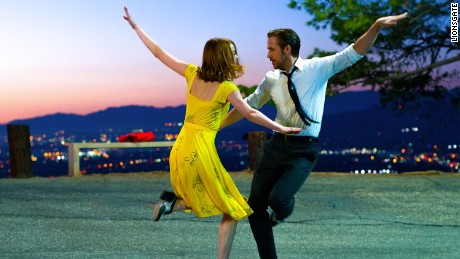 (CNN)In a pop culture landscape full of antiheroes, gloomy movies, and dark TV shows (literally), the new yet retro Hollywood musical "La La Land" is notable for featuring a kaleidoscope of vibrant colors.
The film which stars Ryan Gosling and Emma Stone as Sebastian and Mia, two artists who fall in love in a fantastical Los Angeles filled with singing and dancing, added to the list of accolades it has already gotten on Monday when it enchanted audiences at the Toronto International Film Festival.
Those in attendance for the screening in Toronto even cheered following some of the film's multiple musical numbers, making the experience feel more like a Broadway show than a movie.
<
ul class="cn" cn-list-hierarchical-xs cn–idx-4 cn-zoneadcontainer">
The film, which was directed by Damien Chazelle and is being distributed by Lionsgate, was easily the most anticipated film of the festival. It came into Toronto having garnered acclaim from a number of movie critics and even Tom Hanks.
Following its world premiere at the Venice Film Festival and screenings at both Colorado's Telluride Film Festival and Toronto, "La La Land" is now on, if not at the top of, many critics lists of early Oscars favorites.
Its position on these lists make sense for reasons even beyond the great early reviews. Chazelle's last film, "Whiplash," was the darling of the 2014 season. Plus, Hollywood loves to give awards to films about Hollywood ("Argo," "The Artist," etc.) and as much as this is a love story between the characters played by Gosling and Stone, it's also a love story about Hollywood itself.
The Toronto Film Festival was packed with movies that are intensely powerful ("The Birth of a Nation"), emotional ("A Monster Calls") and thought provoking ("Arrival"). But "La La Land" is the one that feels most like Hollywood at its purest.
The film, down to its art deco title font, seems like something out of a time capsule from Hollywood's golden age.
Chazelle structures it as a love letter to that era while not letting the story of Sebastian and Mia's modern romance get bogged down in nostalgia. Most interestingly, he crafts "La La Land" as a story in which reality and fantasy are in conflict with one another and leaves moviegoers to choose which is truer.
"La La Land" doesn't hit theaters until December. When it does, though, it's bound to win awards. It could also find itself bringing in solid box office numbers from audiences who, after distressing news cycle after distressing news cycle, may be in need of a world where people sing in L.A. traffic.
Read more: http://www.cnn.com/2016/09/13/entertainment/la-la-land-toronto-film-festival/index.html