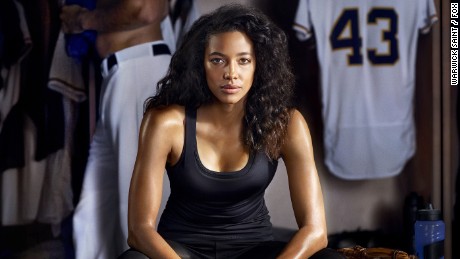 (CNN)Over the next few months, there will be no shortage of new TV shows vying for viewers' attention. There will also be a fresh group of new talent poised to have breakout years.
CNN's Fresh Faces interview series aims to introduce some of those talented newcomers.
<
ul class="cn" cn-list-hierarchical-xs cn–idx-4 cn-zoneadcontainer">
Name: Kylie Bunbury, 27
Hometown: Prior Lake, Minnesota
Where you might know her from: "Twisted" and "Under the Dome"
Now starring in: FOX's "Pitch," a drama about the first woman to play Major League Baseball
She plays: Ginny Baker, the boundary-breaking pitcher
Acting heroes: Diane Keaton, Gena Rowlands, Susan Sarandon, and Kerry Washington
Favorite TV show: "Stranger Things"
I think this is going to be a breakout year for you…
People keep saying that. It's so cool. I do feel an amount of pressure, but I think pressure's good. It's kind of cool because it parallels Ginny a little bit and what she's experiencing. All she wants is to focus on baseball. And for me, it's like, 'Oh, I feel this large amount of pressure, as well. I just want to be a good actress.'
Speaking of acting, what was your first paid job?
I did this film called "Prom." It was a Disney movie. And at that point, I didn't know what the hell I was doing. I had no idea how to act. It was purely instinctual. I just remember the first scene I did and the first take, it feeling so right. That's when I knew that I wanted to do this forever and that my purpose was instilled in it. Then it got to a certain point where I knew there was something missing. And I remember talking to my brother [Teal Bunbury], who's a professional athlete and plays pro soccer, and he was like, 'Kylie, when I turned pro, I didn't stop training. I trained every single day to continue.' And that really stuck with me. I needed a foundation. And then I started taking acting classes, and now I feel like I have a foundation and I understand what acting is. So that was just my first experience with falling in love with it.
How old were you when you were doing that?
I came here [Los Angeles] basically when I turned 21. I think it was really crucial for me to have a life not in this industry and having a good 20 said years of just being normal.
Being a person?
Being a person and learn different cultures. I was born in Canada and then my dad played pro soccer in England and then also on an island off the coast of Portugal. So we lived there for like 10 years. And then we moved to Minnesota. So I feel like I've experienced a lot of different cultures, and I'm still figuring out who I am. But I think it was good to have life before this. Coming out here later was a good thing.
What was it like coming from family not in entertainment or the entertainment world and then falling in love with the art of acting?
I think that we sort of grew up in an unconventional family flying around since my dad played soccer. And then to have a mother that says you can do anything it didn't surprise them at all, especially my mom. She believes in me so much and I think as a child hearing your mother, who's your hero, say that, that's huge. It made me feel like I could. And also my dad doing something a little unconventional made me feel like, 'Oh, anyone can do anything,' and from a very young age, I've loved to express myself in any sort of art form. So I think that I knew early on that I was going to do something in the arts.
Was there anything before acting?
I sing. I used to think singing is going to be the route, and I still sing to this day. I still try to write lyrics. I paint. I just bought a saxophone. [laughs]
'I'm just gonna pick up baseball and the sax.'
Exactly! [laughs] I just really love to do new things and experience new things. I just really love art.
<
div class="el__embedded" el__embedded–standard">