<figure class="media-landscape" has-caption full-width lead">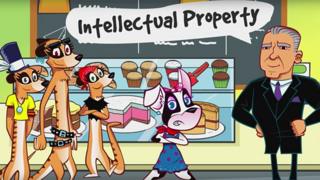 Image copyright Intellectual Property Office

Image caption Nancy and the Meerkats face up to some harsh commercial realities, before battling Kitty and co
A campaign to teach children about copyright infringement on the internet, is employing cartoons and puns on pop stars' names, to get the message across.
Even its makers admit it is a "dry" and "niche" subject for a cartoon aimed at seven-year-olds.
But the Intellectual Property Office adds learning to "respect" copyrights and trademarks is a "key life skill".
And it is hoping the adventures of Nancy and the Meerkats can finally make intellectual property "fun".
The series, which began life five years ago on Fun Kids Radio, was re-launched this week with the aim of getting its message into primary schools.
<div id="bbccom_mpu_1_2_3″ class="bbccom_slot" mpu-ad" aria-hidden="true">