New Zealands fourth most popular folk-parody act are on a sold-out arena tour. Is there a shrewdness behind the duos laidback shtick?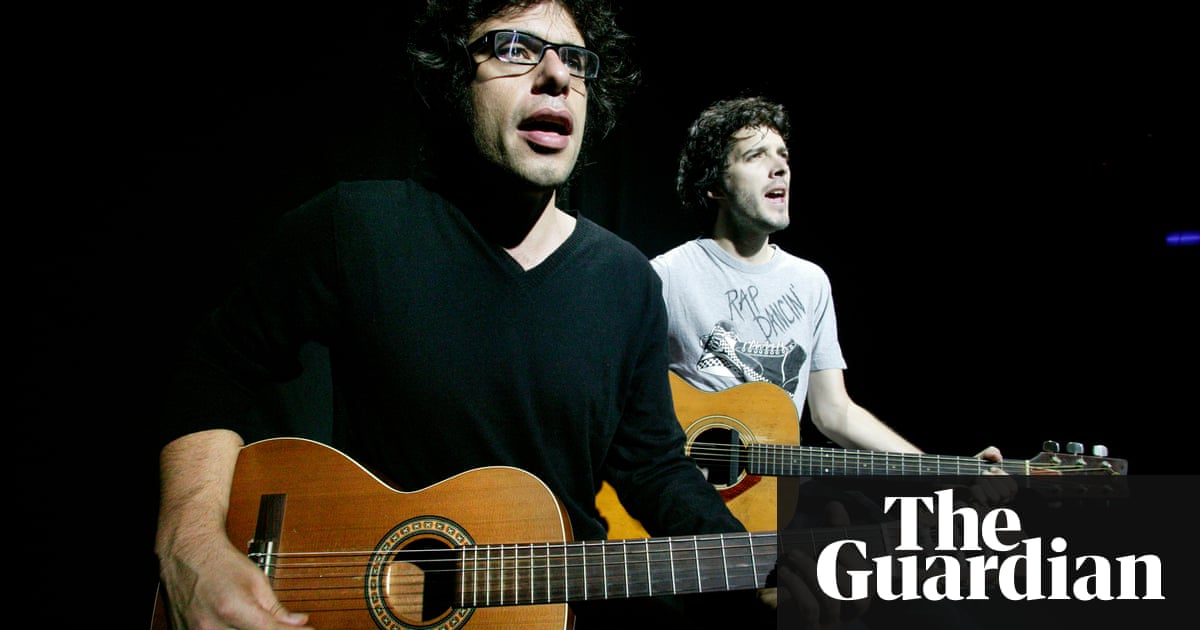 Few comedians ever play Londons O2 Arena and fewer still manage three nights in a row. Those who do tend to have some things in common: a relatable observational style, limited creative ambition and ruthless commercial savvy. None of which applies to Flight of the Conchords, perhaps the unlikeliest act ever to reach those airless heights of the comic stratosphere.
I saw Flight of the Conchords last week, warming up for their forthcoming arena tour with a run at the 140-seat Soho theatre. Watching their suite of kooky songs about medieval romance, piano-playing seagulls and spoon thieves, laughing at their low-key chat and minutely detailed interplay, the thought of their imminent transfer to arena stages was supremely incongruous. Not least to the Conchords themselves. Well keep that in for the O2, theyd remark, after this or that improvised quip or ramshackle moment of fun.
If you first saw Bret McKenzie and Jemaine Clement, as I did, in a dingy cellar on the Edinburgh fringe 15 years ago, you may struggle to wrap your head around the scale of their new tour. But if you factor in a Disney film, writing an Oscar-winning song for The Muppets, a sleeper hit HBO sitcom, and the fact that this musical-comedy duo is one of the funniest and most talented acts to come along in two decades well, an explanation begins to take shape.
Its certainly not down to any dead-eyed careerism. In my 20 years of interviewing comics, few appeared as shambling and un-starry as McKenzie and Clement in 2003 the year they were nominated for Edinburghs Perrier award. The previous year, theirs had been the festivals breakout show, due largely to word-of-mouth enthusiasm spread by fellow comics.
Their shtick was artless banter spliced with improbable comic songs, notable for their pernickety lyrics and eclectic musicianship. Zoological rap battle Hiphopopotamus Vs Rhymenoceros was an early favourite (They call me the Hiphopopotamus / My lyrics are bottomless and Im not a large water-dwelling mammal / Where did you get that preposterous hypothesis?). The Humans Are Dead, with its binary solo and robo-vocal account of the apocalypse, was another, while their Space Oddity spoof Bowies in Space was achingly near the mark.
With just a couple of acoustic guitars and a digital glockenspiel, they were maestros of every pop music style imaginable, although they concealed their talent with gags. You can tell when weve learned a new chord, they told me, because well use it in our next three songs. On stage, they played losers who thought they were winners. Off stage, they were winners who pretended to be losers. Theyd been invited to Hollywood to pitch a project, they told me but you needed a clear idea of what you wanted to do, and we didnt have any idea at all. So they were sent packing.
I left that interview unsure whether Id met the real Clement and McKenzie or an extension of the gormless act. From the off, they excelled at scrambling truth and fiction as per the blissful bit of onstage dialogue in which they guess when the other is in character (Youre in now youre out now youre in ) It helped that they took deadpan to whole new tiers of blankness.
Its so dry and so Kiwi, says their compatriot and fellow comic Rose Matafeo, who is not alone in tracing much of the Conchords distinctiveness back to their national character. The constant self-deprecation, the playing it straight, these are so common in New Zealand. Were at the bottom of the world, so isolated. Were like what would happen if you left someone alone in a room for a day.
Jarred Christmas, another New Zealand comic, is surprised how far this took them. I never thought thered be an international embrace of that. Id never seen that happen, comedy-wise. Christmas co-starred in the Conchords eponymous 2005 Radio 2 sitcom, as did Jimmy Carr, Daniel Kitson and Rob Brydon (the Conchords have always surrounded themselves with fast-rising talent). What struck me, Christmas says, is that no matter how laidback they are, theyve always believed theyre good enough. Youll notice that, on the radio show, not one of their songs was played in full. So they retained the rights, rather than those defaulting to the BBC. Clearly, they had their sights set on something bigger.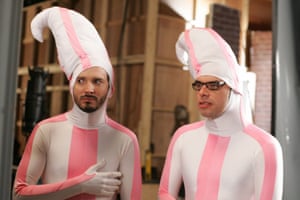 Read more: https://www.theguardian.com/stage/2018/mar/04/flight-of-the-conchords-comedy-tour