<figure class="media-landscape" has-caption full-width lead">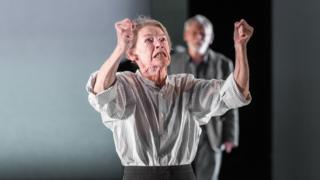 Image copyright Manuel Harlan

Image caption Glenda Jackson "transcended gender" to play King Lear
Glenda Jackson has made a "ferocious" and "magnetic" return to the stage after a 25-year break.
The Oscar-winning actress and former MP received glowing reviews for her lead performance in Shakespeare's King Lear.
Deborah Warner's modern-dress production opened at London's Old Vic on Friday night.
Its starry cast also includes Celia Imrie, Jane Horrocks and Rhys Ifans. The action mainly unfolds on a sparse set consisting of large white panels.
As the Fool, Notting Hill star Ifans wears a tattered Superman suit, sings like Bob Dylan, and, at one point, dons a scary clown mask.
<div id="bbccom_mpu_1_2_3″ class="bbccom_slot" mpu-ad" aria-hidden="true">