<figure class="media-landscape" has-caption full-width lead">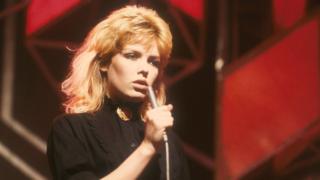 Image caption The star's hits include Kids In America, You Came and Cambodia
It's hard to imagine Kim Wilde on the front line of a cultural war but, back in 1981, that's exactly where she found herself.
The irresistible success of Kids In America, Chequered Love and Cambodia threw the popular music press into disarray.
Still in thrall to punk, the NME and Melody Maker couldn't work out what to make of this coiffed pop singer – the offspring of decidedly naff 60s pop star Marty Wilde, who happened to be co-writing all of her singles.
Reading those columns now (a Spanish fan site has helpfully archived them), it's fun to watch writers torturing themselves for the simple sin of enjoying pop music
"How do you feel about it suddenly being hip to like Kim Wilde?" fretted style bible The Face.
<div id="bbccom_mpu_1_2_3″ class="bbccom_slot" mpu-ad" aria-hidden="true">