Recent battles between female pop and rap stars have been ruthlessly stoked by the media and characterised as catfights, but they are built on levels of complicity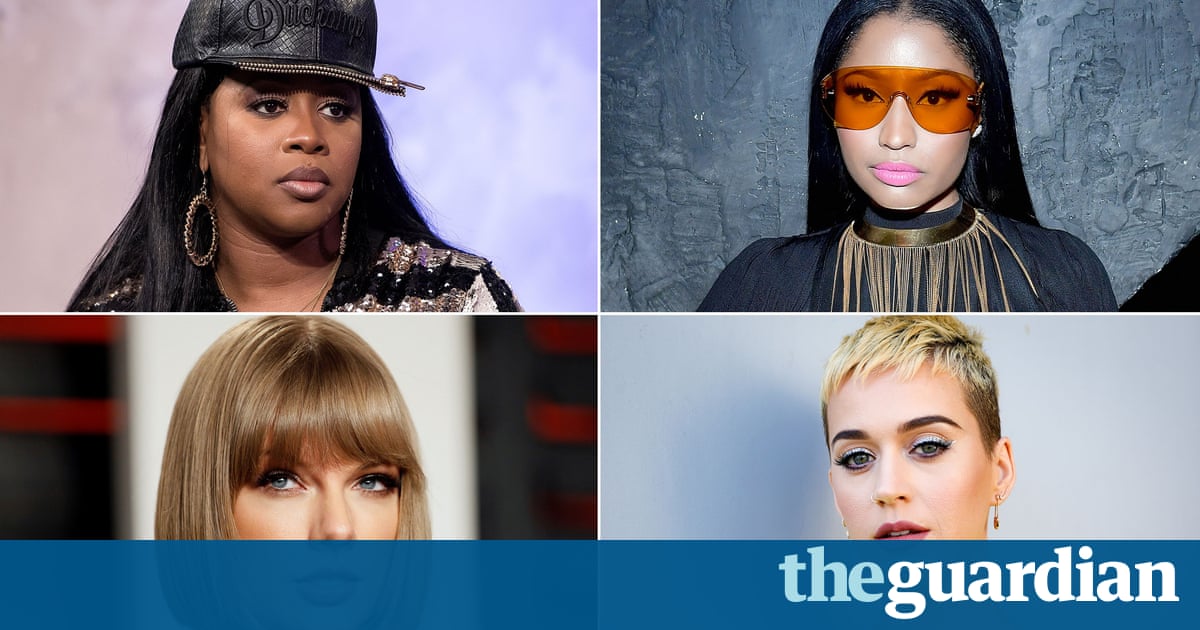 As the promo cycle began for Katy Perrys fifth album, Witness, the pop star started telling anyone whod listen about her fallout with Taylor Swift. It started in 2013, when Perry reportedly stole Swifts tour dancers and was kicked up a gear recently, when Perry released Swish Swish, an alleged diss track widely interpreted as her response to Swifts barbed 2014 single Bad Blood.
When Swift announced the end of her Spotify boycott, making her entire catalogue available on the streaming service at precisely the moment of Witnesss release, many speculated it was a deliberate swipe at Perry. But anyone looking to Perry for retaliation was disappointed. Instead of attacking harder, by Sunday she was saying she loved Swift a fantastic songwriter and that she was sorry (what looked like sabotage may also have been good business for Universal Music Group, which represents both acts).
This high-profile friction is accompanied by an ongoing rivalry between Nicki Minaj and Bronx rapper Remy Ma, a war of words that was also reignited last weekend. The conflict between the two rappers began when Ma believed Minaj was criticising her on a track on the latters 2007 mixtape. From 2008 to 2014, Ma was in prison; meanwhile, Minaj became a superstar. They bickered for years after Mas release then in February she released ShETHER, a vicious seven-minute attack on her rivals looks, lyrics and disloyalty. A bloody, disembodied Minaj Barbie beamed from the artwork.
Minaj first responded with her track No Frauds, and doubled down on 2 Chainzs forthcoming album, accusing Mas husband Papoose of writing ShETHERs lyrics for her. Ma then not only performed ShETHER at New Yorks Summer Jam festival, but brought out a whos-who of hip-hop heavyweights: Lil Kim, Queen Latifah, Cardi B, Young MA, Lady of Rage and MC Lyte all sang the track with her, in front of a screen showing unflattering photos of Minaj.
But among these four feuding parties, only Ma a genuine underdog has tangible profit to gain from entangling her narrative with that of a much bigger artist. The megastars in these equations have everything to lose. Theyve spun micro-spite industries from weak foundations, a precariousness thats now undermining their profiles and showing up their limited imaginations. So why bother?
Staying current is the depressingly obvious answer. As The New Yorkers Carrie Battan wrote of Minajs Empty obsession with being No 1 last month, Her untrammelled focus on her fan support, and on her position in the charts, seems increasingly a way of compensating for a lack of substance a way of grasping for a kind of relevance that she is struggling to tap into organically. This kind of drama is artistically restricting, even as it buys viral attention. Writing for MTV News in February, Hanif Willis-Abdurraqib wondered if Minajs tussle with Ma was a form of patronage between black women. To take time out of your life and career to face a worthy opponent and put the entire weight of yourself on them until they feel no choice but to rise to the level you have set is a blessing, he wrote. Sometimes, in order to lock fingers, the gloves have to first come off.
Its a nuanced, generous interpretation thats hard to apply to the other ring. Swifts Machiavellian moves may have kept her in the news while shes out of the public eye, but theyve done her no favours, exposing her pro-women underdog pose as a ruthless Trojan horse. Her catalogue may be out-streaming Perrys, but then losing gives Perry back her status as the plucky dark horse. Not that its much of a victory for so much of her new album campaign (one that started out as her purposeful pop era) to focus on this tedious fight seems wasteful. Pop needs drama, and titans need nemeses, but Perry, Swift, Minaj and Ma are talented artists who surely have much more to talk about.
Yet, tiresome as these spats are and often based on complicity were still talking about them. In a heavily stage-managed industry, mess is undeniably appealing. Theres certainly a double standard about how rivalries between male and female musicians are reported watching two women at each others throats only reinforces sexist perceptions that women are bitches who can neither work together nor bury the hatchet. Unlike the Gallagher brothers ongoing feud, or those between male rappers, these are gendered beefs, freighted with gender stereotypes that diminish both artists.
Feuds often necessitate high-profile reconciliations, and Perry has started making overtures in Swifts direction. On Sunday, she continued, I think that if we, both her and I, can be representatives of strong women that come together despite their differences, I think the whole world is going to go, like, Yeah, well, we can do this.
Perry now apparently believes that she and Swift may soothe feminisms decades-long frictions when they reconcile inevitably on a global stage sometime between now and Swifts rumoured Q4 album. It feels like the <a draggable="true" href="https://twitter.com/piersmorgan/status/871465038699270145″ data-link-name="in" body link" class="u-underline">Piers Morgan method, starting an argument so that you look benevolent when you end it. Though Perrys overture looks less like a genuine olive branch, more a ticking grenade placed in Swifts court. If Swift ignores it, shes cold. If she takes it, she loses. Nobody wins in these pointless, baseless battles least of all the long-suffering fans.
Read more: https://www.theguardian.com/music/2017/jun/16/katy-perry-v-taylor-swift-nicki-minaj-v-remy-ma-pop-star-rows-women-diminished