The singer is not the first powerful woman to use nudity to raise awareness. But note that men simply dont feel they have to behave this way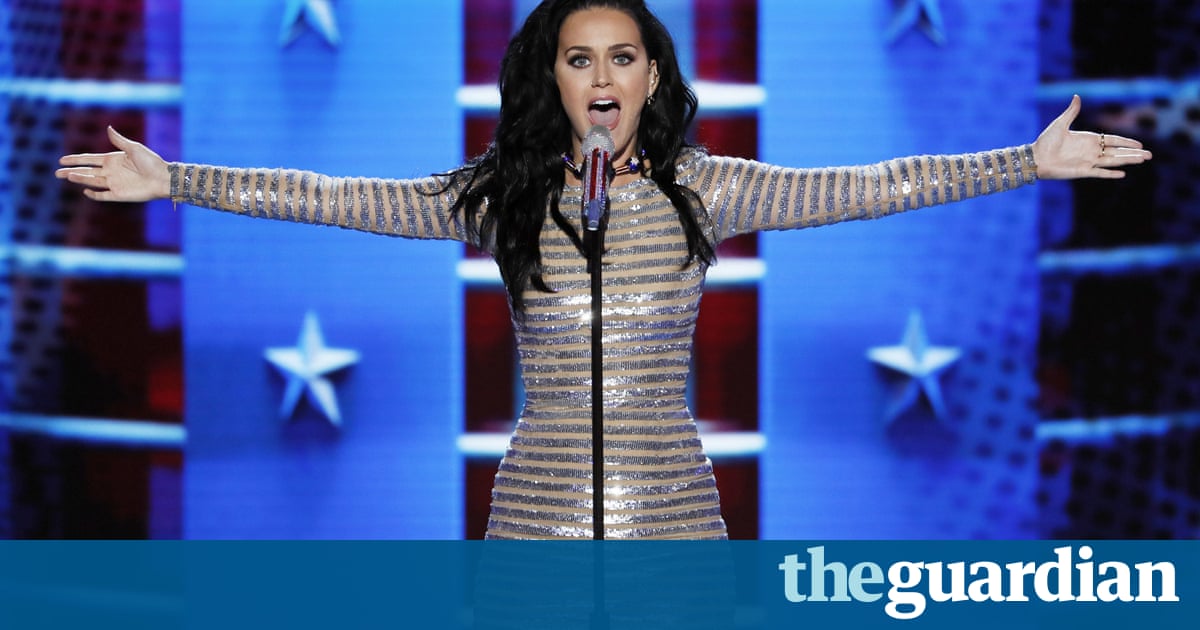 The singer Katy Perry, a Hillary Clinton supporter, has produced a Voting naked video, urging people to vote in the US election. Madonna responded with her own Voting naked photo on Instagram, showing her bare shoulders, also urging people to back Clinton, saying that women need to support each other. Women Run The World now they have to get out and start supporting one another. No more misogynist feminists! No more misogony [sic]. Get out and vote, wrote Madonna, with good intentions, albeit bad spelling.
The image was later deleted, along with the one where Madonna had photoshopped Clinton between her legs. (Stay classy, Ms Ciccone!) Both singers efforts did the job by causing a media flurry. Were their actions successful in a deeper feminist way? In my view, quite the opposite.
Its obvious what they were trying to do; in fact, Perry says that her whole aim was to be click-bait. In fairness, Perrys video is ditsy-humorous rather than sexualised. Her breasts and genitals are blanked out with dark, modesty-style strips; her hair is styled as a rats nest with lollipops sticking out of it. While it was still up, Madonnas image merely gave the impression of nudity.
Theyre not the first to use nudity to raise awareness. (Famously, there was the Peta campaign Id rather go naked than wear fur, featuring various supermodels, one of whom, Naomi Campbell, went on to rather let the side down, by, you guessed it, wearing fur.) Moreover, they were doing it for a good cause, not out of a sense of the now-routine monetised, sexualised exhibitionism. (I dont know about you lot, but, as a heterosexual woman, Im officially bored with Kim Kardashians constant updates on the state of her tits and arse.) Compared with that, its pretty cool that Madonna supported Perry supporting Clinton.
However, theres something worrying, something distinctly non-feminist about these naked voting efforts. In that, with the semi-exception of the actor Mark Ruffalo, a fellow Clinton supporter (whod previously jokingly promised to go naked in his next film), there were no prominent males opting for the nudity-equals-attention option.
There were no equivalent men running around butt-naked with modesty strips and lollipops stuck in their hair or provocatively leaning their bare shoulders into the camera lens. So why did these incredibly famous, successful women do it?
To an extent, wheres the harm? This is an era where revenge porn verges on an epidemic and there have been wretched attempts to shame celebrities with their own stolen explicit images. Its arguable that by exploiting their own nudity, Madonna and Perry are subverting the global sexualisation of women.
The logic here is that theres a constant scrabble to look at famous women naked, to reduce them and all other women to body parts. Well, these famous women can play this game on their own terms and youll listen to their message too.
At which point, the argument frays and disintegrates. If a woman feels that the only way she can command attention is by taking her clothes off, then her message is a scream lost in ahurricane.
However good the cause, it doesnt make up for the core rationale that the quickest, easiest way for a woman to get attention is to disrobe. Men simply dont feel that they have to behave this way they think the quickest, easiest way to get attention is to open their mouths.
The fact that both these successful women performed their well-intentioned ethical striptease on behalf of a female candidate just makes it seem even more skewed and desperate.
If, among other things, Clinton is fighting for respect for women beyond their worth (or lack of it) as sexual/post-sexual objects, then Id wager that the very last thing she needs is for even her supporters to peddle sex.
Foxhunting? Call the dogs off for good