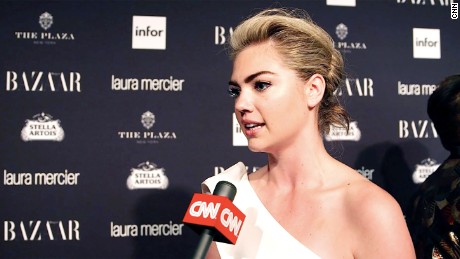 (CNN)Kate Upton is not going to let any haters bring her down.
Model and actress Upton, 24, told CNN that she's used to being the subject of cyberbullying but does her best to rise above it.
"It takes time to get used to it but eventually you just have to realize that they don't know who you are," Upton said. "They are going to judge no matter what and you really just have to ignore it."
<
ul class="cn" cn-list-hierarchical-xs cn–idx-4 cn-zoneadcontainer">
Upton has been on the covers of both Vogue and Sports Illustrated, yet she's been labeled "curvy" by industry standards.
"I almost think the body is art, everyone's perspective is their own and it comes from their own place," she said. "People are naturally tall, short, skinny, curvy, whatever. So I feel like limiting yourself to one label isn't right, you can be everything."
While her career keeps her in front of the cameras, Upton said it took time to adjust to cameras following her away from film sets and photo shoots.
"In the beginning [the constant media attention] always gets to you and then you realize, I'm going to live my life. I'm going to have a hamburger. I'm going to pick up my dog's poop," she said. "I'm just going to have to do it."
Read more: http://www.cnn.com/2016/09/19/entertainment/kate-upton-cyberbullying/index.html