Former nominee is biggest name to withdraw support over remarks about groping and unwanted advances as Ryan avoids subject and candidate appears before supporters in New York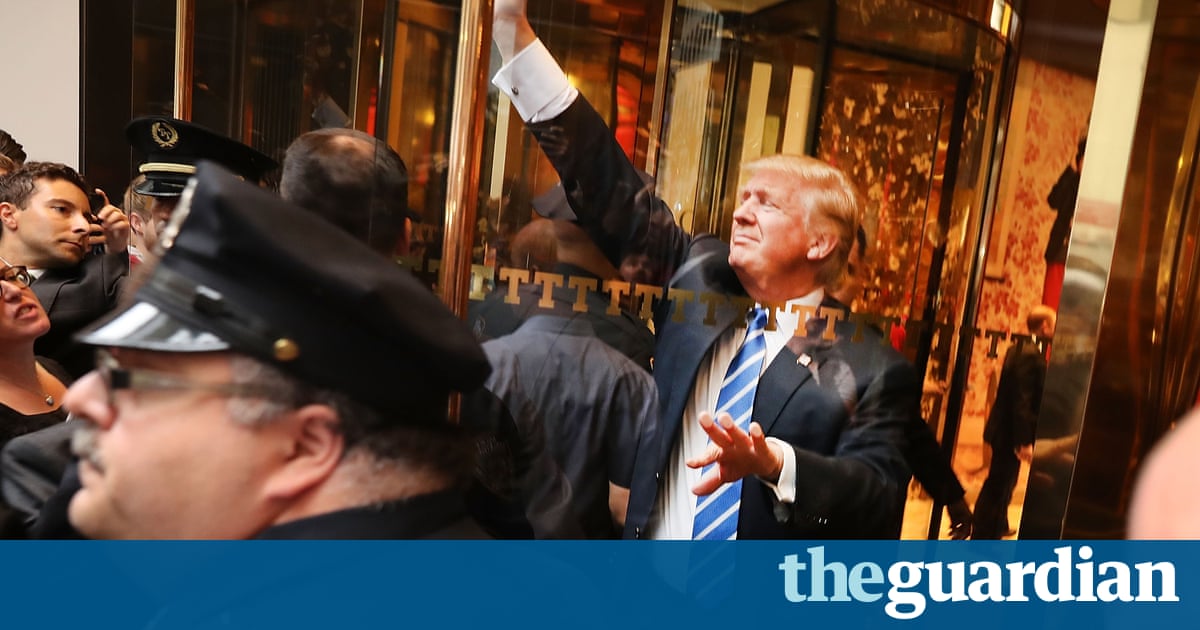 Senator John McCain of Arizona withdrew his endorsement of Donald Trump on Saturday, in one of the most prominent defections among Republicans over the presidential nominees behavior toward women.
The 2008 Republican presidential nominee issued a statement declaring it impossible to continue to offer even conditional support for Trump, in the wake of leaked video and audio showing Trump boasting about making sexual advances toward women without their consent.
Cindy and I will not vote for Donald Trump, McCain said in a statement that included his wife. I have never voted for a Democratic presidential candidate and we will not vote for Hillary Clinton. We will write in the name of some good conservative Republican who is qualified to be president.
Shortly after McCain released his statement, Trump made a surprise appearance outside Trump Tower in New York City. Early on Saturday evening, the billionaire emerged from his skyscraper, where he had been in crisis talks and debate preparation all day, to greet a group of 100 ardent supporters who had been demonstrating outside the building since morning.
Trump shook his fist in the air, waved and pointed, without saying anything. He then went quickly back into the building.
His appearance raised a huge commotion among those gathered on Fifth Avenue in midtown Manhattan, prompting cheers and chants of Trump for president and USA! USA!
One onlooker, Karen Stecher from Windsor, Canada, said: Its ridiculous. Ive seen a crowd react to a star in LA but it wasnt like this. This is like entertainment but its scary because of the anger and aggression.
Earlier in the afternoon Trumps wife, Melania, released a statement in which she said Trumps comments were offensive but asked the American people to see that her husband had the heart and mind of a leader.
Reached with a request for comment about the mounting controversy surrounding her fathers campaign, Ivanka Trump hung up on the Guardian.
McCain, locked in a tough re-election battle in Arizona, condemned Trumps comments after the release of the 11-year-old Access Hollywood recording on Friday but initially stopped short of rescinding his endorsement. As leading Republican officials launched an exodus from Trump in the 24 hours that followed, he faced quickly mounting pressure.
In his statement on Saturday, he said he had wanted to support the candidate our party nominated and respect the Republican primary process.
He was not my choice, but as a past nominee I thought it important I respect the fact that Donald Trump won a majority of the delegates by the rules our party set. I thought I owed his supporters that deference, McCain wrote.
McCains Senate race could determine whether the Republican party maintains its precarious control of the chamber. Other Republicans who disavowed their support for Trump on Saturday included Senate candidates Kelly Ayotte of New Hampshire and Joe Heck of Nevada.
Some Republicans formally called on Trump to step aside and allow his running mate, Indiana governor Mike Pence, to become the partys standard-bearer with just 30 days left until election day. Such voices included John Thune of South Dakota, the third-ranking Republican in the Senate.
Democrats swiftly rejected the desertion of Trump by those who had endorsed him as political calculation pointing out that Republicans had stood by the former reality TV star even as he disparaged Mexican immigrants, Muslims, prisoners of war, the disabled and the Gold Star parents of an Iraq war hero and repeatedly made crude statements about women.
McCain made it clear a long time ago: he is no longer a straight-talking maverick, Ann Kirkpatrick, the Democratic congresswoman challenging McCain for his seat, said in a statement. He missed the chance to show political courage and lead. He failed that test. Now, its too late, John McCain. The people of Arizona deserve better.
Read more: https://www.theguardian.com/us-news/2016/oct/08/john-mccain-donald-trump-sex-boast-tape