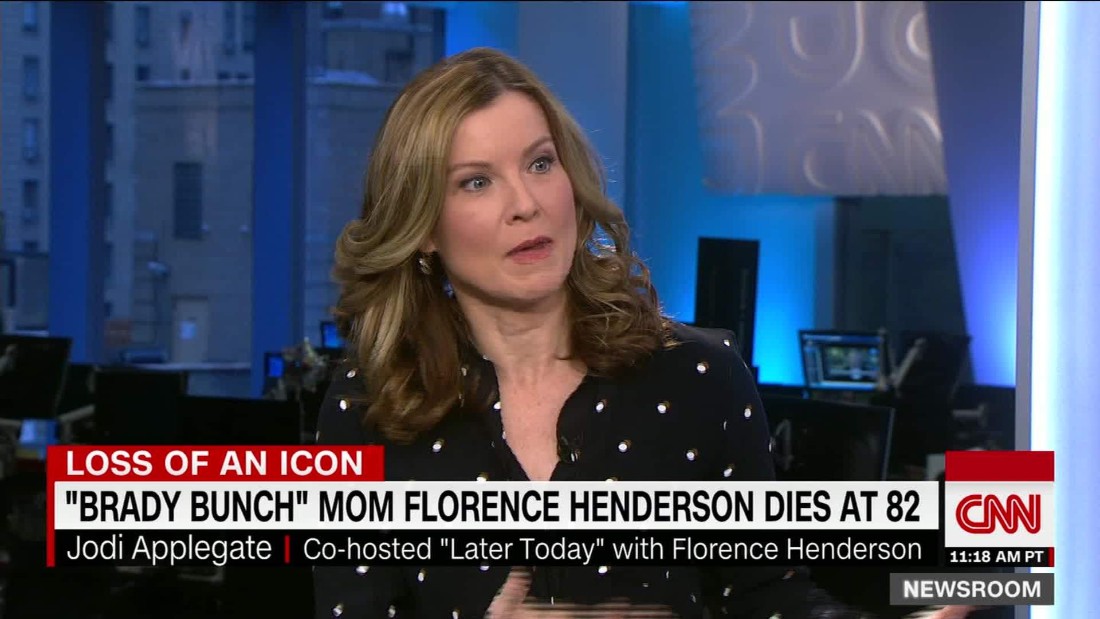 (CNN)Broadcast journalist Jodi Applegate paid tribute Friday to the late actress Florence Henderson, describing "The Brady Bunch" star as the mother she didn't have.
Applegate, who co-hosted the NBC morning show "Later Today" with Henderson in 1999 and 2000, told CNN's Brooke Baldwin that her former colleague and friend "was maternal."
<
ul class="cn" cn-list-hierarchical-xs cn–idx-4 cn-zoneadcontainer">
"That might sound hokey, but I lost my mother when I was very young and when you're in a TV setting, people are gypsies — they move all over and you just work, work, work," Applegate said.
Despite the hectic nature of showbiz, Applegate said, Henderson was different. She treated her workmates like family, down to the last detail.
"She gave us advice on what to wear and eat," Applegate said.
Applegate noted that Henderson had lived "many showbiz lifetimes" during her long career, which included years on Broadway, spells on "The Tonight Show" and playing the beloved matriarch Carol Brady on "The Brady Bunch," among others.
And she certainly had some glamorous tales to tell, Applegate recalled.
"I remember once we were out in Pasadena … afterward she and I and this other woman we worked with said "Let's go to the spa." So we got a little champagne and we were in our towels and we're sitting around at the spa and it's off the record and she is telling us stories about Marilyn Monroe and Frank Sinatra because she knew those people. She was almost like a time traveler," she said.
Yet, Applegate emphasized, despite Henderson's long and distinguished career, she never forgot her humble beginnings. "She appreciated everything that came her way because she had to sing for her supper and she worked hard," she said.
"She would sign every autograph, she would stay for hours, sign every 8 x 10 glossy, answer every fan letter because to her it was a real — to be a celebrity. It's not like the modern form of celebrity, it's like every single fan deserved personal attention. She gave them everything she had in that moment," Applegate told CNN.
Applegate remembered a time when she and Henderson had to shoot a promo in Times Square, and filming had been constantly interrupted by adoring fans.
"People literally would get out of running vehicles to dodge traffic to run up to her and say "Mother Brady, Mother Brady because they had come from the corners of the world, but they all recognized her face," she recalled, smiling.
"Her fame was such an approachable kind of fame and she had a big hug for every single one of them."
Henderson died Thursday at 82.
Read more: http://www.cnn.com/2016/11/25/us/applegate-on-henderson-cnntv/index.html